Der Artikel wurde erfolgreich hinzugefügt.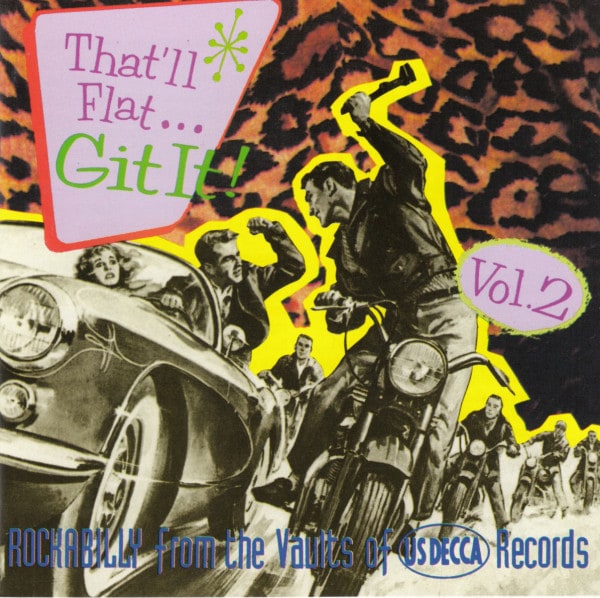 13,95 € *
15,95 € *
(12,54% gespart)
inkl. MwSt. / zzgl. Versandkosten
Sofort versandfertig, Lieferzeit** 1-3 Werktage
Artikel-Nr.:

BCD15623

Gewicht in Kg.:

0.115
1-CD mit 28-seitigem Booklet, 30 Titel. Spielzeit ca. 71 Minuten Die Rockabilly-Explosion löste...
mehr
Various - That'll Flat Git It!: Vol.2 - Rockabilly From The Vaults Of Decca Records (CD)
1-CD mit 28-seitigem Booklet, 30 Titel. Spielzeit ca. 71 Minuten

Die Rockabilly-Explosion löste einen Drei-Alarm-Angriff unter den Panjandrums der Plattenindustrie aus. Sie mochten es nicht, sie verstanden es nicht - sie wussten einfach, dass sie eigene Rockabilly-Acts brauchten. In der kurzen Zeit von Ende 1955 bis 1957 gab es in der Branche ein allgemeines Missverständnis, dass Rockabilly eine Marktmacht war, mit der man rechnen musste.

Genauer gesagt, es war eine wahre und ehrliche Volksmusik, und wie andere wahre und ehrliche Volksmusik verkaufte sie sich schlecht. In seinem kurzen Moment in der Sonne sorgte er jedoch für Aufregung unter den großen Labels, die auf der Suche nach 'The Next Big Thing' nicht zurückbleiben wollten. Die Verantwortung für das Auffinden und Aufnehmen von Rockabillies lag in der Regel bei ihren Länderabteilungen, da Elvis Presley, Carl Perkins und ihresgleichen als mutierte Country-Künstler angesehen wurden.

Ende 1955 waren RCA Victor und Mercury die einzigen großen oder quasi großen Plattenfirmen, die eine Vollzeitpräsenz in Nashville hatten. Decca, Columbia, Capitol und MGM haben alle ihre A&R-Vertreter geschickt. Decca übergab den Auftrag, Rockabilly aufzunehmen, an Paul Cohen - Chef von Country A&R.

Seine Antwort war die gleiche wie die seiner Zeitgenossen: Er nahm einige seiner regelmäßigen Künstlrer auf, die die neue Musik sangen, und rekrutierte Neuankömmlinge auf einer ziemlich wahllosen Basis, indem er ihnen ein oder zwei Chancen gab, bevor er sie kurzerhand absetzte, wenn sie nicht lieferten. Auf diese Weise verlor er nicht nur Don Woody, sondern auch Buddy Holly.

Cohen wird allgemein zugeschrieben, dass er nichts über Musik weiß, und der `de facto'-Produzent der meisten dieser Sessions war Gitarren Ass Grady Martin. Als Gegenleistung für das Honorar des Sitzungsleiters ($82,50 für drei Stunden Arbeit - das doppelte Honorar der Picker) stellte er die Gruppen zusammen, skizzierte die Kopfarrangements und spielte oft seine brisanten Leadgitarrenparts. Es war eine Aufgabe, die er für jedes Label, das in Nashville aufgenommen hat, aber vor allem für Columbia und Decca.

Diese CD enthält 30 der besten Tracks aus den 'Rare Rockabilly Volumes 1-4' LPs der britischen MCA Serie, erschienen zwischen 1975 und 1978. Die Serie knüpft an den unerwarteten Erfolg der'Sun Rockabillys' an und wurde im Gefolge von 'Rockabilly From the Vaults' zusammengestellt, einem zweiteiligen Feature, das ich für das Magazin 'Let It Rock' geschrieben hatte.

Die letzten fünfzehn Jahre haben für viele der Künstler erhebliche Veränderungen mit sich gebracht. Einige sind, um den Lieblingseuphemismus des Bestatters zu verwenden, abgetreten. Einige haben Europa bereist, und die meisten wurden so weit recherchiert, dass das, was ich vor fünfzehn Jahren über sie geschrieben habe, kaum einer genauen Prüfung bedarf.

Also zurückbleiben: Die Zeitmaschine hat dreißig fröhliche, pre-stereo-, pre-alles-Tracks, gespickt mit stacheligen Rhythmen und Country-Twang-Gesang, voll bis zum Bersten mit diesem
"Flip, Flop und Fly, egal ob ich sterbe" Hedonismus.

(Bill Millar, Bear Family Records BCD15623)


Artikeleigenschaften von

Various - That'll Flat Git It!: Vol.2 - Rockabilly From The Vaults Of Decca Records (CD)
Albumtitel:

Vol.2 - Rockabilly From The Vaults Of Decca Records (CD)

Genre

Rock'n'Roll

Preiscode

AH

Artikelart

CD

EAN:

4000127156235

Gewicht in Kg:

0.115
Various - That'll Flat Git It - Vol.2 - Rockabilly From The Vaults Of Decca Records (CD)

CD 1
01
Hot Rock
Carroll, Johnny
02
You're Barking Up The Wrong Tree
Woody, Don
03
Be Bop Baby
Inman, Autry
04
Sweet Love On My Mind
Jimmy & Johnny
05
Wild, Wild Women
Carroll, Johnny
06
Bird Dog
Woody, Don
07
Diggin' The Boogie
Hall, Roy
08
Teenage Boogie
Pierce, Webb
09
Mamy Don't You Think I Know
Cochran, Jackie Lee
10
Crazy, Crazy Lovin'
Carroll, Johnny
11
Ten Little Women
Noland, Terry
12
Lorraine
Covelle, Buddy
13
Off-Beat Boogie
Hall, Roy
14
Way Out There
Chuck & Bill
15
Tryin' To Get To You
Carroll, Johnny
16
I Wanna Bop
Harlan, Billy
17
Flip, Flop And Fly
Bell, Johnny
18
Whole Lotta Shakin' Goin' On
Hall, Roy
19
Make Like A Rock And Roll
Woody, Don
20
Corrine, Corrina
Carroll, Johnny
21
See You Later Alligator
Hall, Roy
22
Ruby Pearl
Cochran, Jackie Lee
23
It Would Be A Doggone Lie
Inman, Autry
24
Baby Don't Leave Me
Five Chavis Brothers
25
Rock 'n' Roll Ruby
Carroll, Johnny
26
Three Alley Cats
Hall, Roy
27
Teenage Love Is Misery
Kennedy, Jerry
28
Cool It Baby
Fontaine, Eddie
29
Cast Iron Arms
Wilson, Peanuts
30
Crazy Baby
Maltais, Gene
That'll Flat Git It CDs Album-Serie produziert von Bear Family Records 'That'll Flat...
mehr
"Various - That'll Flat Git It!"
That'll Flat Git It
CDs Album-Serie produziert von Bear Family Records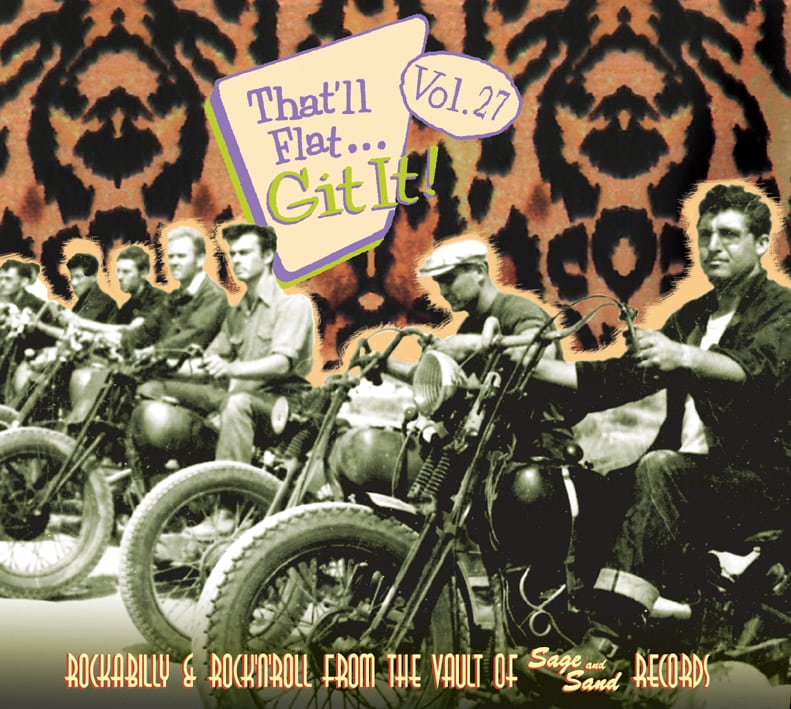 'That'll Flat Git It!' das war das verbale Erkennungszeichen des Memphis Disc Jockeys Dewey Phillip, der keinen geringeren als Elvis Presley erstmalig im Radio spielte... Und 'That'll Flat Git It' heisst unsere Bear Family Records Rockabilly CD-Album Serie! Wer kennt nicht die legendären Lanspielplatten wie die 'MGM Rockabillies', die 'Chess Rockabillies', die 'Rare Rockabilly' Zusammenstellungen der Firma MCA, oder die Columbia Zusammenstellungen. Alle Rockabillykracher, die auf diesen LPs enthalten waren, gibt es bei uns auf CD-Album plus mindestens doppelt so vieler weiterer Rockabilly Songs!
Einzigartige That'll Flat Git It! Rockabilly-Serie
Wir machten uns auf die Suche nach den am besten klingenden Bändern. Ließen sie dann von den führenden Mastering-Spezialisten bearbeiten und haben auch in puncto Verpackung neue Maßstäbe gesetzt. Als übergeordneten Serien-Titel wählten wir ' That'll Flat Git It!', das verbale Erkennungszeichen des ersten Rockabilly-Discjockeys Dewey Phillips.
Außerdem suchten wir unveröffentlichtes Fotomaterial und machten all jene Interpreten ausfindig, nach denen bis dahin vergeblich geforscht worden war.
Unterm Strich steht unsere einzigartige That'll Flat Git It! Serie
Bewertungen lesen, schreiben und diskutieren...
mehr
Kundenbewertungen für "Vol.2 - Rockabilly From The Vaults Of Decca Records (CD)"
Von:
Matthias Goeke
Am:
15.11.2018
Sampler
Super labelorientierte Zusammenstellung, der Starschuß um Sachen auf Single zu suchen
Von:
Herr Ringer
Am:
28.06.2018
sehr gut
sehr gute Qualität bin meistens mit Bear Family zufrieden
Bewertung schreiben
Bewertungen werden nach Überprüfung freigeschaltet.
Weitere Artikel von Various - That'll Flat Git It!