Der Artikel wurde erfolgreich hinzugefügt.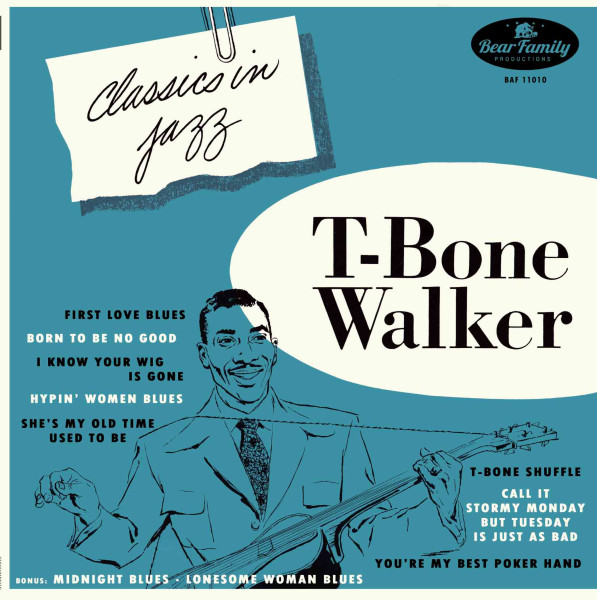 21,95 € *
24,95 € *
(12,02% gespart)
inkl. MwSt. / zzgl. Versandkosten - Abhängig vom Lieferland kann die MwSt. an der Kasse variieren.
Sofort versandfertig, Lieferzeit** 1-3 Werktage
Artikel-Nr.:

BAF11010

Gewicht in Kg.:

0.16
BEAR FAMILY Vinyl Club Exclusive  ,- limitierte Sammler-Edition, nur direkt im Bear Family...
mehr
T-Bone Walker: Classics In Jazz (LP, 10inch, Ltd.)
BEAR FAMILY Vinyl Club Exclusive
 ,- limitierte Sammler-Edition, nur direkt im Bear
Family
Shop und Mailorder - keine Händlerkonditionen!
10inch LP (limitierte Ausgabe - farbiges Vinyl)



t-bone walker  ,
What DiMaggio was to baseball, what Lindbergh was to aviation, Aaron (T-Bone) Walker is to the Blues. No orthodox singer, T- Bone has no eyes — never did have — for croon-ing Hit Parade ballads of the moment. His forte is the twelve-bar Blues, which he treats three ways while accompanying himself on a polished electrically amplified guitar. T-Bone's "ways" include (1) fast Blues, (2) slow Blues and (3) slowest Blues, and he wheels 'em and deals 'em. more times than not, in precisely that order. ,
With Les Hite's California orchestra, then in the 1940s with
Freddie Slack
, Walker attracted unusual attention as a guitarist and Blues bawler. Finally, as it must to all deserving men, success brought success to T-Bone and his titanic talents. He went out on his own, "just for myself," and recorded a dozen or more best-selling records among his other accomplishments. The best of these are presented between these covers.
 ,The Blues, T-Bone is adamant, can mean most anything lyrically. Happy times, frustrating times, plain bad times. You'll hear these moods— and more — as T-Bone paints pictures in indigo throughout the selections within this package. Onstage ...Center ...
Front
...The Great T-Bone and his Guitar!
Artikeleigenschaften von

T-Bone Walker: Classics In Jazz (LP, 10inch, Ltd.)
Albumtitel:

Classics In Jazz (LP, 10inch, Ltd.)

Genre

Blues

Geschwindigkeit

33 U/min

Record Grading

Mint (M)

Sleeve Grading

Mint (M)

Edition 2

Limited Edition

Plattengröße

LP (10 inch)

Artikelart

LP (10 inch)

EAN:

5397102110108

Gewicht in Kg:

0.16
T-Bone Walker Wer der Vater des elektrischen Blues ist? Ganz einfach: T-Bone Walker....
mehr
"T-Bone Walker"
T-Bone Walker
Wer der Vater des elektrischen Blues ist? Ganz einfach: T-Bone Walker. Natürlich hatte eine Handvoll bluesbasierter Gitarristen bereits vor T-Bones Auftauchen mit der Verstärkung ihrer Instrumente experimentiert, aber er schrieb das Vokabular, das jeder eifrig übernahm, der ihm nachfolgte. Kurz gesagt: T-Bone war die Quelle. Das elegante Mean Old World, aufgenommen am 20. Juli 1942 in Hollywood mit dem Pianisten Freddie Slack, dem Bassisten Jud DeNaut und dem Drummer Dave Coleman als Begleitung, war der wirkliche Startpunkt für Walker, auch wenn er schon Jahre zuvor seine erste Platte gemacht hatte.
Als Aaron Thibeaux (T-Bone war eine Verballhornung seines zweiten Vornamens) Walker in Linden, Texas, am 28. Mai 1910 geboren, lernte er den Blues von seiner Mutter, die Gitarre spielte, und einem Stiefvater, der in der Dallas String Band den Bass zupfte. Der berühmte Blind Lemon Jefferson war ein weiterer Haupteinfluss – als Teenager führte Walker ihn durch Dallas, wo Jefferson als Straßenmusiker auftrat. Bevor er sich auf sein Gitarrenspiel konzentrierte, erwarb Walker außergewöhnliche Agilität als professioneller Tänzer.
Walker machte schon Ende 1929 seine ersten Aufnahmen, eine 78er für Columbia unter dem Namen Oak Cliff T-Bone (Oak Cliff war der Stadtteil von Dallas, in dem er aufwuchs). Zu dieser Zeit spielte Walker natürlich ausschließlich akustische Gitarre, sogar als er mit einem weiteren zukünftigen Pionier der elektrischen Gitarre, Charlie Christian, als Duo auftrat. T-Bone zog Mitte der 30er-Jahre raus nach Los Angeles, wo er weiterhin tanzte und sich auf seinen vollen Baritongesang konzentrierte – bei seinem nächsten Schallplattenauftritt im Jahr 1940 mit dem Bandleader Les Hite war er nur Sänger.
Zuerst von Les Paul inspiriert, begann T-Bone zu dieser Zeit, die neu auf den Markt gekommenen elektrischen Gitarrenmodelle auszuprobieren. Er entschied sich für eine Gibson ES-250 und entwickelte bald die ungewöhnliche Technik, seine Gitarre im Stehen wie einen Teller flach vor sich zu halten, während er grandiose Melodie-Einzeltonlinien und wunderbare, voluminöse Nonenakkorde pickte. Walkers brillante Innovationen bereiteten das Feld für die meisten nachfolgenden, einflussreichen Gitarristen des Nachkriegsblues, von Gatemouth Brown und B.B. King bis Albert Collins und Johnny Copeland. Seine akrobatischen Showeinlagen beeindruckten seine Anhänger ebenfalls schwer.
"Mann, er hat einen Spagat gemacht, während er die Gitarre hinter seinem Kopf spielte",schwärmte Collins."Es war unglaublich!"
Bill Dahl
Chicago, Illinois
Bewertungen lesen, schreiben und diskutieren...
mehr
Kundenbewertungen für "Classics In Jazz (LP, 10inch, Ltd.)"
Von:
Claude Hubain
Am:
27.08.2017
OK
Super! Das ist eine Entdeckung für mich. Vorfahren von BB King.
Eine Schallplatte aus meinem Geburtsjahr.
Claude
Von:
Elwood Blues
Am:
29.06.2017
Schönes Stück
Danke Bear Family! Ihr habts raus die tollen Sachen zu bringen! Muss ich haben!
Bewertung schreiben
Bewertungen werden nach Überprüfung freigeschaltet.
Weitere Artikel von T-Bone Walker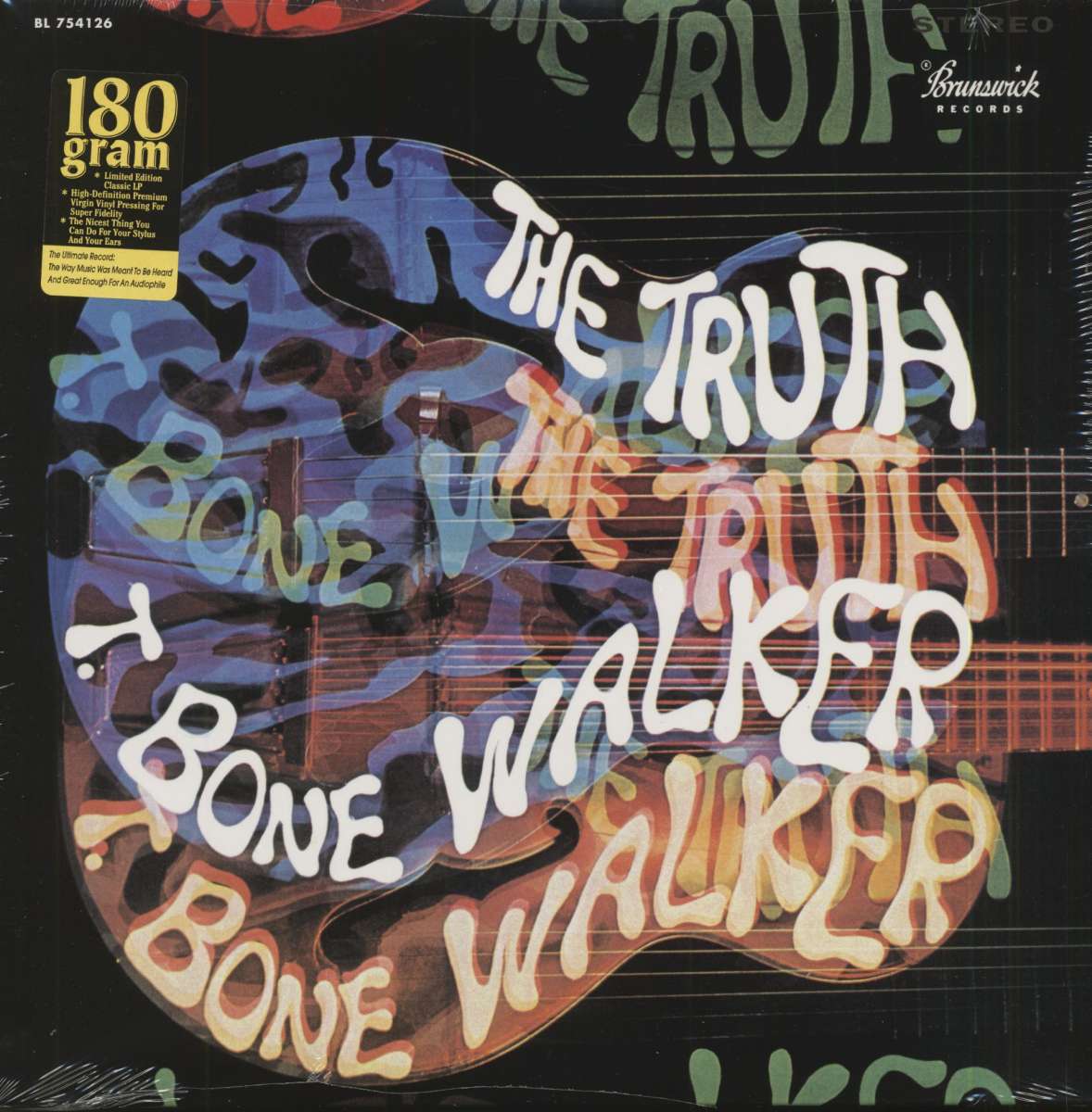 T-Bone Walker: The Truth (LP, 180g Vinyl)
Art-Nr.: LPBL754126


nur noch 1 verfügbar
Sofort versandfertig, Lieferzeit** 1-3 Werktage
T-Bone Walker: The Inventor Of The Electric Guitar Blues (LP)
Art-Nr.: BB304


Artikel muss bestellt werden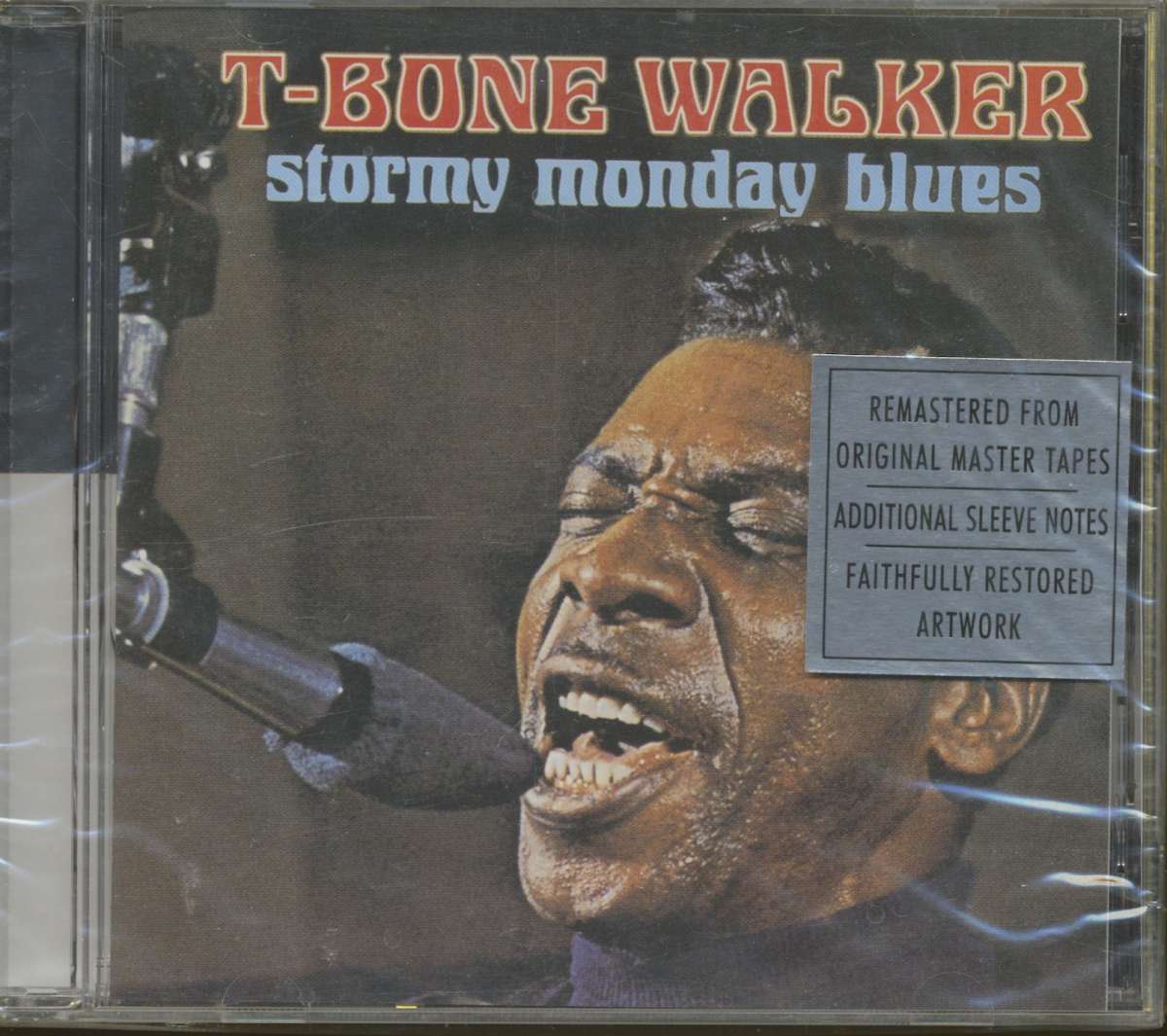 T-Bone Walker: Stormy Monday Blues (CD)
Art-Nr.: CDBGOCD425


Artikel muss bestellt werden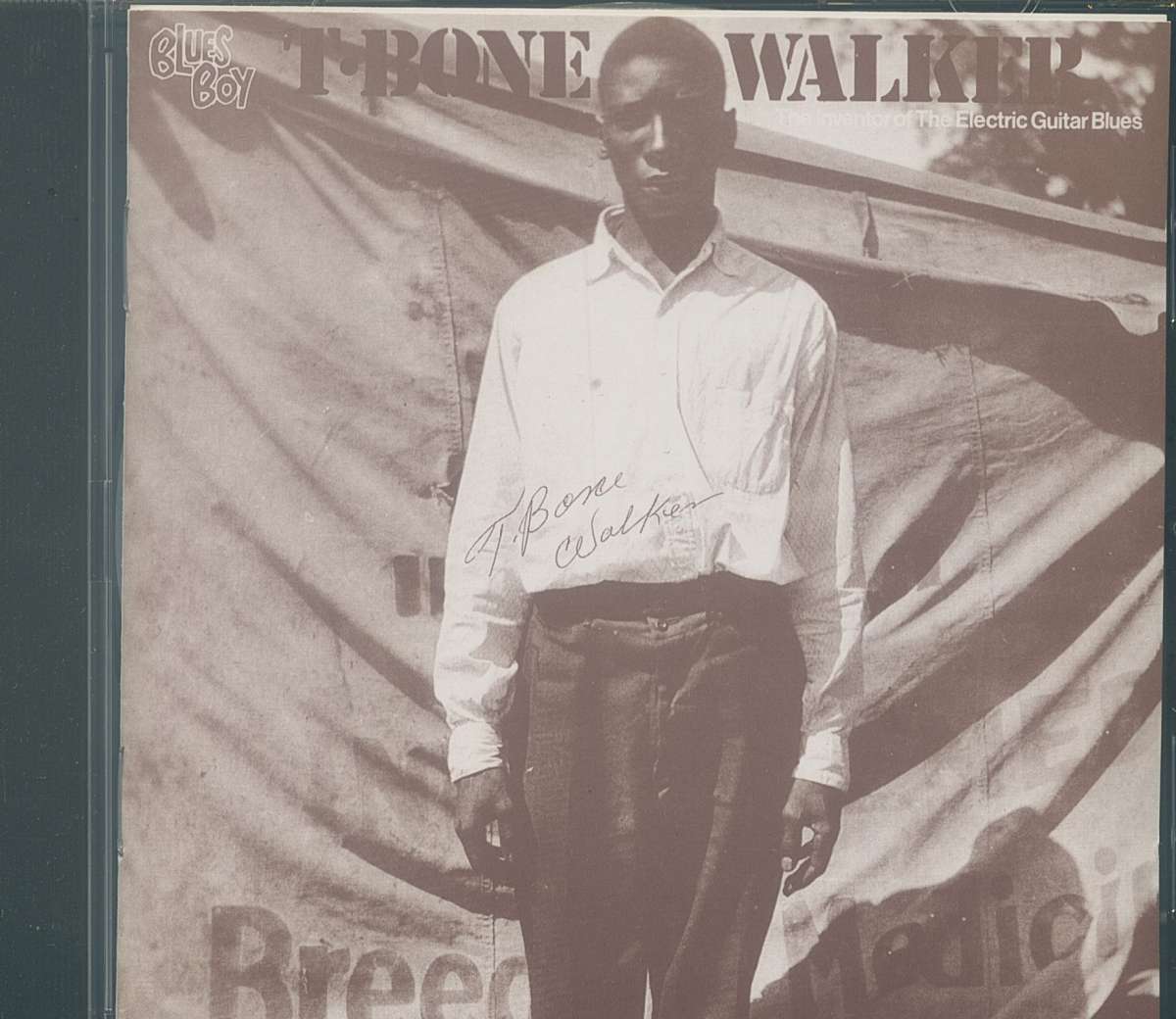 T-Bone Walker: The Inventor Of The Electric Guitar Blues (CD)
Art-Nr.: CDRBD304


Artikel muss bestellt werden
T-Bone Walker: I Get So Weary (LP Vinyl 180g, Ltdl)
Art-Nr.: LP772126


Artikel muss bestellt werden