Der Artikel wurde erfolgreich hinzugefügt.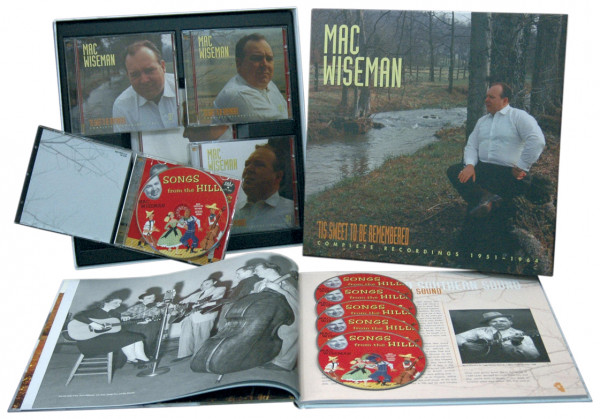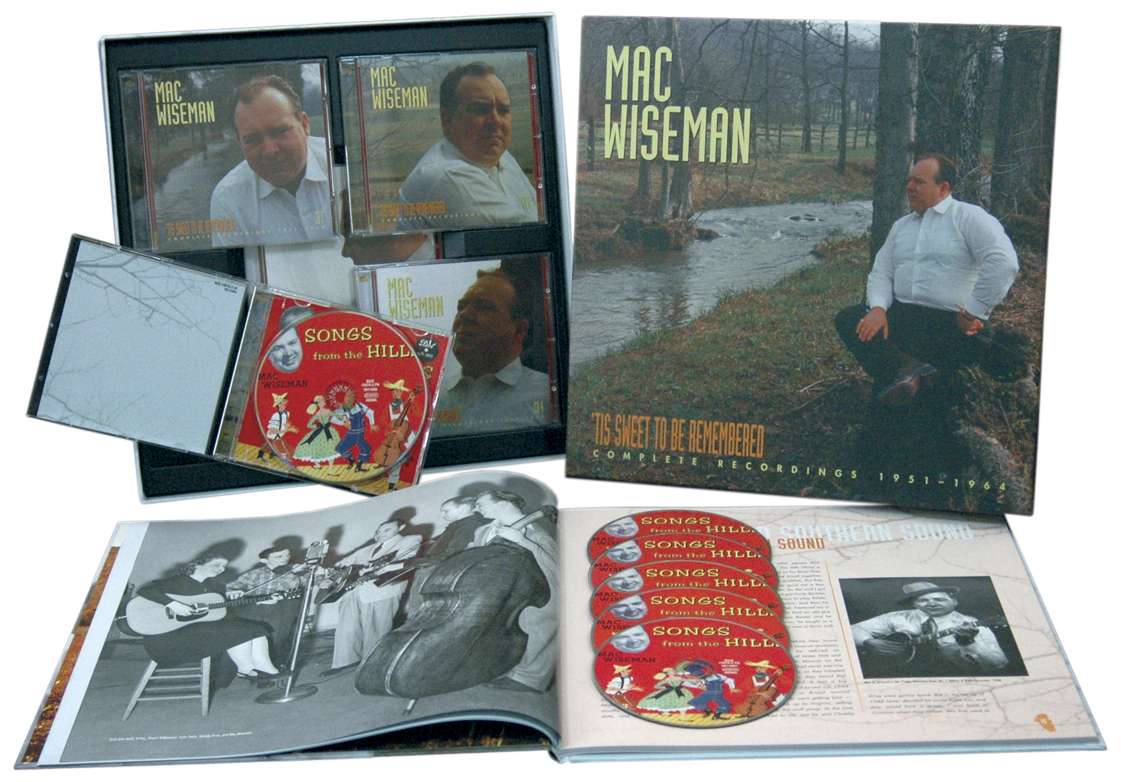 99,95 € *
119,95 € *
(16,67% gespart)
inkl. MwSt. zzgl. Versandkosten
Sofort versandfertig, Lieferzeit** 1-3 Werktage
Artikel-Nr.:

BCD15976

Gewicht in Kg.:

2.1
6-CD Box (LP-Format) mit 76-seitigem gebundenem Buch, 164 Einzeltitel. Spieldauer ca. 418...
mehr
Mac Wiseman: 'Tis Sweet To Be Remembered (6-CD)
6-CD Box (LP-Format) mit 76-seitigem gebundenem Buch, 164 Einzeltitel. Spieldauer ca. 418 Minuten.

Seit mehr als 60 Jahren fesselt die unverwechselbare Stimme von Mac Wiseman Zuhörer in aller Welt gefesselt, sie bewegt und inspiriert. Er hat mit seiner Musik den Sprung von kleinen Radiostationen bis in die Carnegie Hall geschafft. Wer Mac einmal gesehen oder sogar mit ihm gespielt hat, kann nachvollziehen, was Nashvilles bedeutendster Session-Fiddler Buddy Spicher einmal äußerte: 'Mac Wiseman ist zweifellos der Frank Sinatra der Country-Musik, denn er kann alles singen – Country, Bluegrass, Western, Gospel, Jazz. Niemand singt wie Mac Wiseman.'

Der bedeutendste Bluegrass-Musiker, Bill Monroe, sagte: 'Wiseman war der stärkste Sänger, den ich jemals gehabt habe.' Don Owens, der berühmte DJ aus Washington, bezeichnete Wiseman nach dem Abspielen einer Single als 'die Stimme mit Herz' – ein zusätzlicher Name, der noch heute für Mac gebraucht wird. Als Wiseman einst im Kennedy Center in Washington gespielt hatte, reichte ihm eine elegant gekleidete Dame ihre Hand (edler, weisser Handschuh inklusive) und erklärte: 'Wenn Mac Wiseman singt, hört einfach jeder zu.'

Ein Novum: Diese Zusammenstellung präsentiert 164 Songs auf 6 CDs – sämtliche frühen, klassischen Dot-Einspielungen und alle Capitol-Aufnahmen. Dabei gibt es mehrere der grandiosen Dot-Singles hier erstmalig seit ihrer Originalveröffentlichung wieder zu hören – im völlig neu bearbeiteten Klang und zusätzlich mit allen diskografischen Erläuterungen. Außerdem ist eine komplette Capitol-LP enthalten, die nie zuvor im Handel gewesen ist. Das beigefügte, 76-seitige gebundene Buch von Charles Wolfe und Eddie Stubbs ist in Kooperation mit Mac Wiseman entstanden; es zeigt viele seltene Fotos aus seinem Privatarchiv.
Artikeleigenschaften von

Mac Wiseman: 'Tis Sweet To Be Remembered (6-CD)
Albumtitel:

'Tis Sweet To Be Remembered (6-CD)

Genre

Country

Edition 2

Deluxe Edition

Preiscode

FK

Artikelart

Box set

EAN:

4000127159762

Gewicht in Kg:

2.1
Wiseman, Mac - 'Tis Sweet To Be Remembered (6-CD)

Box set 1
01
Little White Church
02
I'm A Stranger
03
'tis Sweet To Be Remembered
04
Are You Coming Back To Me
05
I Still Write Your Name In The Sand
06
Four Walls Around Me
07
Georgia Waltz
08
Dreaming Of A Little Cabin
09
You're The Girl Of My Dreams
10
Six More Miles
11
I Wonder How The Old Folks Are At Home
12
Going To See My Baby
13
It's Goodbye And So Long To You
14
Fire In My Heart
15
Waiting For The Boys
16
(I'd Rather Live) By The Side Of The Road
17
Shackles And Chains
18
Goin' Like Wildfire
19
You're Sweeter Than Honey
20
Don't Let Your Sweet Love Die
21
Crazy Blues
22
You'd Better Wake Up
23
When I Get The Money Made
24
Rainbow In The Valley
25
I'd Rather Die Young (Than Grow Old...)
26
Remembering
27
My Little Home In Tennessee
28
Let Me Borrow Your Heart For Just Tonight
Wiseman, Mac - 'Tis Sweet To Be Remembered (6-CD)

Box set 2
01
Love Letters In The Sand
02
I Haven't Got The Right To Love You
03
Keep On The Sunny Side
04
Reville In Heaven
05
Dreams Of Mother And Home
06
The Waltz You Saved For Me
07
Paradise Valley
08
I Saw Your Face In The Moon
09
You Can't Judge A Book By Its Cover
10
I Love You Best Of All
11
Wabash Cannonball
12
Don't Blame It All On Me
13
I Didn't Know
14
The Little Old Church In The Valley
15
When The Roses Bloom Again
16
Wabash Cannonball
17
Fire Ball Mail
18
Darlin' How Could You Forget So Soon
19
I'm Drifting Back To Dreamland
20
Smilin' Through
21
The Ballad Of Davy Crockett
22
Danger! Heartbreak Ahead
23
The Kentuckian Song
24
I Hear You Knocking
25
Camptown Races
26
Dark As A Dungeon
27
I Want To Be Loved
28
These Hands
29
I'm Eatin' High On The Hog
Wiseman, Mac - 'Tis Sweet To Be Remembered (6-CD)

Box set 3
01
The Meanest Blues In The World
02
I'm Waiting For Ships That Never Come In
03
One Mint Julep
04
Hey Mister Bluesman
05
Step It Up And Go
06
Sundown
07
Gone
08
Teenage Hangout
09
Because We Are Young
10
Shame, Shame, Shame
11
I'll Still Write Your Name In The Sand
12
'tis Sweet To Be Remembered
13
Promise Of Things To Come
14
Thinkin' About You
15
Put Me In Your Pocket
16
When The Work's All Done This Fall
17
Beside The Still Waters
18
How Great Thou Art
19
Just A Closer Walk With Thee
20
Standing Somewhere In The Shadows
21
When God Dips His Love In My Heart
22
Hold Fast To The Right
23
Did You Stop To Pray This Morning
24
Whispering Hope
25
Will There Be Any Stars In My Crown
26
Does Jesus Care
27
It Is No Secret
28
Each Ring Of The Hammer
Wiseman, Mac - 'Tis Sweet To Be Remembered (6-CD)

Box set 4
01
Jimmie Brown, The Newsboy
02
Driftwood On The River
03
When Its Lamplighting Time In The Valley
04
Little Moses
05
The Baggage Coach Ahead
06
The Girl In The Blue Velvet Band
07
I've Got No Use For The Women
08
Barbara Allen
09
The Preacher And The Bear
10
Just Tell The World That You Saw Me
11
Wildwood Flower
12
The Wreck Of The Old '97
13
The Ballad Of Davy Crockett
14
Darling Nellie Gray
15
The Old Lamplighter
16
Tom Dooley
17
He's Got The Whole World In His Hands
18
Old Shep
19
Sixteen Tons
20
I'm Movin' On
21
The Fool
22
El Paso
23
Running Bear
24
The Three Bells
25
There's A Star Spangled Banner Somewhere
26
Let The Lower Lights Be Burning
27
In The Sweet Bye And Bye
Wiseman, Mac - 'Tis Sweet To Be Remembered (6-CD)

Box set 5
01
I like This Kind Of Music
02
Now That You Have Me (You Don't Want Me)
03
I'm The Talk Of The Town
04
Glad Rags
05
The Prisoner's Song
06
There'll Be No Teardrops Tonight
07
Tell Mother I'll Be There
08
The Beautiful Garden Of Prayer
09
Beautiful Isle Of Somewhere
10
Peace In The Valley
11
I Heard My Mother Call My Name In Prayer
12
Bringing In The Sheaves
13
Where Is My Boy Tonight
14
If I Could Hear My Mother Pray Again
15
Shall We Gather At The River
16
Lord I'm Coming Home
17
Footprints In The Snow
18
Just Outside
19
Pistol Packin' Preacher
20
What's Gonna Happen To Me
21
Ballad Of The Little Box Of Pine
22
When The Snowflakes Fall
23
I'll Remember You, Love, In My Prayers
24
Free From The Old Chain Gang
25
Two More Years (And I'll Be Free)
26
Bluegrass Fiesta
27
Cotton Fields
28
Sing Little Birdie
Wiseman, Mac - 'Tis Sweet To Be Remembered (6-CD)

Box set 6
01
Are You Missing Me
02
Freight Train
03
Have A Drink On Me
04
Just A Strand From A Yellow Curl
05
'tis Sweet To Be Remembered
06
Goin' Like Wildfire
07
I Like Good Bluegrass Music
08
The Scene Of The Crime
09
Your Best Friend And Me
10
What A Waste Of Good Corn Likker
11
When The Moon Comes Over The Mountain
12
Mother Knows Best
13
Old Pair Of Shoes
14
The Mole
15
If I Could Live That Way
16
Heads You Win Tails You Lose
17
Bluegrass Music's Really Gone To Town
18
Dark Hollow
19
Brother Joe
20
Katie Waits For Me
21
Sweet Summers Gone Away
22
Brush It Off (It's All In Your Mind)
23
They All Goin' Home But One
Mac Wiseman Zu den Höhepunkten seiner Karriere zählen die Einführung der doppelt...
mehr
"Mac Wiseman"
Mac Wiseman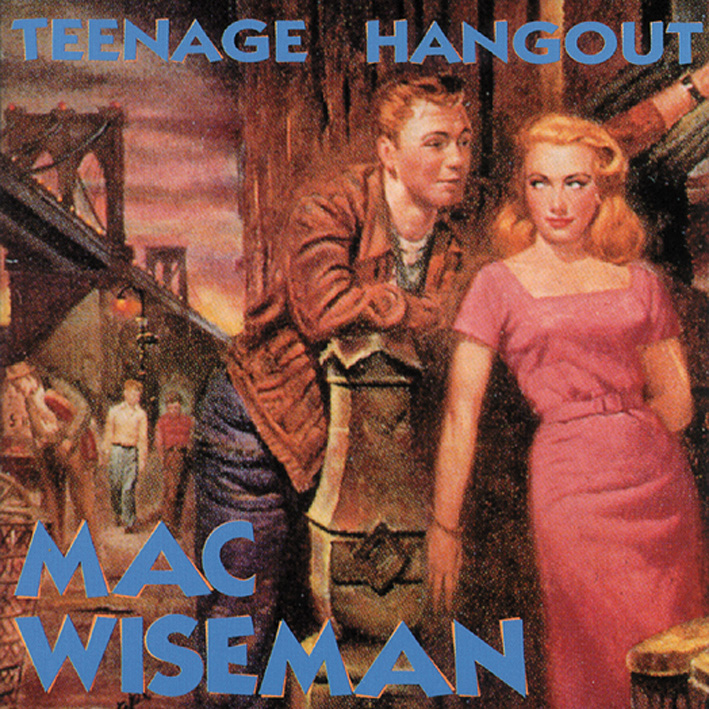 Zu den Höhepunkten seiner Karriere zählen die Einführung der doppelt besetzten Fiddle im Bluegrass und er war das letzte überlebende Mitglied von Lester Flatt & Earl Scruggs' original Foggy Mountain Boys. Allein diese Tatsache macht ihn zu einer Schlüsselfigur in der kommerziellen und musikalischen Entwicklung des Bluegrass der 1940er Jahre. Zum Anderen war er auch der letzte lebende Mitbegründer der Country Music Association (CMA). Wiseman half 1958 bei der Gründung des ursprünglichen CMA-Boards, um die Country-Musik vor der Bedrohung des immer populärer werdenden Rock'n'Roll und dessen starken Einflüssen zu schützen, obwohl er selbst eine Reihe von Rock'n'Roll und Rockabilly Titeln aufnahm. Er war während dieser wichtigen Periode in der wirtschaftlichen und sozialen Entwicklung von Nashville der First Secretary der Organisation.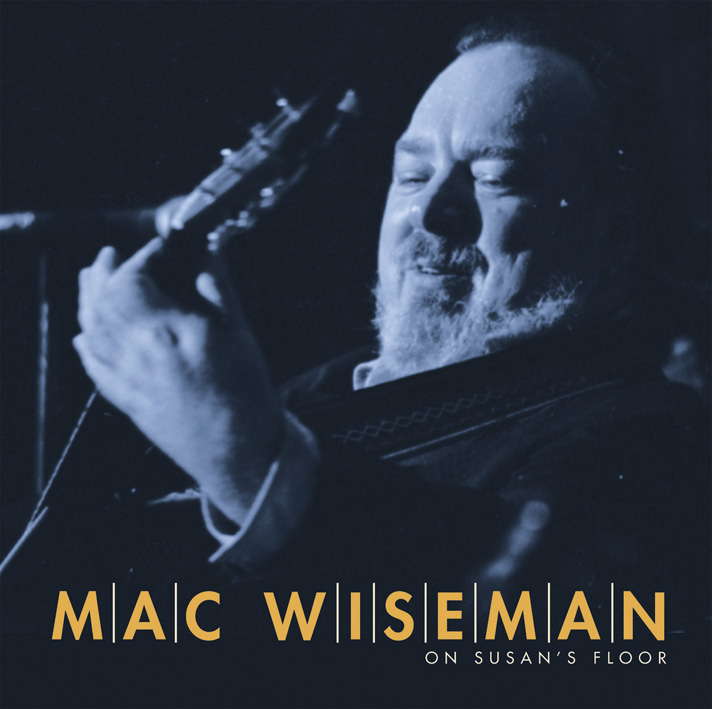 Mac Wisemans erste musikalische Liebe war Bluegrass, gefolgt von Pop und Country Music sowie seiner besonderen Liebe für sentimentale Liebeslieder vergangener Zeiten. Als Mac Wisemans neue Hit-Versionen in die Charts brachte, waren sowohl Jimmie Brown The Newsboy (1875) als auch Love Letters In The Sand (1931) bereits Klassiker. Zusammen mit Bandleader Woody Herman nahm er My Blue Heaven auf (ja, gibt es auch auf Bear Family).
Geboren am 23. Mai 1925 in Crimora, Virginia, erkrankte er bereits in jungen Jahren an Polio. Während andere Kinder auf den Feldern arbeiteten, blieb Wiseman im Haus und hörte Musik. Als Teenager kaufte er eine Gitarre aus einem Sears-Roebuck-Katalog und begann, seine Lieblingslieder zu spielen, während er Texte sang, die seine Mutter aus Radiosendungen übertrug. Er erinnerte an diese handschriftlichen Texte auf dem Album 'Songs From My Mother's Hand' von 2014.
Wiseman begann seine Karriere 1944 als Bassist für Molly O' Day's Cumberland Mountain Folks. Es folgte ein Gig mit Bill Monroe's Blue Grass Boys, der Wiseman auf eine Tour mit Hank Williams und im Studio einen Job für Nashvilles erste Bluegrass-Aufnahme-Session brachte. In den 1950er Jahren arbeitete er mit Dot Records als erfolgreicher Plattenkünstler und angesehener A&R-Vertreter und Produzent zusammen. Von 1966 bis 1970 brachte er als Direktor der Show neue Künstler beim einflussreichen WWVA Jamboree in Wheeling, West Virginia, unter. Heute ist es die zweitälteste Countrysendung nach der Grand Ole Opry.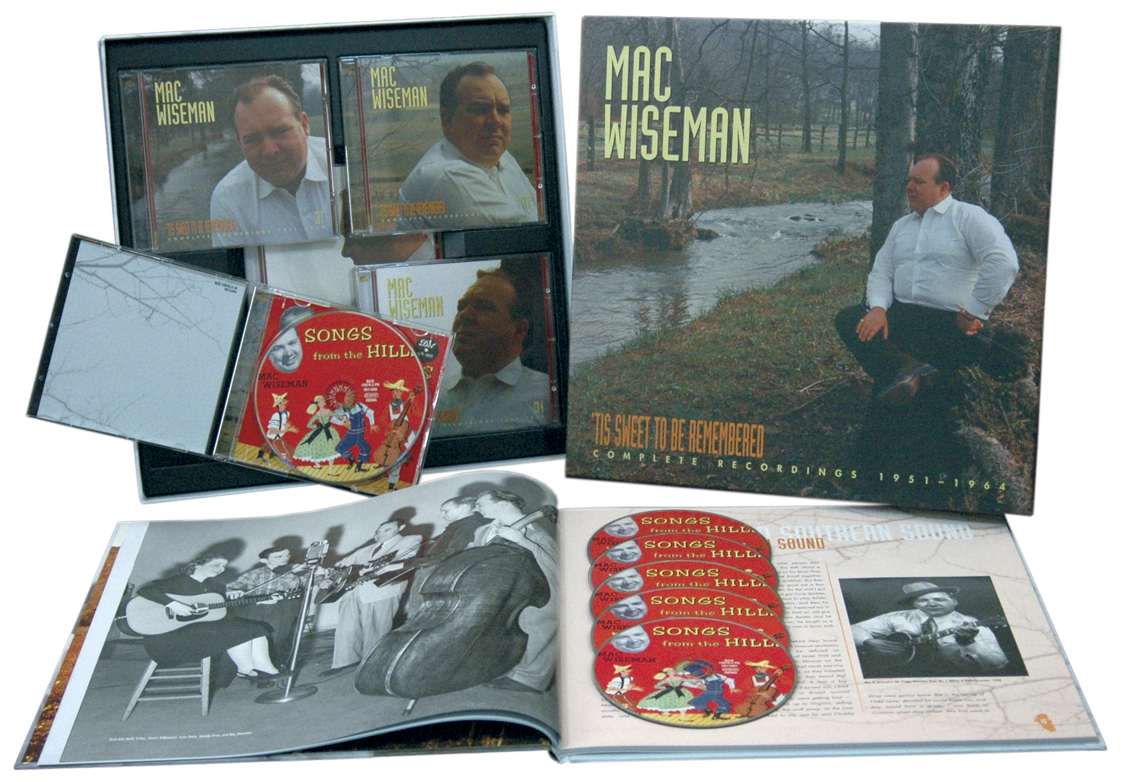 In den 1960er Jahren sangen die Mac Wiseman Fans Merle Haggard und Johnny Cash Loblieder auf ihn, während sie ihre eigenen Karriere weiter aufbauten. Wiseman machte später mit beiden Aufnahmen, erschien auf mehreren 'American Recordings' Veröffentlichungen von Cash und arbeitete mit Haggard für das Album 'Timeless' 2015 zusammen. Auch Aufnahmesessions mit Künstlern, wie Doc Watson, Merle Travis, den Osborne Brothers, Alison Krauss und John Prine sind erwähnenswert.
Die bevorzugte Stilrichtung von Mac Wiseman blieb immer die Bluegrass-Musik. 1986 war er bei einer weiteren einflussreichen Organisation, der International Bluegrass Music Association (IBMA), Mitbegründer. In einem Facebook-Post beklagt die IBMA den Verlust eines musikalischen Schatzes, eines produktiven Geschichten-Erzählers und großen Freundes.
Die größte Ehre für ihn war die Aufnahme in die Country Music Hall of Fame und die Bezeichnung ' The Voice with a Heart' des National Heritage Fellowship, die zu seinem Spitznamen wurde. In einem manchmal wankelmütigen und harten Geschäft blieb Wiseman als eine der freundlichsten und großzügigsten Menschen bekannt.
''Im hohen Alter von 93 Jahren ist ein großartiger Musiker von uns gegangen:
Mac Wiseman.
Ein Besuch bei ihm war, während unserer USA-Aufenthalte, immer eingeplant. Mac war randvoll mit Geschichten und war, trotz gesundheitlicher Auf und Abs in den letzten Jahren, immer voller (musikalischer) Pläne. Bei einer Dose Cola oder Soda wurden diese dann ausschweifend erörtert. Wir vermissen diese Treffen schon jetzt, und wir sind dankbar für die Zeit, die wir mit Mac verbringen durften.''
Birgit & Richard Weize
Mac Wiseman auf Wikipedia - http://de.wikipedia.org/wiki/Mac_Wiseman
Bewertungen lesen, schreiben und diskutieren...
mehr
Kundenbewertungen für "'Tis Sweet To Be Remembered (6-CD)"
Von:
John S.
Am:
26.07.2017
Bewertung schreiben
Bewertungen werden nach Überprüfung freigeschaltet.
Weitere Artikel von Mac Wiseman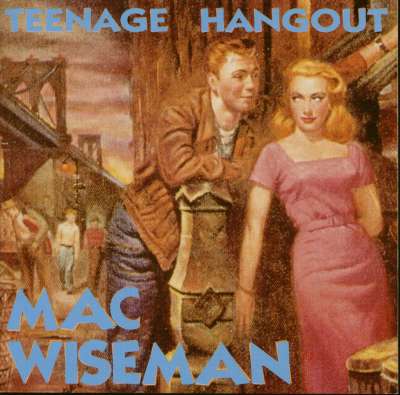 Mac Wiseman: Teenage Hangout (CD)
Art-Nr.: BCD15694


Sofort versandfertig, Lieferzeit** 1-3 Werktage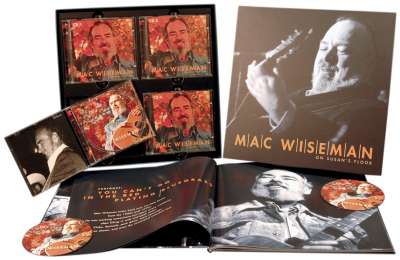 Mac Wiseman: On Susan's Floor (4-CD)
Art-Nr.: BCD16736


Sofort versandfertig, Lieferzeit** 1-3 Werktage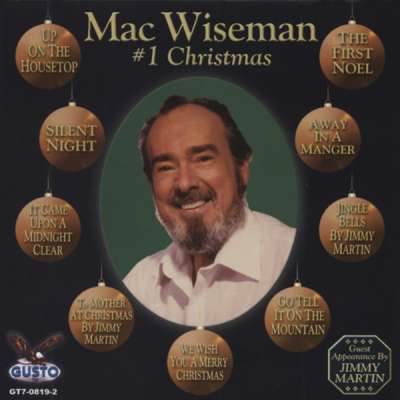 Mac Wiseman: #1 Christmas
Art-Nr.: CDGT0819


Sofort versandfertig, Lieferzeit** 1-3 Werktage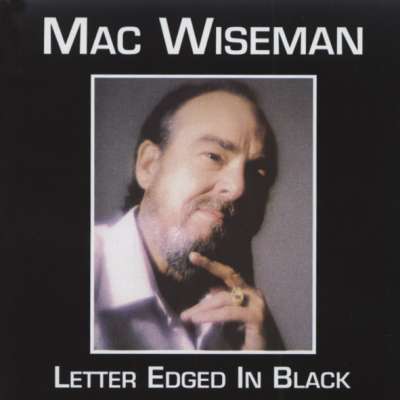 Mac Wiseman: Letter Edged In Black (2001)
Art-Nr.: CDMAC101


Sofort versandfertig, Lieferzeit** 1-3 Werktage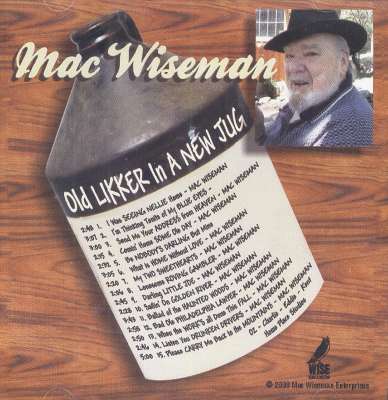 Mac Wiseman: Old Likker In A New Jug (2008)
Art-Nr.: CDMAC113