Zurück zur Übersicht
Ab 55 € versandkostenfrei (innerhalb DE)
DHL Versand - Auslieferung auch Samstags
Über 60.000 Artikel direkt ab Lager lieferbar.
Ric Cartey
Heart Throb - The Rockin' Sides Of Ric Cartey (10inch Vinyl)
Artikel-Nr.: BAF14002
Gewicht in Kg: 0,300
Sofort versandfertig, Lieferzeit** 1-3 Werktage
Statt: 19,95 € *
(10.03 %

gespart

)
17,95 € *
Preise inkl. gesetzlicher MwSt. zzgl. Versandkosten
Ric Cartey: Heart Throb - The Rockin' Sides Of Ric Cartey (10inch Vinyl)
Video von Ric Cartey - Heart Throb - The Rockin' Sides Of Ric Cartey (10inch Vinyl)
•
Ric Carteys großartige Rocker für RCA Victor, NRC und El Rico.
•
Zu den Begleitmusikern zählen Jerry Reed, Ray Stevens und Jack Eubanks.
•
Chet Atkins hat einige der Titel produziert.
•
Detaillierte Linernotes und fantastisches Artwork.
•
Längst überfälliger Vinyl-Rückblick auf die Karriere von einem der frühesten Rocker aus Atlanta.
Zwei Versionen von Ric Cartys erstem selbstgeschriebenen Song schafften es Anfang 1957 jeweils bis an die Spitze der Pop-Hitparade. Rics Originalfassung von Young Love war nicht darunter. Den Erfolg heimsten stattdessen der Countrysänger Sonny James und der aufstrebende schmalzige Popsänger Tab Hunter ein. Doch das hielt Cartey nicht davon ab, in der Folgezeit genügend starke Rocker für RCA Victor, NRC und sein eigenes El Rico-Label aufzunehmen, um damit diese 25cm-LP zu füllen.
Cartey war einer der ersten jungen Sänger der Rock 'n' Roll-Szene in Atlanta. Er wurde dort am 18. Januar 1937 als Whaley Thomas Cartey geboren. In dem Gitarristen Charlie Broome fand er einen Gleichgesinnten. Mit ihm zusammen trat er als Duo auf. Auf Broomes Idee geht die einprägsame Gitarreneinleitung zu Young Love zurück. Ric und Charlies Band, die Jiva-Tones (so wurde ihr Name auf dem Schallplattenetikett geschrieben), nahmen Young Love 1956 auf. Die Rückseite wurde mit dem glühend heißen Rocker Oooh-Eee gefüllt. Bei diesem Stück spielt Jerry Reed elektrische Gitarre.
Schließlich erwarb RCA die Rechte an Rics Original, um es USA-weit zu vermarkten. Jerry Reed schrieb das äußerst lebhafte I Wancha To Know für eine der nachfolgenden Singles und kehrte damit zu seiner umwerfenden akustischen Leadgitarrentechnik zurück. Im März 1957 schickte RCA Cartey nach Nashville, um mit dem Produzenten Chet Atkins zu arbeiten (Reed blieb sein Leadgitarrist und teilte sich den Job mit Jack Eubanks).

1958 wechselte Cartey zu dem erst kurz zuvor gegründeten NRC-Label, um Scratching On My Screen aufzunehmen, eine stampfende Interpretation von Washboard Sams 1939er Blues Diggin' My Potatoes auf Bluebird Records. Es sieht so aus, als sei Ric ein Fan des Chicago Blues gewesen. Für sein eigenes Label El Rico nahm er später unter dem Pseudonym Rex (kein Nachname) eine R&B-inspirierte Fassung von Mellow Down Easy auf.
Für den Rest seines Lebens blieb Young Love Ric Carteys Visitenkarte. Er starb am 5. August 2009 in Palm Harbor, Florida und hinterließ uns ein großartiges Vermächtnis mit allerbestem Rockabilly.
Songs
Ric Cartey - Heart Throb - The Rockin' Sides Of Ric Cartey (10inch Vinyl)

Medium 1
1:
Heart Throb
Ric Cartey
2:
Mellow Down Easy
Ric Cartey
3:
Gotta Be Love (prev unreleased)
Ric Cartey
4:
Let Me Tell You About Love
Ric Cartey
5:
Scratching On My Screen
Ric Cartey
6:
Born To Love One Woman
Ric Cartey
7:
I Wancha To Know
Ric Cartey
8:
Oooh-Eee
Ric Cartey
9:
My Babe
Ric Cartey
10:
Mellow Down Easy
Rex aka Ric Cartey
Artikeleigenschaften von

Ric Cartey: Heart Throb - The Rockin' Sides Of Ric Cartey (10inch Vinyl)
Interpret:

Ric Cartey

Albumtitel:

Heart Throb - The Rockin' Sides Of Ric Cartey (10inch Vinyl)

Artikelart

LP (10 inch)

Genre

Rock 'n' Roll

Plattengröße

LP (10 inch)

Geschwindigkeit

33 U/min

Record Grading

Mint (M)

Sleeve Grading

Mint (M)

Erscheinungsjahr

2017

Label

Bear Family Productions

Preiscode

BAF

SubGenre

Rock - Rock'n'Roll

EAN:

5397102140020

Gewicht in Kg:

0.300
Interpreten-Beschreibung

"Cartey, Ric"
Ric Cartey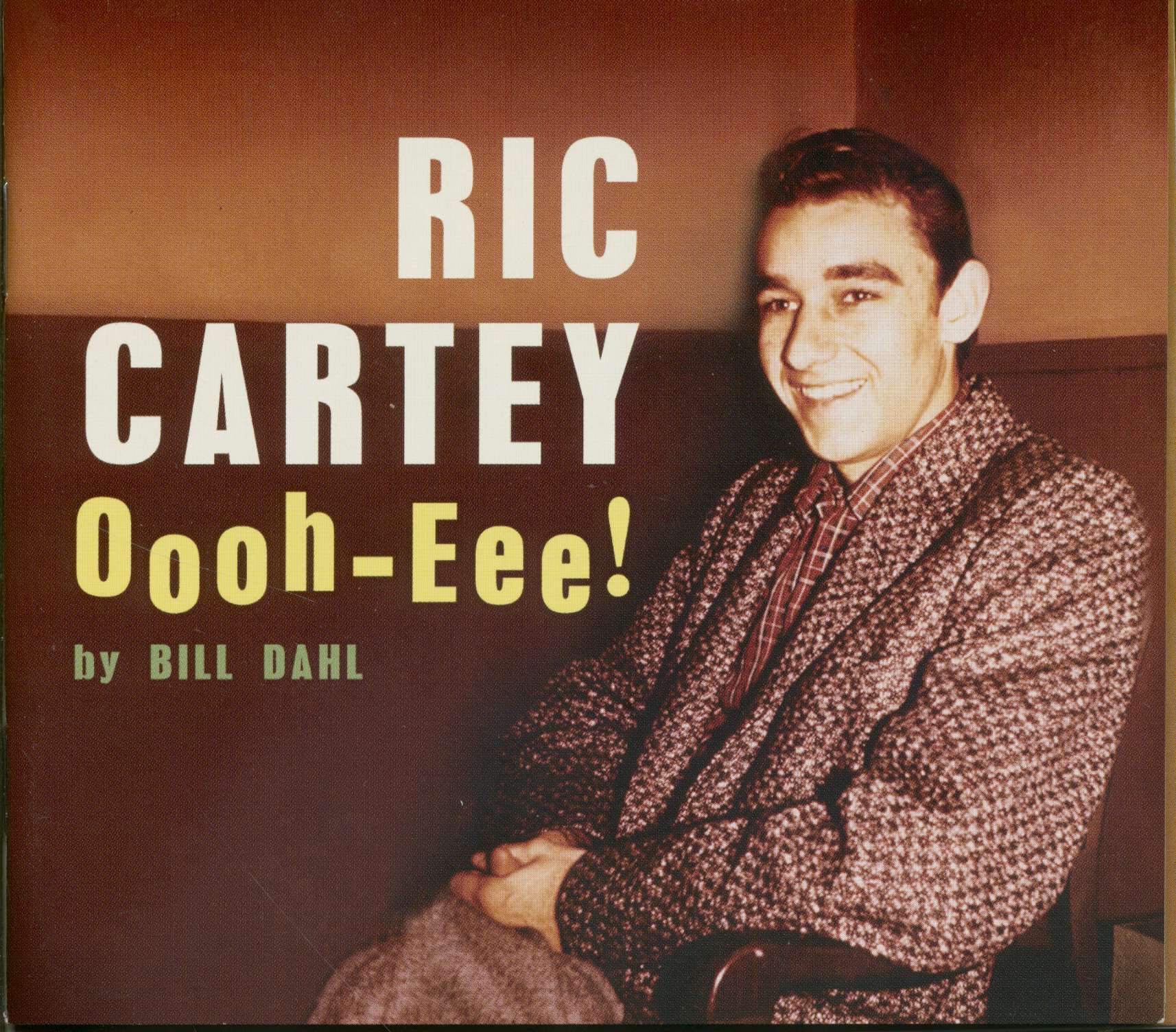 Two versions—not one, mind you, but two--of Ric Cartey's first recorded composition topped the pop hit parade in early 1957. Ric's own rendition of Young Love, which he'd written with fellow teenager Carole Joyner, wasn't one of them. The honors went instead to country singer Sonny James and neophyte pop crooner Tab Hunter. That didn't stop Cartey from subsequently cutting enough solid rockers for RCA Victor, NRC, and his own El Rico label.
Cartey was one of the first young singers on Atlanta's rock and roll scene, which would also encompass Jerry Reed, Ray Stevens, Joe South, Tommy Roe, and Mac Davis. Born there on January 18, 1937, Whaley Thomas Cartey found a kindred musical spirit in guitarist Charlie Broome, the two performing locally as a duo. "When Ric and I started, we actually didn't have a name," says Broome. "It was just Ric and Charlie, Ric Cartey and Charlie Broome. And we went down the beach. But we actually weren't doing really what you consider professional jobs there. I mean, we were playing down at the beach, and we'd always attract a crowd and everything. And then it just sort of grew."
Broome dreamed up the distinctive guitar introduction to Young Love. "'Young Love' was written in the music room of my parents' house and grandparents' house," he says. "(Carole) wrote this nice poem, which was the song, and Ric put it to music." Ric and Charlie's band, The Jiva-Tones (as their name was spelled on the record label) cut Young Love for local broadcast personality Bill Lowery's new Stars, Inc. record label in 1956 at a country radio station in Decatur, Ga. On the other side sat the blistering rocker Oooh-Eeee. It was written by Jerry Reed, who supplied the hot guitar licks as he had on Chuck's Atha's original for Stars, Inc. "On 'Oooh-Eeee,' Jerry was playing the electric, and I was playing the (rhythm)," says Broome of Cartey's version.
Capitol Records A&R man Ken Nelson had James cover Young Love, and Hunter then covered James for Dot. As both versions sailed up the pop charts. RCA acquired Ric's original from Lowery for national consumption, but Cartey somehow avoided hit status. Ric and the Jiv-A-Tones soon parted ways; the band would spread lead vocals between Broome and new guitarists Dean Stevens and Bill Holden, soon cutting a rocking 1957 single pairing Fire Engine Baby and Flirty Gertie on Lowery's Fox logo and then the vicious instrumental The Wild Bird for Fraternity.
Victor hung with its new acquisition, issuing Ric's Atlanta-cut encore. Reed wrote the highly animated I Wancha To Know as one side of Cartey's encore, returning to supply dazzling acoustic lead guitar. For his tweaking of the lyrics, Jerry earned half-authorship on the pulsing flip Heart Throb, splitting credit with Alabama-born Tommy Spurlin, who had waxed the number for Harold Doane's Miami-based Perfect Records (Doane archived it).
RCA sent Cartey to Nashville in March of '57 to work with producer Chet Atkins (Reed remained his lead guitarist, sharing fret duties with Jack Eubanks). Joe South was doing business under his birth surname of Souter when he penned Let Me Tell You About Love, an easy-going rocker that could have suited Sanford Clark. The flip side of Ric's single, Born To Love One Woman, was a cover of a single by newcomer Don Johnston on Mercury. Don later changed his first name to Bob, snagged a staff producing gig at Columbia, and helmed classics for Simon & Garfunkel, Bob Dylan, and Johnny Cash. RCA vaulted Cartey's original Gotta Be Love from the same date.
Atkins brought Cartey back to Music Row that July to cut his RCA farewell single with Reed and Eubanks again manning the guitars and newcomer Ray Ragsdale added on piano (you know him better as Ray Stevens). Both sides of Ric's last RCA release were covers of Chicago blues classics by harmonica genius Little Walter on the Checker imprint. My Babe, a 1955 R&B chart-topper for Walter, was Willie Dixon's secular adaptation of the gospel theme This Train; the Dixon-penned Mellow Down Easy had immediately preceded it on Walter's release slate.
Cartey gravitated over to Lowery's recently established NRC label in 1958 to wax Scratching On My Screen, a romping variation on Washboard Sam's 1939 blues Diggin' My Potatoes for Bluebird Records. Ric seems to have been a Chicago blues fan. He later revisited Mellow Down Easy on his own El Rico label with more of an R&B feel, issuing it under the concise alias of Rex (no last name).
Although Young Love was Cartey's calling card for the rest of his life (he died August 5, 2009 in his adopted hometown of Palm Harbor, Florida), he left us a legacy filled with rollicking rockabilly.
Bill Dahl
Read more at:https://www.bear-family.de/cartey-ric-oooh-eee-the-complete-ric-cartey-featuring-the-jiv-a-tones-plus-cd.html

Copyright © Bear Family Records
Presseartikel über

Ric Cartey - Heart Throb - The Rockin' Sides Of Ric Cartey (10inch Vinyl)