Der Artikel wurde erfolgreich hinzugefügt.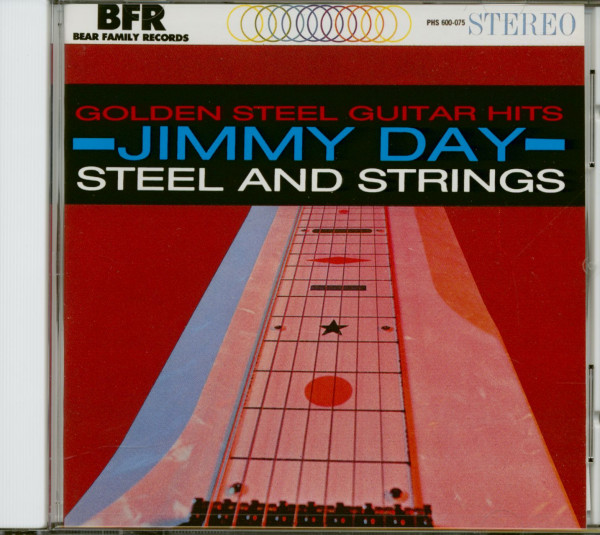 13,95 € *
15,95 € *
(12,54% gespart)
inkl. MwSt. / zzgl. Versandkosten
Sofort versandfertig, Lieferzeit** 1-3 Werktage
Artikel-Nr.:

BCD15583

Gewicht in Kg.:

0.115
1-CD mit 20-seitigem Booklet, 24 Einzeltitel. Spieldauer ca. 59 Minuten. Vielleicht war...
mehr
Jimmy Day: Golden Steel Guitar Hits - Steel And Strings (CD)
1-CD mit 20-seitigem Booklet, 24 Einzeltitel. Spieldauer ca. 59 Minuten.
Vielleicht war er der größte Pedal-Steel-Gitarrist aller Zeiten! Jimmy Day hat unzählige Sessions bestritten und war mit Hank Williams, Elvis Presley, Jim Reeves, Lefty Frizzell, Ray Price und Willie Nelson unterwegs. 1961 und 1962 nahm er zwei heutzutage unglaublich seltene Steel-Guitar-Alben für Philips Records mit insgesamt 24 Stücken auf, 'Golden Steel Guitar Hits' und 'Steel And Strings', die seinen herrlichen Sound, die verblüffende Technik und einen endlosen Fundus an Ideen unterstreichen. Zu den Titeln gehören Steel Guitar Rag, Panhandle Rag, Remington Ride, B. Bowman Hop, Bootheel Drag, Steelin' The Blues, Wild Side Of Life und Texas Playboy Rag.
Day wurde 1982 in die International Steel Guitar Hall of Fame aufgenommen. Er trat in den letzten Jahren meist in Texas auf und spielte ausgewählte Konzerte mit Ray Price, bis er am 22. Januar 1999 an Krebs verstarb.
Jimmy Day hat sechs Steel Guitar Instrumental-Alben aufgenommen - Steel And Strings, Golden Steel Guitar Hits, All Those Years, Jimmy Day & His Bud-dies Salute Don Helms, In Jesus' Name We Play und Jimmy Day & The Outlaw Texas Jam Band. Er machte auch ein instrumentales Album mit Herb Remington, A Day With Remington.

Einige der Künstler, mit denen Jimmy aufgenommen hat, sind Webb Pierce, Claude King, The Browns, Faron Young, Jim Reeves, Little Jimmy Dickens, Hank Locklin, Mel Tillis, Charlie Walker, Smiley Burnette, Red S ovine, Ray Price, Willie Nelson, Ernest Tubb, Johnny Bush, Skeeter Davis, George Jones, Porter Wagoner, Patsy Cline, Roger Miller, Johnny Paycheck, Connie Smith, Rusty & Doug Kershaw, Tanya Tucker und Hank Williams. Er hat im Laufe der Jahre mit zahlreichen anderen Künstlern aufgenommen.

Jimmy hat in allen Staaten der Union gespielt, außer in Hawaii, jeder Provinz Kanadas, Korea (mit Skeeter Davis) und, in Europa (wo er mit Ray Price, Ferlin Husky, Willie Nelson und Clay Blaker auf Tour war), England, Deutschland, Holland, Frankreich, Norwegen, Schweden und Dänemark.
Jimmy's Originalsongs wurden von Little Jimmy Dickens, Jack Scott, Cal Smith, Willie Nelson, Gene Watson, Roy Head, Conway Twitty, Clay Blaker, George Jones und Ernest Tubb aufgenommen.

1956 begann Jimmy mit Shot Jackson über den Bau einer Pedal Steel Guitar zu sprechen. Da er nicht sehr mechanisch war, hatte er wenig mit der Herstellung zu tun, behauptet aber, den Namen Sho-Bud (Sho-t- - Bud-dy-) erfunden zu haben. Es gibt zwei Pedalaufstellungen auf dem Pedalstahl, die Day- und Emmons-Aufstellung. Der einzige Unterschied besteht darin, dass das erste und dritte Pedal vertauscht sind.
Jimmy Day wurde 1982 in die Steel Guitar Hall of Fame und 1986 in die Texas Steel Guitar Hall of Fame aufgenommen. Herb Remington ist der einzige andere Spieler, der von beiden geehrt wurde. In drei aufeinander folgenden jährlichen Umfragen unter Musikprofis aus Austin, die 1989, 1990 und 191 vom Magazin Music City Texas" durchgeführt wurden, wurde Jimmy mit überwältigender Mehrheit zum #1 Steel Guitar Player gewählt.

Normalerweise weiß nur der wahre Fanatiker von den Sidemen, und in der Tat gibt es viele klassische Aufnahmen, bei denen Details von unterstützenden Spielern unvollständig oder fehlen und niemand wirklich weiß, wer sie waren. Allerdings haben eine Handvoll Spieler im Laufe der Jahre auch Gelegenheitshörer auf ihre Identität aufmerksam gemacht - James Burton, Buddy Emmons, Vassar Clements, Johnny Gimble, Speedy West, Jimmy Bryant, Mark O'Connor, Jerry Douglas. Das sind Männer, die ihre eigene, individuelle Brillanz auf alles, an dem sie beteiligt sind, aufprägen und Liner Credits fast irrelevant machen.

Unter diesen ausgewählten Bands strahlt der Name Jimmy Day, einer der großen Meister der Pedal Steel Gitarre, und für viele der größte aller Spieler dieses Instruments. Seine Aufführungs- und Aufnahmegeschichte spricht für sich selbst, was seinen Rang in der Country-Musik angeht. Dieses Album bestätigt einfach, was viele Country-Fans auf der ganzen Welt seit Jahrzehnten wissen.

Video von Jimmy Day - Golden Steel Guitar Hits - Steel And Strings (CD)
Artikeleigenschaften von

Jimmy Day: Golden Steel Guitar Hits - Steel And Strings (CD)
Albumtitel:

Golden Steel Guitar Hits - Steel And Strings (CD)

Genre

Country

Preiscode

AH

Artikelart

CD

EAN:

4000127155832

Gewicht in Kg:

0.115
Day, Jimmy - Golden Steel Guitar Hits - Steel And Strings (CD)

CD 1
01
Steel Guitar Rag/Panhandle Rag
02
Roadside Rag
03
Texas Playboy Rag
04
Remington Ride
05
Coconut Grove
06
Bootheel Drag
07
Bud's Bounce
08
B. Bowman Hop
09
Georgia Steel Guitar
10
Steelin' The Blues
11
Indian Love Call
12
Please Help Me, I'm Falling
13
I Love You Because
14
Am I That Easy To Forget
15
A Fallen Star
16
He Thinks I Still Care
17
Making Believe
18
I Love You So Much It Hurts
19
Wild Side Of Life
20
Release Me
21
Funny How Time Slips Away
22
I Can't Stop Loving You
23
I Fall To Pieces
Bewertungen lesen, schreiben und diskutieren...
mehr
Kundenbewertungen für "Golden Steel Guitar Hits - Steel And Strings (CD)"
Steelin' The Blues
love all tracks ( but bud's bounce best)
Bewertung schreiben
Bewertungen werden nach Überprüfung freigeschaltet.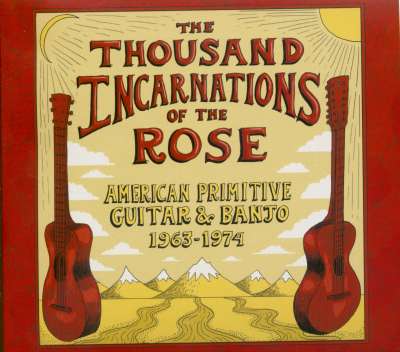 Various: The Thousand Incarnations Of The Rose -...
Art-Nr.: CDCR00013


Artikel muss bestellt werden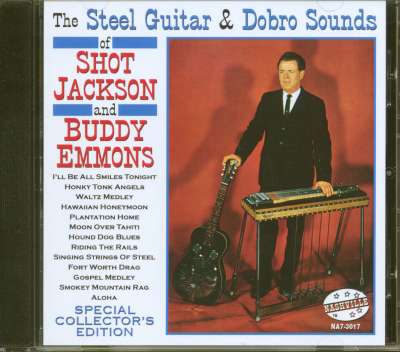 Shot Jackson & Buddy Emmons: The Steel Guitar & Dobro Sounds Of Shot Jackson...
Art-Nr.: CDNA3017


Artikel muss bestellt werden