Der Artikel wurde erfolgreich hinzugefügt.
Artikel-Nr.:

CDCHD841

Gewicht in Kg.:

0.107
​(ACE Records) 26 Tracks - 1960-1963 - 12-seitiges Booklet - Der Akt, durch...
mehr
The Flares: Foot Stompin' (CD)
​(ACE Records) 26 Tracks - 1960-1963 - 12-seitiges Booklet -
Der Akt, durch Sandkästen voller Kieselsteine zu marschieren, um einer Pop-Aufnahme einen bissigen akustischen Reiz zu verleihen, wurde mehr als einmal verfolgt. Gitarrist Les Paul spielte mit dem Gimmick auf Walkin' And Whistlin' Blues, Young Jessie schlenderte elegant über Shuffle In The Gravel, während die Solitaires mit ihrem High-Steppin' Walkin' Along einen unvergesslichen Eindruck hinterließen. In
1961 wurde das Medium durch Foot Stomping Pt 1, ein klobiges R&B-Training unter der Leitung von Aaron Collins, unerwartet wieder ins öffentliche Bewusstsein gebracht. Es war das typische Fun-Futter der damaligen Zeit - einfach, unprätentiös und fähig, viele Stücke im Radio und auf Jukeboxen zu stehen. Im Anschluss daran entstand das Album Encore Of Foot Stompin' Hits, das für seine Cover-Aufnahmen mit der Gruppe in passenden Puddingsee-Tuxedos bekannt ist - hier mit einem'alternativen Take' aus dem berühmten Fotoshooting. Überraschenderweise fand das zwölfspurige LP-Set im Februar 1963 eine britische Veröffentlichung auf London-American. Es ist die edelste dieser Seiten, die jetzt hier auftauchen, zusammen mit den besten Singles für Felsted und Press (und drei bisher unveröffentlichten Tracks). Zusammen bilden sie die allererste Kollektion der Flares in digitaler Form.
Unter den reifsten Kirschen sitzen einige weniger offensichtliche, aber sehr eindrucksvolle Seiten, wie die leidenschaftlichen What Do You Want If You Don't Want Love, der Doo Wop von Loving You und die leicht schrulligen Rock & Roll Heaven Pts 1 & 2. Die Geschichte der Gesangsgruppe, die die Flairs, die Coasters und die Cadets umfasst, wird im Begleittext von Bill Millar eifrig erläutert. Darüber hinaus werden die Liebhaber der Westküste den Groove von Plas Johnson, Ray Johnson und Earl Palmer zu schätzen wissen.
Der Titeltrack traf zweifelsohne den Filmproduzenten John Waters, als er den Song auf dem Soundtrack zu seinem Filmklassiker?îHairspray' verwendete. Tatsächlich muss die Einkerbung der Flares noch früher ihre Spuren hinterlassen haben, denn die Dave Clark Five und die Honeycombs haben nach den Stiefeln, die auf ihren bahnbrechenden Hits zu sehen waren, wahrscheinlich auch Kopien gekauft.
Ace Records' sehr unterhaltsame CD bestätigt, dass die Flares viel mehr zu bieten hatten als Foot Stomping, auch wenn ihr einsamer Hit den Manager und Produzenten Buck Ram in Bezug auf den Erfolg der Stable-Mates, der Platters, frustriert haben muss. Dennoch ergänzt dieses einzigartige Set der Flares den Rest der Buck Ram Serie: Crash The Rockabilly Party von Benny Joy (CDCHD 703), Buck Ram's Doo Wop (CDCHD 735) und Rock All Night (CDCHD 763).
Artikeleigenschaften von

The Flares: Foot Stompin' (CD)
Albumtitel:

Foot Stompin' (CD)

Genre

Doo-Wop

Artikelart

CD

EAN:

0029667184120

Gewicht in Kg:

0.107
Flares, The - Foot Stompin' (CD)

CD 1
01
Foot Stomping (part 1)
02
Hotcha Cha-Cha Brown
03
Loving You
04
Jump And Bump
05
What Do You Want If You Don't Want Love
06
So Fine
07
Dishes
08
Rock And Roll Heaven (part 1)
09
Rock And Roll Heaven (part 2)
10
Doing The Hully Gully
11
Yon He Go
12
Hand Clappin'
13
Shimmy And Stomp
14
Make It Be Me
15
Mad House
16
Do It With Me
17
Do It If You Wanna
18
It Wouldn't Be The Same
19
A Little Piece Of Paper
20
I Didn't Lose A Doggone Thing
21
Sweets For My Sweet
22
The Stroll
23
Sock Hop
24
Pony Time (aka THE PONY)
25
The Huckle-Buck
26
The Monkey Walk
The Flares Foot Stomping Although The Flares were a descendant of The Flairs, the Los...
mehr
"The Flares"
The Flares
Foot Stomping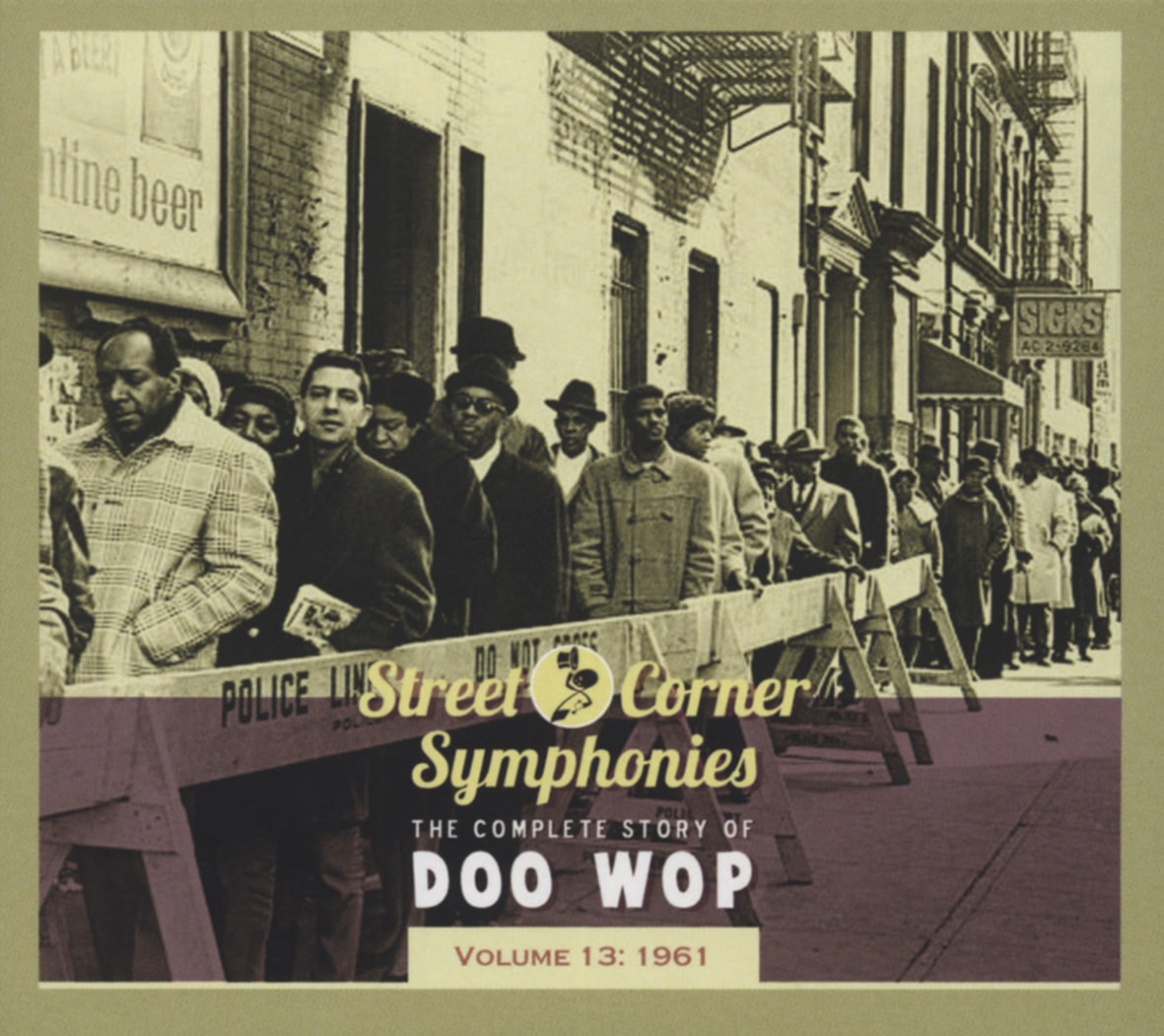 Although The Flares were a descendant of The Flairs, the Los Angeles group who made some terrific mid-'50s sides for the Bihari brothers' Modern label and boasted three great lead singers in Cornel Gunter, Young Jessie, and Richard Berry (they're on our 1953 edition of 'Street Corner Symphonies'), none of the original
members were present when they cut the two-part Foot Stomping. That workout was instead fronted in tandem by two ex-members of another mid-'50s Modern group with a higher-profile track record, The Jacks (aka The Cadets), tenors Aaron Collins and Willie Davis (he was born October 30, 1932 in Dallas, Texas).
Platters mastermind Buck Ram had started working with The Flairs when Gunter was fronting them in 1955, producing their '56 sides on ABC-Paramount with a realigned lineup before Cornel's departure (he soon would join The Coasters). There was a 1957 single on Ram's own Antler logo before bass George Hollis and baritone Thomas Miller united with Davis and Collins in an incarnation of The Cadets on Sherwood and Jan-Lar. They also cut for Ensign as The Peppers.
When The Flares reemerged in 1960 on London's Felsted subsidiary under Buck's supervision with the spelling of their name altered, Hollis and Miller were joined by Robbie Robinson, Eddie King, and Beverly Harris of The Harris Sisters. That was the likely lineup on Loving You, The Flares' first Felsted single, and maybe the followup Jump And Bump as well.
But when The Flares made Foot Stomping (Collins was its author) at Liberty Studios in December of '60, Aaron and Willie were there with Tommy, George, and diminutive newcomer Patience Valentine. Producer Ram wasn't satisfied until they overdubbed actual stomping feet on a board to pound the concept home. Part 1 was a #25 pop hit in the autumn of '61. Felsted's Walt McGuire set up the Press label for Ram's productions. The Flares had seven Press singles, the last fronted by Cookie Jackson (she succeeded Betty Collins - Aaron's sister and half of The Teen Queens with sister Rosie - who came in after Valentine, who waxed four early '60s solo singles for Sam Cooke's SAR label), and an album there. They disbanded in '64. Collins died March 27, 1997; Valentine in 2000, and Davis on February 20, 2011.
Various Street Corner Symphonies 1961 Vol.13
Read more at: https://www.bear-family.com/various-street-corner-symphonies-1961-vol.13.html
Copyright © Bear Family Records
Bewertungen lesen, schreiben und diskutieren...
mehr
Kundenbewertungen für "Foot Stompin' (CD)"
Bewertung schreiben
Bewertungen werden nach Überprüfung freigeschaltet.