Der Artikel wurde erfolgreich hinzugefügt.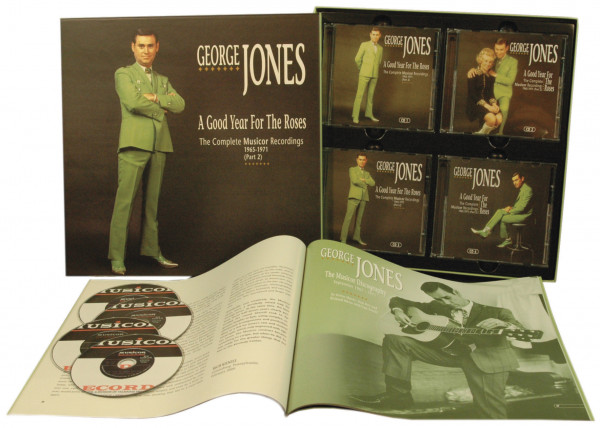 Benachrichtigen Sie mich, sobald der Artikel lieferbar ist.
20190325 19700101
74,95 € *
79,95 € *
(6,25% gespart)
inkl. MwSt. zzgl. Versandkosten
Artikel derzeit nicht verfügbar, Lieferfristen von bis zu 2-3 Wochen sind zu erwarten. (soweit verfügbar beim Lieferanten - kann aber auch schneller gehen)
4-CD box, LP-Format, mit 52 seitigem Buch, 131 Titel, Spieldauer 341:00. Wegen eines...
mehr
George Jones: A Good Year For The Roses (4-CD)
4-CD box, LP-Format, mit 52 seitigem Buch, 131 Titel, Spieldauer 341:00.

Wegen eines Rechtsstreits waren die Musicor-Aufnahmen von George Jones jahrelang nicht erhältlich. George Jones' Musicor-Einspielungen werden jetzt erstmalig systematisch sortiert veröffentlicht! Nie zuvor hat es sie in so erstklassiger Klangqualität gegeben! Im Set enthalten: 20 nie zuvor veröffentlichte Aufnahmen. Mit den George Jones-Klassikern When The Grass Grows Over Me, I'll Share My World With You,
As Long As I Live und einem der größten Country-Klassiker aller Zeiten, A Good Year For The Roses! Hinzu kommen die frühen Duette mit Tammy Wynette! Dies ist zweite George Jones-Box. Beide zusammen enthalten alle Musicor-Aufnahmen - mit Ausnahme der Duette mit Gene Pitney, die es aber bereits auf einer anderen Bear-Family-Veröffentlichung gibt!

Es waren die wirklich klassischen Jahre des George Jones! Nach über einem Jahrzehnt als Country-Superstar unterstützten eine wiedererlangte Seriosität und Lebensfreude den Mann, der ohnehin schon immer zu den ganz großen Vertretern der Country-Music gehört hatte. Die sechs Jahre von 1965 bis 1971, in denen George Jones für Musicor aufnahm, waren gekennzeichnet von persönlichen Turbulenzen aber auch von beispiellosen Erfolgen - und George Jones ließ wie selbstverständlich einen Country-Klassiker nach dem anderen von der Leine.

Dies ist Box Nr. 2 der zweiteiligen Musicor-Gesamtedition von George Jones für Bear Family, inklusive aller Sessions zwischen 1967 und 1971. Bislang wurden die Musicor-Einspielungen eher wahllos auf den Markt geworfen, andere waren gar nicht erhältlich - die beiden Bear-Family-Boxen machen endgültig Schluß mit diesem Zustand (eine CD mit den Duetten von George Jones mit Gene Pitney ist bereits bei Bear Family zu haben!). In den Jahren, um die es hier geht, heiratete George Jones Tammy Wynette - in dieser Box sind die frühesten Duette der beiden enthalten; ferner gibt es eine seltene Kooperation von
George Jones mit Johnny Paycheck! Und natürlich sind die zeitlosen George Jones-Standards wie When The Grass Grows Over Me, I'll Share My World With You und As Long As I Live dabei, genau wie einer der berühmtesten Country-Songs aller Zeiten, A Good Year For The Roses! All diese Höhepunkte - und dazu noch 20 bislang unveröffentlichte Aufnahmen! - sind jetzt in superber Klangqualität zu hören.

1971 trennte sich George Jones im Unfrieden vom Musicor-Mitbesitzer Pappy Daily, der ihn entdeckt und gefördert hatte, und folgte Tammy Wynette zu Epic Records. Es gab zwar weitere Hits, aber George Jones klang nie wieder so gut wie zuvor! Das Set enthält einen Begleittext von Rich Kienzle sowie eine Komplett-Discographie von Don Roy, Kittra Moore und Richard Weize
Artikeleigenschaften von

George Jones: A Good Year For The Roses (4-CD)
Albumtitel:

A Good Year For The Roses (4-CD)

Genre

Country

Preiscode

DI

Edition 2

Deluxe Edition

Artikelart

Box set

EAN:

4000127169297

Gewicht in Kg:

1.4
Jones, George - A Good Year For The Roses (4-CD)

Box set 1
01
Wrong Side Of The World
02
As Long As I Live
03
The Poor Chinee
04
New Man In Town
05
Beneath Still Waters
06
The Green Grass Grows All Around
07
Let It Rain Let It Shine
08
I'll Sail My Ship Alone
09
Possum Holler
10
I Can't Go Home
11
How Wonderful A Poor Man's Life Can Be
12
Unwanted Babies
13
Tell Me Something I Don't Know
14
Even The Loser (Likes To Dream)
15
Between My House And Town
16
Mansion Hill
17
Your Angel Steps Out Of Heaven
18
On Second Thought
19
Barbara Joy
20
When The Grass Grows Over Me
21
Burn Another Honky Tonk Down
22
Same Old Boat
23
When The Wife Runs Off
24
I Don't Have Sense Enough (To Come In Out Of
25
Do What You Think's Best
26
Third Time Down
27
Our Happy Home
28
You've Become My Everything
29
My Mom And Santa Claus
30
Lonely Christmas Call
31
I Cried Myself Awake
32
Heartaches And Hangovers
33
Divorce Or Destroy
34
Great Big Spirit Of Love
35
Milwaukee Here I Come
36
Just An Average Couple
37
I'll See You While Ago
38
She's Mine
39
If Not For You
40
The Race Is On
41
I'll Share My World With You
42
The Hardest Part Of All
43
How Much Rain
44
Where Grass Won't Grow
45
Old Blue Tomorrow
46
Shoulder To Shoulder
47
The Fortune I've Gone Through
48
For Better Or For Worse (But Not For Long)
49
She's As Close As I Can Get
50
No Blues Is Good News
51
I Know
52
Among The Few
53
Papa's Wagon
54
Never Grow Cold
55
Mama Take Me Home
56
Playing Possum
57
I Just Got Tired Of Being Poor
58
You Can Always Come Back
59
Going Life's Way
60
Okie From Muskogee
61
Image Of Me
62
Love Me
63
I Stayed Long Enough
64
All I Have To Offer You Is Me
65
Mama's Hungry Eyes
66
Each Season Changes You
67
Will You Visit Me On Sunday
68
I'm Finally Over You
69
Rosie Bokay
70
These Hands
71
A Wound Time Can't Erase
72
Try
73
Where Could I Go
74
Loving You Makes You Mine
75
Tell Me My Lying Eyes Are Wrong
76
Leaning On The Shoulder Of Love
77
A Good Year For The Roses
78
A Day In The Life Of A Fool
79
You And Your Sweet Love
80
A Good Year For The Roses
81
I'll Follow You (Up To Our Cloud)
82
With Half A Heart
83
A Good Old Fashioned Cry
84
Imitation Of Love
85
You're Still On My Mind
86
Open Pit Mine
87
Poor Little Rich Boy
88
My Favorite Lies
89
The Old, Old House
90
There's No Justice
91
I Made Leaving (Easy For You)
92
Brothers Of The Bottle
93
Late Getting Home
94
They'll Never Take Her Love From Me
95
Lifetime To Regret
96
You Put Living Back In Life
97
She's Lonesome Again
98
You Gotta Be My Baby
99
Wrong Number
100
I Wouldn't Know About That
101
Yearning
102
Would It Do Me Any Good
103
Someone Sweet To Love
104
Sometimes You Just Can't Win
105
Right Won't Touch A Hand
106
Getting Over The Storm
107
Wrapped Around Her Finger
108
I Can Still See Him In Your Eyes
109
Fightin' Side Of Me
110
Come Sundown
111
Knock Three Times
112
The Last One To Touch Me
113
Free As A Breeze
114
After You
115
Love Makes It Alright
116
Saginaw Michigan
117
Who'll Turn Out The Lights
118
Hello Darlin'
119
High On The Thought Of You
120
You Made A Believer Out Of Me
121
I Fall In Love Everyday
122
Get Some Loving Done
123
Our Love Is Forever
124
Everything's Gonna Be Alright
125
Will I Ever Love Again
126
I Had You
127
My Special Memory
128
Everytime I Think Of You
129
She's More Of A Woman
130
Heaven Made Women
131
I Can Love You Enough
George Jones Geb. 12.9. 1931 in Saratoga - Texas Gest. 26. April 2013 Record Labels:...
mehr
"George Jones"
George Jones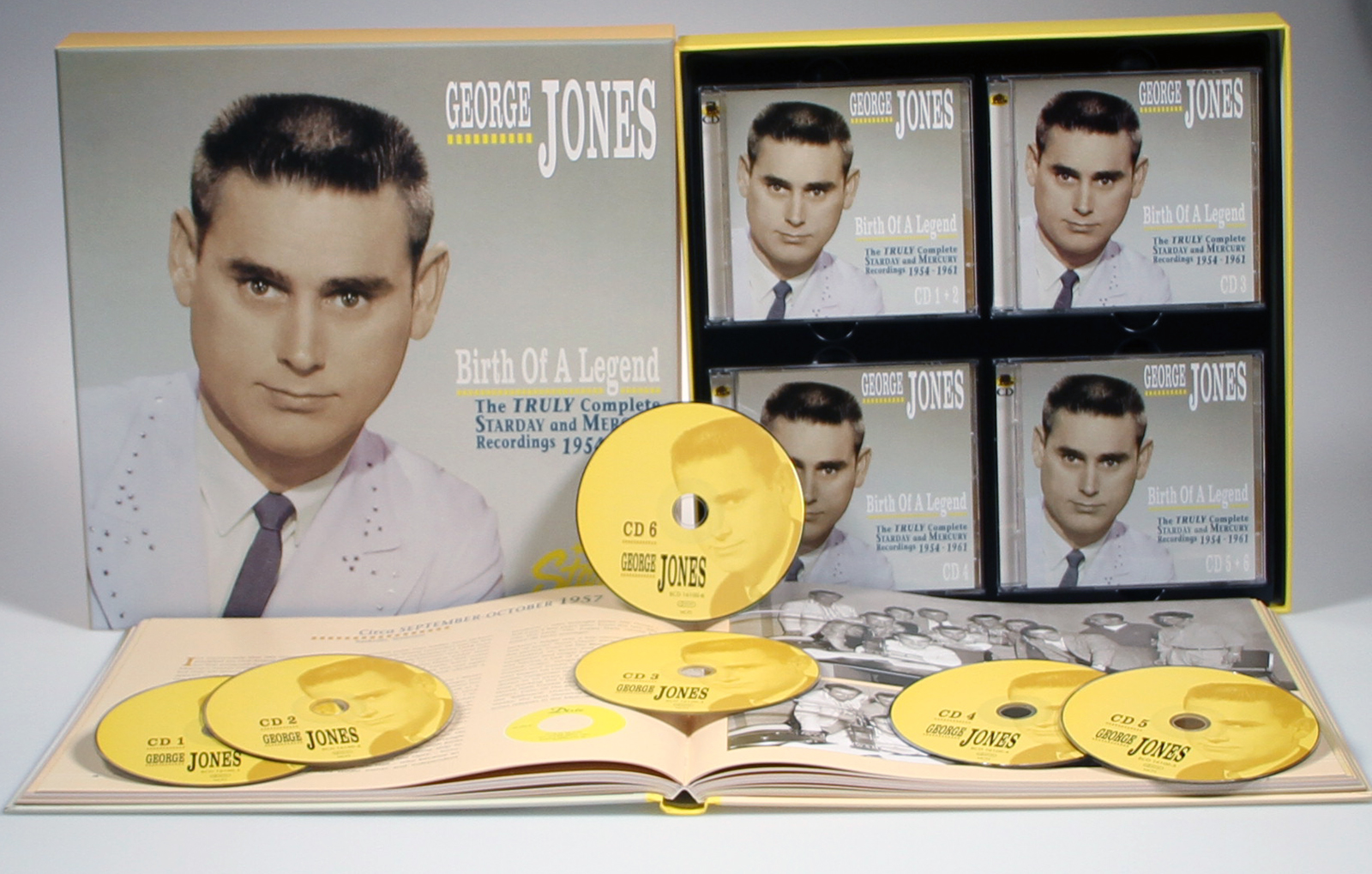 Geb. 12.9. 1931 in Saratoga - Texas
Gest. 26. April 2013

Record Labels: Starday, Mercury, Longhorn, Power Pak, Hillside, United Artists, Musicor, RCA, Intercord, Ace, Rounder, Epic.

Erster Top Ten Hit: Why Baby, Why (1955)
Erster No. 1 Hit: White Lightning (1959)
"Könnten wir alle so klingen, wie wir wollten, wir würden alle klingen wie George Jones." - Zitat von Waylon Jennings
George Jones, der Honky Tonk Sänger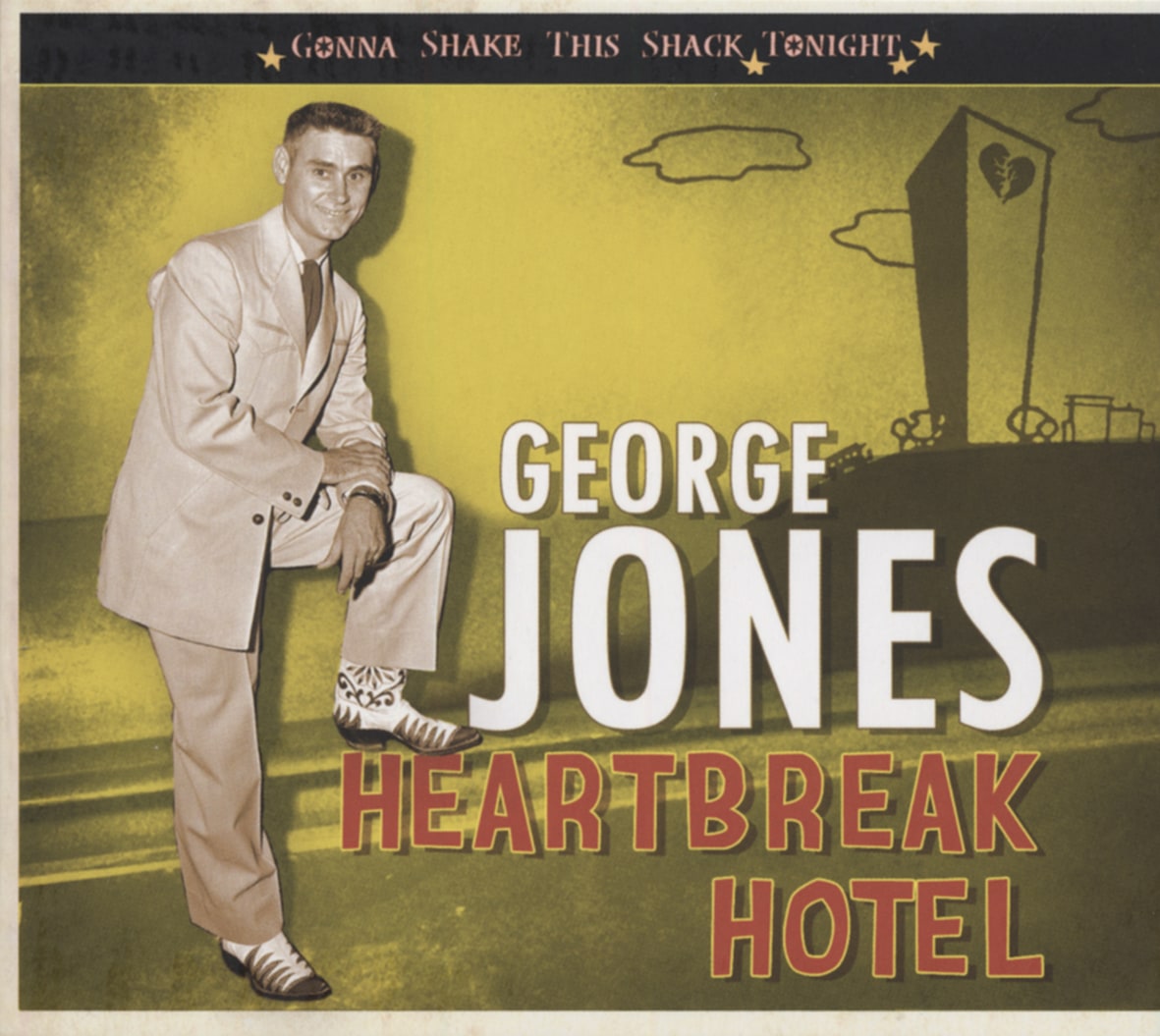 George Jones, der Honky Tonk Sänger mit der ausdrucksstarken Country Stimme, der seinerzeit gerne als der 'Crown Prince Of Country Music' bezeichnet wurde, kam im November 1953, gerade frisch bei den Marines entlassen, in Beaumont, Texas an. Bis tief in das Jahr 1954 sorgte er in dieser Region mit seinen Auftritten in den lokalen Honky Tonks für Aufsehen.
Noch im gleichen Jahr wurde Pappy Daily, Chef von Starday Records, auf ihn aufmerksam und gab dem ausdrucksstarken Sänger eine Chance. Und Daily hatte mit George Jones tatsächlich eine Goldmine entdeckt. Jones erreichte bereits im Folgejahr 1955 die Top 10 der Country Charts. Nach den ersten großen Erfolgen in den 50er Jahren, übrigens teilweise auch auf dem Rockabilly Sektor unter dem Pseudonym Thumper Jones.
Gehörte er dann in den 60ern zu den erfolgreichsten und einflussreichsten Country Interpreten, der Hit auf Hit produzierte. George Jones war zeitweise der Country Sänger mit den meisten veröffentlichten LPs. Legendär sind auch seine berühmten Duett Aufnahmen mit Melba Montgomery und seiner Frau Tammy Wynette.
George Jones in den 60er Jahren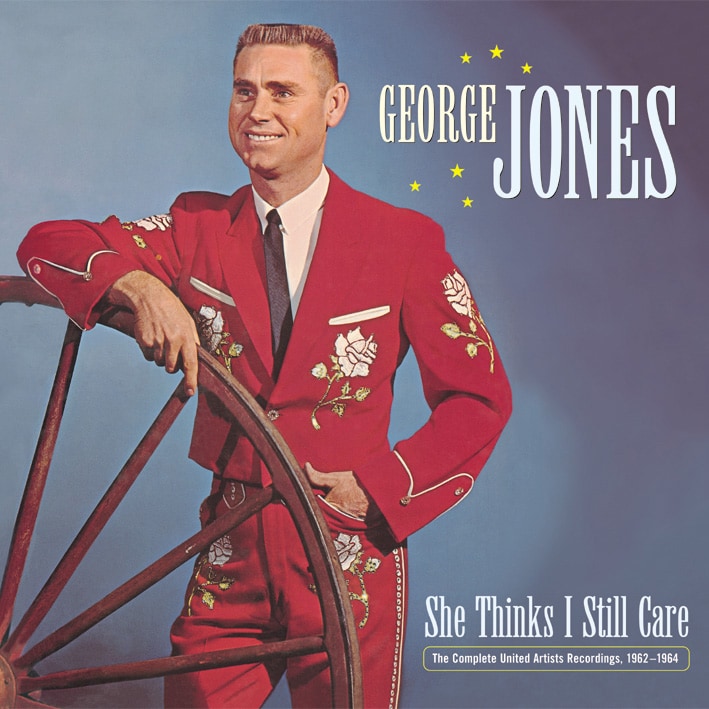 Die 60er Jahre bescherten ihm Hits, wie 'Love Bug', She Thinks I Still Care' und 'The Race Is On'. Letzteres 1981 erfolgreich von Dave Edmunds & Stray Cats gecovert. Trotz zunehmender Alkoholprobleme blieb Jones auch in den 70er Jahren und nach der Scheidung von Tammy Wynette erfolgreich.Obwohl er sich durch Absagen vieler Konzerte den Spitznamen 'No Show Jones' einhandelte.
George Jones in den 80er Jahren
1980 war er mit 'He Stopped Loving Her Today' erneut an der Spitze der Country Charts. 1992 wurde Jones in die Country Music Hall Of Fame aufgenommen und 1995 veröffentlichte er seine Autobiographie 'I Lived To Tell It All'.
George Jones in den 90er Jahren
Zum Ende der 90er Jahre hatte George Jones, auch das Possum genannt, nach einem schweren Verkehrsunfall seine Alkoholsucht mit Hilfe seiner damaligen Frau Nancy überwinden können und sein Album 'Cold Hard Truth' von 1998, das je zur Hälfte vor und nach dem Unfall entstanden war, gilt heute als eines seiner besten. George Jones absolvierte bis ins hohe Alter noch jährlich etwa 100 Auftritte.
Im Frühjahr 2012 musste er aufgrund einer Atemwegsinfektion zwei Krankenhausaufenthalte über sich ergehen lassen, um bereits im Juni des Jahres erneut auf der Bühne zu stehen.
George Jones starb 2013 im Alter von 81 Jahren in einem Krankenhaus in Nashville.

Read more at: https://www.bear-family.de/jones-george-she-thinks-i-still-care-62-64-5-cd.html Copyright © Bear Family Records
Bewertungen lesen, schreiben und diskutieren...
mehr
Kundenbewertungen für "A Good Year For The Roses (4-CD)"
Possum Holler help
i need all George Jones recordings
Bewertung schreiben
Bewertungen werden nach Überprüfung freigeschaltet.
Weitere Artikel von George Jones