Der Artikel wurde erfolgreich hinzugefügt.
Bill Monroe
Blue Moon Of Kentucky 1936-1949 (6-CD Deluxe Box Set)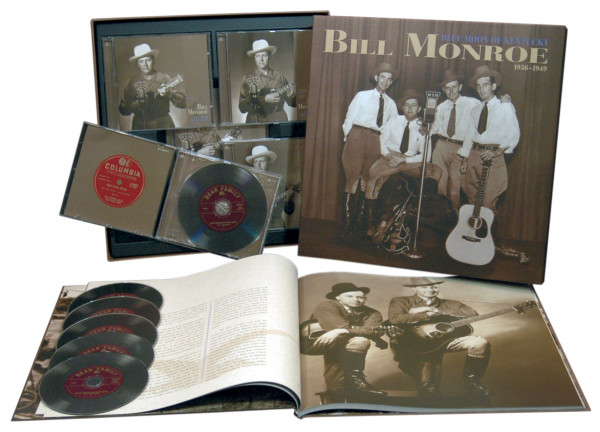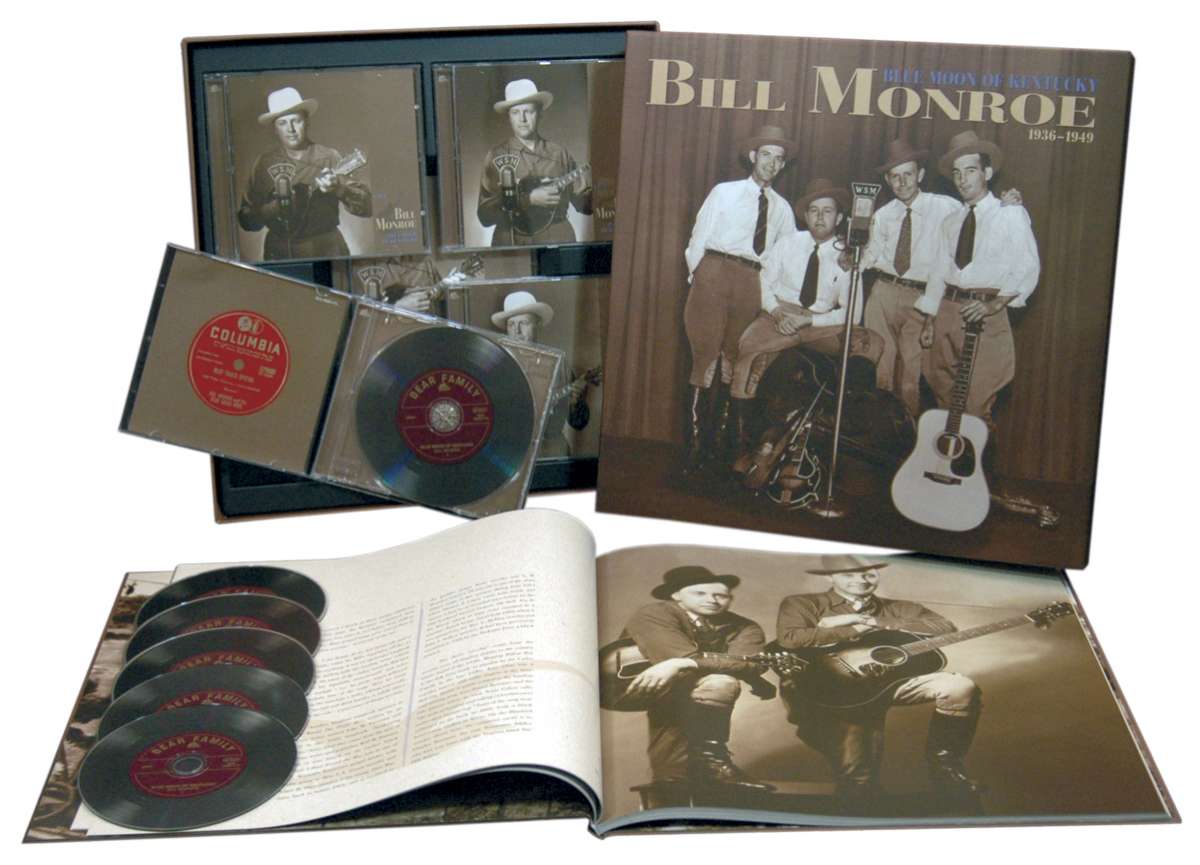 Dieser Artikel ist gestrichen und kann nicht mehr bestellt werden!
Benachrichtigen Sie mich, sobald der Artikel lieferbar ist.
Artikel-Nr.:

BCD16399

Gewicht in Kg.:

2.05
6-CD Box (LP-Format) mit 88-seitigem gebundenen Buch, 176 Einzeltitel. Spielzeit ca. 465...
mehr
Bill Monroe: Blue Moon Of Kentucky 1936-1949 (6-CD Deluxe Box Set)
6-CD Box (LP-Format) mit 88-seitigem gebundenen Buch, 176 Einzeltitel. Spielzeit ca. 465 Minuten. Die letzen Exemplare - Box wird nicht wieder aufgelegt!*****
Zwischen 1936 und 1949 machte
Bill Monroe
eine Reihe von Aufnahmen, die das Fundament dessen verkörpern, was heute als
Bluegrass
-Musik bezeichnet wird. Diese Song-Kollektion versammelt erstmalig die kompletten Arbeiten jener bahnbrechenden Zeit – sämtlich von den ultimativen Masterbändern gezogen und auf höchstem technischen Niveau überspielt.
Die Box enthält alle 60 Duette der legendären
Monroe Brothers
aus den Jahren 1936 – 1938, sämtliche 16 Songs von 1940/41, die unter dem Namen Bill Monroe erschienen sind und alle klassischen Columbia-Sessions von 1945 – 1949; darunter die revolutionären Einspielungen mit
Lester Flatt
,
Earl Scruggs
und Chubby Wise. Hinzu kommen alle Alternativ-Aufnahmen von den Columbia-Sessions – 50 nie zuvor veröffentlichte Out-takes, darunter ein unnumeriertes Master eines Gospel-Songs, dessen Existenz bis dato nicht bekannt gewesen ist.
Diese Zusammenstellung enthält die Originalversionen von Meisterwerken wie What Will You Give In Exchange For Your Soul, Orange Blossom Special, True Life Blues, Blue Moon Of Kentucky und
I'm Going Back To Old Kentucky.
Die Box ist ein atemberaubendes Projekt - eine Chronik der wegweisenden Arbeiten eines Mannes, dessen Songs die amerikanische Musik grundlegend verändert haben.
Insgesamt enthält diese Box mehr als 170 Aufnahmen, ein Hardcover-Buch im LP-Format mit seltenen Fotos, eine neu recherchierte Biographie von Charles Wolfe sowie eine lückenlose Discographie von Neil V. Rosenberg.
Artikeleigenschaften von

Bill Monroe: Blue Moon Of Kentucky 1936-1949 (6-CD Deluxe Box Set)
Albumtitel:

Blue Moon Of Kentucky 1936-1949 (6-CD Deluxe Box Set)

Genre

Country

Edition 2

Deluxe Edition

Preiscode

FL

Artikelart

Box set

EAN:

4000127163998

Gewicht in Kg:

2.05
Bill Monroe Record Labels: RCA, Columbia, Harmony, Decca, MCA, Stetson, Rebel Erster Hit:...
mehr
"Bill Monroe"
Bill Monroe
Record Labels: RCA, Columbia, Harmony, Decca, MCA, Stetson, Rebel
Erster Hit: Scotland (1958)

Bill Monroe, The Father Of Bluegrass Music, begann seine Schallplattenkarriere 1936 zusammen mit seinem Bruder Charlie als "The Monroe Brothers". Neben den Blue Sky Boys zählten die Monroes zu den populärsten Duos der 30er Jahre. Nach der Trennung von Charlie 1938 gründete Bill zunächst eine Gruppe die er "Kentuckians" und wenig später "Bluegrass Boys" nannte. 1940 spielte er die ersten Aufnahmen für RCA ein, doch erst nach dem Zweiten Weltkrieg folgten die ersten Aufnahmen in jenem Stil, der im Verlauf der Jahre als "Bluegrass" in die Geschichte der Country Music eingehen sollte.

Genau am 16. September 1946 wurden die ersten Bill Monroe Aufnahmen in den Castle Studios von Nashville - Tennessee aufgenommen, die man als Bluegrass bezeichnen kann, gekennzeichnet nicht nur durch Bill Monroe`s hohe scharfe Stimme und den harten Drive der Band, sondern vor allem durch das im 3-Finger-Stil gespielte 5-String-Banjo von Earl Scruggs. Das war für Columbia Records. Als Columbia dann später mit den Stanley Brothers eine weitere Bluegrass Band unter Vertrag nahm, verließ Monroe das Unternehmen und ging zur Decca, der späteren MCA. Bill Monroe, der mit seiner Band den Bluegrass Stil kreierte, hat selbst wenig zur Weiterentwicklung dieses Stils beigetragen. Dies haben andere besorgt. Er selbst spielt noch heute nach dem alten Konzept, hat keine weiteren Instrumente als Fiddle, Banjo, Gitarre, Mandoline und Bass zugelassen und singt noch immer hoch und scharf. Dennoch, die wichtigsten Bluegrassmusiker sind mehr oder weniger lang durch die harte Schule von Bill Monroe hindurch: Clyde Moody, Howdy Forrester, Don Reno, Red Smiley, Jimmy Martin, Carter Stanley, Vassar Clements, Chubby Wise und Byron Berline. 1970 wurde Bill Monroe in die Country Music Hall Of Fame aufgenommen.
Bill Monroe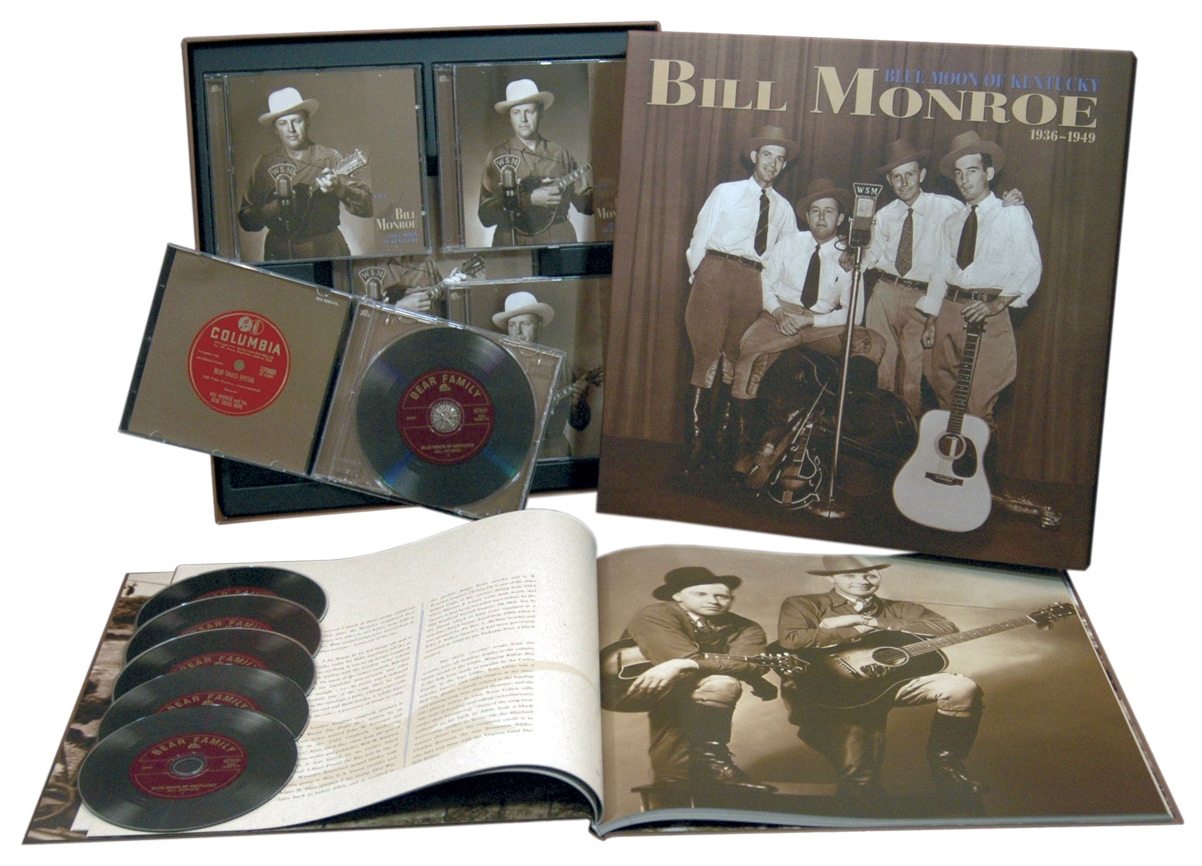 William Smith Monroe wurde am 13. September 1911 in der Nähe von Rosine, Ohio County, Kentucky geboren. Sein älterer Bruder Charles wurde am 4. Juli 1903 geboren. Bill war das jüngste Kind der acht Kinder von Malissa Vandiver und James Buchanan 'Buck' Monroe, einem lokalen Bauern, Bergmann und Holzfäller. Rosine war weit entfernt von den zerklüfteten Bergen im Osten Kentuckys, lag aber in den sanften Hügeln des westlichen Endes des Staates, etwa 30 Meilen vom Ohio River entfernt. Der junge Bill, wie der Rest seiner Familie, wuchs auf der 653 Morgen großen Farm der Familie auf, eine Erfahrung, die ihm eine Arbeitsmoral eintrug, die sein Leben dominieren würde.
Die Monroe Kinder entspannen sich mit Musik. Buck Monroe war ein besonders feiner Plattfußtänzer, oft mit einem Tanz namens'Kentucky Back-Step', und drei der Söhne - Birch, Charlie und Bill - würden später ihre Karriere mit einem solchen Tanz auf der Bühne beginnen. Die Brüder lernten Musik von ihrer Mutter, die die alten klassischen Balladen sang; von ihrem Onkel Pen Vandiver, der der bekannteste Square Dance Fiddler der Region war; von den Shape-Note-Gesangsschulen, die im Sommer stattfanden; von lokalen schwarzen Musikern wie Arnold Shultz, der eine bluesige Daumenpicking-Gitarre spielte; und von den Stars des Chicagoer Senders WLS's'National Barn Dance', wie Mac und Bob, blinde Musiker, die Mandoline und Gitarre benutzten; und The Prairie Ramblers, eine heiße Streicherband aus West-Kentucky mit einer Mandola. Bill - zusammen mit Tausenden von anderen - bewunderte auch die Victrola-Platten von Vernon Dalhart, Jimmie Rodgers und Bradley Kincaid.
Es waren die jüngeren der Monroe-Kinder, die sich am meisten mit der Musik beschäftigten. Älterer Bruder Birch nahm die Geige, und Charlie und Schwester Bertha begannen Gitarre zu spielen. Als Bill acht oder neun Jahre alt war, fing er an, mit Instrumenten zu spielen, hauptsächlich mit Gitarre und Mandoline; er wollte sich wirklich auf die Geige oder Gitarre spezialisieren, aber als Jüngster und Kleinster blieb er in den Familienmusiksessions mit der Mandoline hängen. In späteren Jahren erzählte B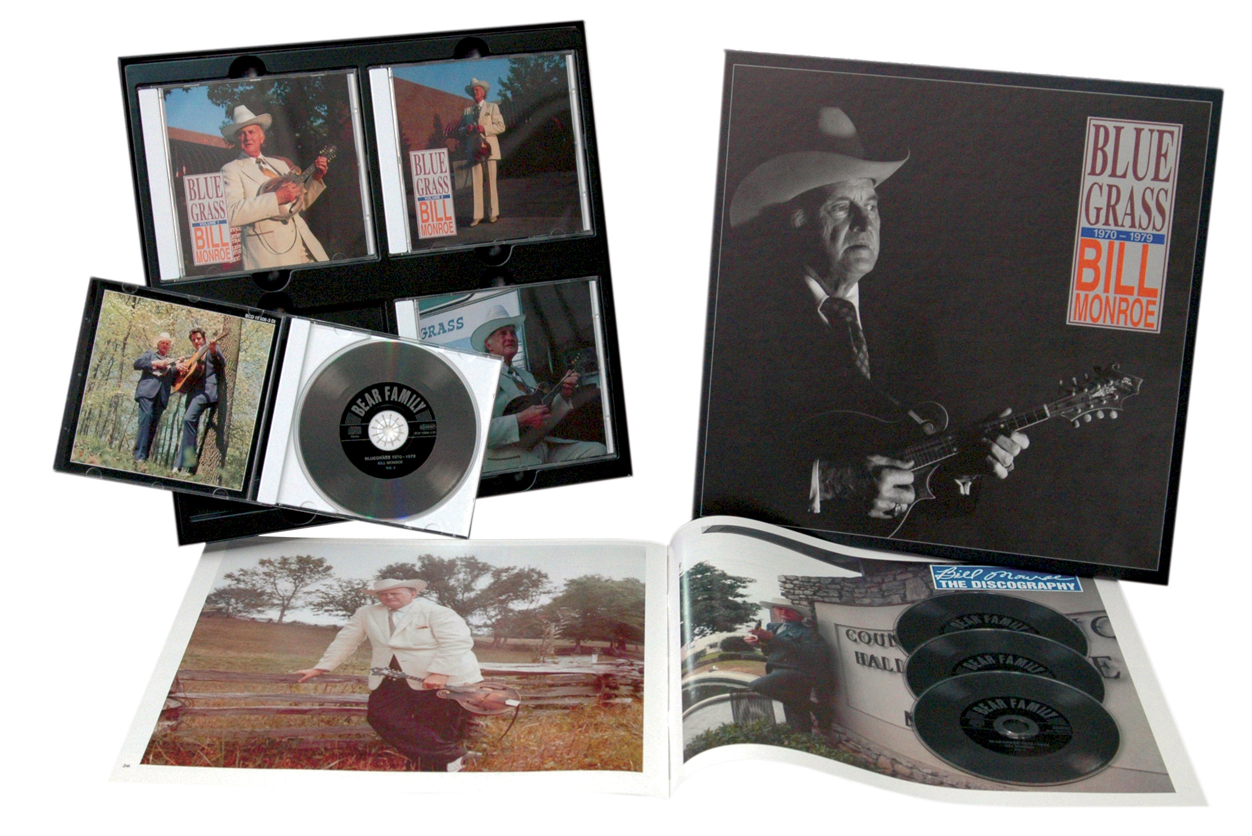 ill gerne, dass seine Brüder ihn nur vier Saiten auf der Mandoline benutzen ließen (statt der üblichen acht), damit er nicht zu laut klang.
1921 starb Malissa Monroe und erst einige Jahre später begann Bill ernsthaft zu musizieren. Er begann damit, für seinen Onkel Pen bei Tänzen Gitarrenunterstützung zu spielen, und sprach später von Pen als "dem Geiger, von dem ich das Spielen lernte". Er begann auch Tänze mit Arnold Shultz zu spielen, einem einheimischen schwarzen Gitarristen, der sich mit Blues, traditionellen Anglo-Melodien, Popmusik und sogar Jazz auskannte. (Freunde von Shultz erinnern sich, dass er die Winter in New Orleans verbracht hat, wo er eine Vorliebe für "vorbeiziehende" Akkorde hatte. 1927, als Bill erst 16 Jahre alt war, starb auch sein Vater Buck Monroe, und da seine älteren Brüder und Schwestern bereits weggezogen waren, wurde er zu seinem Onkel Pen geschickt. Bill lernte weiterhin Musik von ihm.
Birch und Charlie Monroe, wie so viele junge Männer in den späten 1920er Jahren, hatten die Farm verlassen und gingen nach Norden, um in den neuen Fabriken zu arbeiten, die die Autoindustrie beliefern. Eine Zeit lang waren sie in Detroit und zogen dann in den Raum East Chicago, zuerst nach Hammond und dann nach Whiting, wo sie in Ölraffinerien Arbeit fanden. Um 1929 kam Bill, der jetzt 18 Jahre alt war, nach Norden, um sich ihnen anzuschließen. Sein erster Job war die Arbeit im Fasshaus der Sinclair-Raffinerie, in der er den ganzen Tag lang riesige, schwere Ölfässer transportierte - etwas, das seinen Körperbau bis zu dem eines Gewichthebers aufbaute. Es war ein blauer Fleck, aber mit der Depression war es das Beste, was es gab; Bill behielt es fünf Jahre lang. Einige seiner Brüder, die "leichtere" Jobs hatten, waren in diesen Jahren oft arbeitslos, so dass der junge Bill die einzige Unterstützung für Teile der Familie war.
From booklet BCD16399 - Bill Monroe 1936-1949 (6-CD)
Read more at: https://www.bear-family.de/monroe-bill-1936-1949-6-cd.html
Copyright © Bear Family Records
Bewertungen lesen, schreiben und diskutieren...
mehr
Kundenbewertungen für "Blue Moon Of Kentucky 1936-1949 (6-CD Deluxe Box Set)"
Von:
Wolfgang
Am:
22.09.2017
Bewertung schreiben
Bewertungen werden nach Überprüfung freigeschaltet.
Weitere Artikel von Bill Monroe