Der Artikel wurde erfolgreich hinzugefügt.
Carl Story
A Life In Rural Music 1942-1952 (4-CD Deluxe Box Set)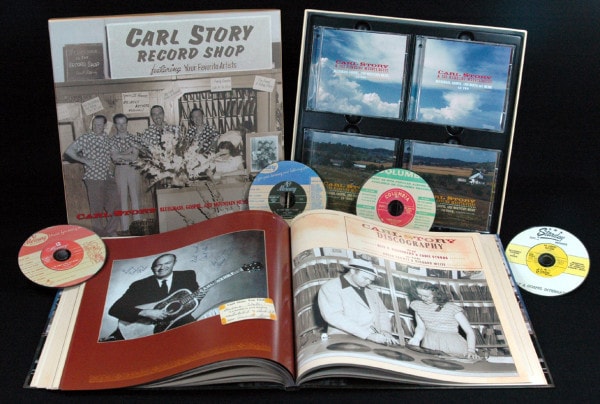 69,95 € *
94,95 € *
(26,33% gespart)
inkl. MwSt. / zzgl. Versandkosten - Abhängig vom Lieferland kann die MwSt. an der Kasse variieren.
Sofort versandfertig, Lieferzeit** 1-3 Werktage
4-CD Box (LP-Größe) mit 112-seitigem gebundenem Buch. 134 Einzeltitel. Spieldauer ca. 5 Stunden...
mehr
Carl Story: A Life In Rural Music 1942-1952 (4-CD Deluxe Box Set)
4-CD Box (LP-Größe) mit 112-seitigem gebundenem Buch. 134 Einzeltitel. Spieldauer ca. 5 Stunden 29 Minuten.
Der letzte Superstar aus den Kindertagen des
Bluegrass
mit einer gewaltigen Wiederveröffentlichung! Seit den Tagen der Langspielplatte kommt diese Musik erstmals neu auf den Markt mit vielen Bluegrass-Klassikern,
Carl Story
s gesamten Aufnahmen von 1947-1959 sowie extrem seltenen Radio- und Heimeinspielungen von 1942! Die Box enthält 25 bislang unveröffentlichte Songs und Versionen.
Die Musik fast aller Giganten der frühen Bluegrass-Zeit wurde schon umfangreich neu veröffentlicht:
Bill Monroe
,
Flatt
&
Scruggs
, die
Stanley Brothers
und andere - sie sind bereits mit Anthologien (zum Teil größten Umfangs) bedacht, die ihre Karrieren würdigen. Carl Story hatte dieses Glück bisher nicht. Viele seiner klassischen Frühwerke auf Singles und Schelllackplatten sind verschwunden, andere konnten zuletzt auf LPs bestaunt werden. Carl Story war ein echter Bluegrass-Pionier; zu seinen
Ramblin' Mountaineers
gehörten Red Rector, Tater Tate, Claude Boone, Bobby Thompson, Bud und Willie Brewster - sie alle sind auf den Songs in dieser Box vertreten.
Carl Story begann seine Karriere auf der blühenden Knoxville-Szene und sicherte sich seinen Platz als 'Vater des Bluegrass-Gospel'. Von ihm stammen entweder die ersten oder die besten Aufnahmen von
Light At The River, Family Reunion, I've Found A Hiding Place, Keep On The Firing Line, My Lord Keeps A Record, He Will Set Your Fields On Fire, Gone Home, Angels Rock Me To Sleep
und
Hank Williams
'
Are You Walking And Talking For The Lord
. Carl Storys Ramblin' Mountaineers spielten auch die Fassung von
Duelin' Banjos
ein, die zur Vorlage für den Hit von 1972 wurde.
Diese Box präsentiert alle Aufnahmen, die Carl Story für Mercury, Starday und Columbia machte; außerdem all seine Einspielungen für Starday von 1958/59 sowie einige außergewöhnlich seltene Demos aus der Zeit vor dem Zweiten Weltkrieg - sie belegen, dass sich Carl Story unmittelbar am Puls jener Musik bewegte, aus der Bluegrass entstand. Dieses 4-CD-Set enthält außerdem ein umfangreiches Buch mit der Carl-Story-Biografie von
Colin Escott
sowie eine detaillierte Discografie von Neil Rosenberg und Eddie Stubbs.
Dies ist das Nonplusultra zu einem der größten Namen der Bluegrass Music.
Video von Carl Story - A Life In Rural Music 1942-1952 (4-CD Deluxe Box Set)
Artikeleigenschaften von

Carl Story: A Life In Rural Music 1942-1952 (4-CD Deluxe Box Set)
Albumtitel:

A Life In Rural Music 1942-1952 (4-CD Deluxe Box Set)

Genre

Country

Preiscode

DK

Edition 2

Deluxe Edition

Artikelart

Box set

EAN:

4000127168399

Gewicht in Kg:

1.4
Carl Story Obwohl er oft als "The Father of Bluegrass Gospel" bezeichnet hat, geht die...
mehr
"Carl Story"
Carl Story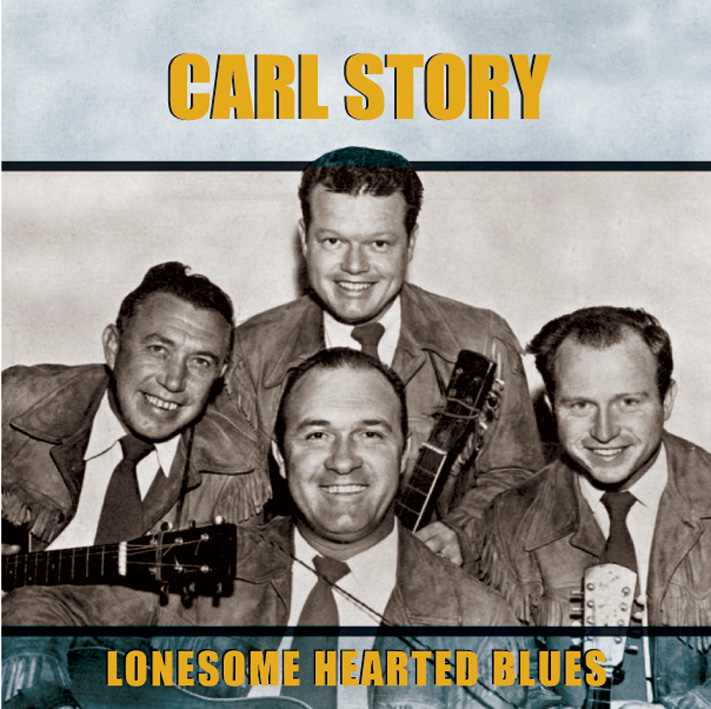 Obwohl er oft als "The Father of Bluegrass Gospel" bezeichnet hat, geht die Musik von Carl Story oft über diese beiden Genres hinaus. Seine klassischen Aufnahmen stammen aus den späten 1940er und mittleren 1950er Jahren - was Story selbst "die guten alten glorreichen Tage" nannte, und zu den besten gehören die 18 Seiten, die zwischen 1953 und 1955 für Columbia entstanden sind, die in dieser Sammlung präsentiert werden. Hier ist Story mit einer gut eingespielten Gruppe von Knoxville Area Veteranen, von denen viele schon seit Jahren mit ihm aufgetreten sind, die meisten auf dem Höhepunkt ihrer Auftrittsjahre. Der Sound, den sie machten, verdankt etwas Bluegrass und etwas Gospel, aber auch frühes Honkytonk Country, einen Hauch von Rockabilly und sogar ein Nicken der westlichen Musik. Es war ein Paradebeispiel für das, was Don Gibson einst "diesen alten Knoxville-Sound" nannte, ein Sound, der von WNOX und Cas Walker populär gemacht wurde, ein Sound, der zu verschiedenen Zeiten Molly O'Day, The Bailey Brothers, The Brewster Brothers, Carl Smith, The Carter Sisters und andere einschloss. Es war ein "moosigerer" Klang als damals in Nashville oder Dallas, ein Stil, der eher an den 1930er Jahren festhielt als auf die 1950er Jahre abzielte.
Wie so viele Sänger, die in den Bergklängen versunken waren, kam Carl Moore Story aus North Carolina - geboren in Caldwell County, nahe den Brushy Mountains, am 29. Mai 1916. Sein Vater war ein bekannter lokaler Geiger, der Carl-Tunes unterrichtete und Stapel von Victrola-Platten zum Spielen mit nach Hause brachte; "Ich wette, wir hatten fast jede Platte von Charlie Poole und den North Carolina Ramblers", erinnert sich Story. Mit neun Jahren lernte er Geige zu spielen und lernte bald Gitarre und Clawhammer Banjo. Als er gerade 14 Jahre alt war, traf Carl einen anderen jungen Teenager aus der Gegend, Johnny Whisnant, der sich bereits zu einem guten Banjo-Spieler entwickelte. Nachdem sie in einer lokalen Funkgruppe ausgebildet worden waren, gründeten sie ihre eigene Gruppe, die erste Inkarnation der wandernden Bergsteiger. Bald darauf landeten sie einen regelmäßigen Radiospot über Spartanburg, der von einem Nostrum namens "Scalf's Indian River Medicine" gesponsert wurde. Scalf's gehörte einer Kräuterfirma und blieb mehrere Jahre lang der Sponsor von Story.
Die Band ging weiter zu immer größeren Stationen, zuerst in Hickory, North Carolina und dann nach Asheville, North Carolina. 1941 jedoch nahm der Entwurf viele junge Musiker in der Gegend auf, und es wurde immer schwieriger, die Band zusammenzuhalten. Eines Tages traf Story seinen Freund Clyde Moody, der mit Bill Monroe auf der Opry spielte; Monroe brauchte einen Geiger, sagte er, und Carl beschloss, seine eigene Band aufzugeben und sich Monroe anzuschließen. "Ich war mir nicht sicher, ob ich Geige so schnell spielen kann, wie Bill Monroes Jungs, aber Bill ließ sich Zeit und zeigte mir, was zu tun ist." Aber etwa ein Jahr nachdem er zu den Blue Grass Boys kam, wurde Story selbst in den Dienst gestellt.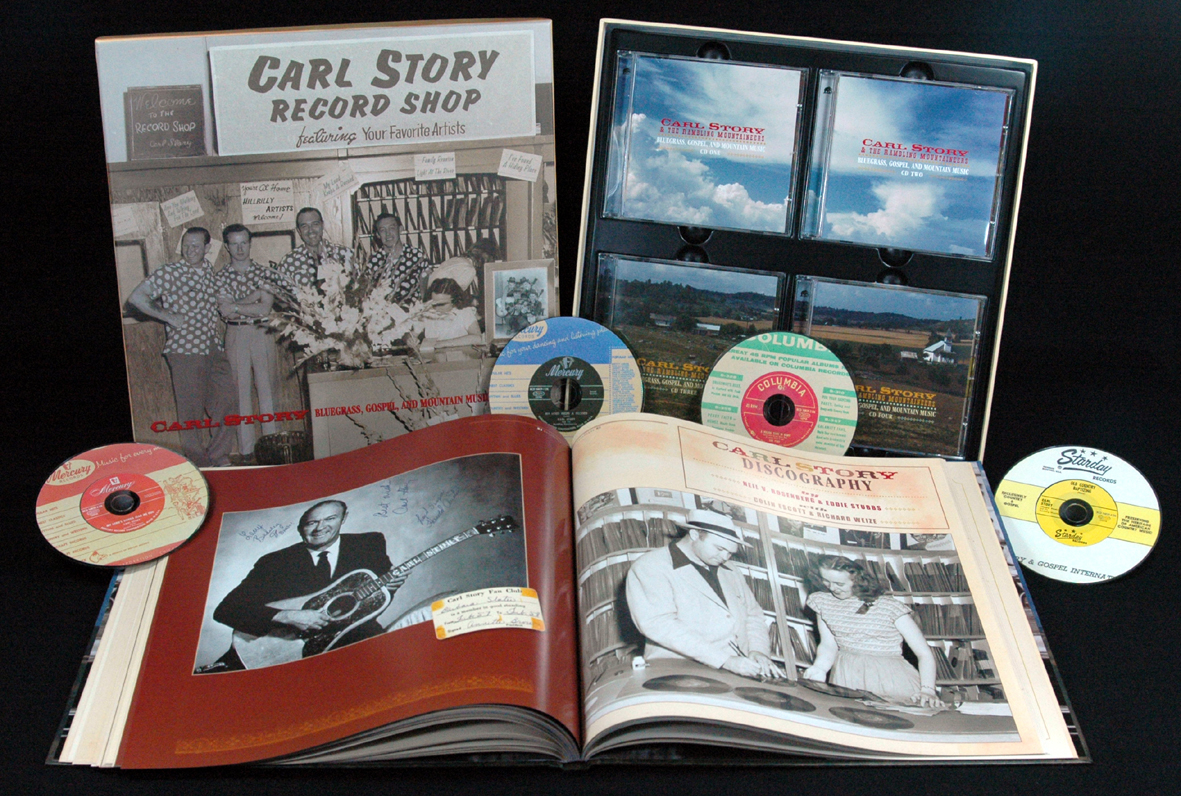 1945 aus der Marine entlassen, reformierte Carl The Rambling Mountaineers und erhielt im Dezember 1945 einen Platz bei WNOX in der beliebtesten Radiosendung in Ost-Tennessee, "The Mid-Day Merry-Go-Round". Die Band tourte weit in Tennessee, Virginia, North Carolina und Kentucky, spielte oft vor überfüllten Häusern und musste oft zwei Shows machen, um alle ihre Fans unterzubringen. Oft tourten sie mit dem beliebtesten Act der Station, Molly O'Day und den Cumberland Mountain Folks, und Carl und Merry-Go-Round Moderator Lowell Blanchard waren Co-Autoren eines von Molly's größten Songs, I Heard My Mother Weeping. 1947 hörte Murray Nash, ein A&R-Mann für Mercury, die Band im Radio und unterschrieb sie für einen Vertrag. Mehrere Sitzungen folgten, mit Kürzungen, die von Gospel (Keep On The Firing Line) bis hin zum Mainstream-Land (Tennessee Border) reichten.
Bis 1953 kam es jedoch zu großen Veränderungen. Carl geriet in einen Streit mit Dee Kilpatrick, der die Leitung von Murray Nash über die Richtung seiner Aufnahme übernommen hatte; Mercury wollte, dass Carl mehr Mainstream Country und Cover anderer Mainstream-Hits macht. Als Troy Martin Carl mit Columbia in Kontakt brachte und sie ihm einen Vertrag anboten, sprang er auf ihn ein. Die Gruppe hatte auch WNOX verlassen und landete schließlich bei WAYS in Charlotte, North Carolina; hier arbeiteten sie für ein Gehalt und konnten ihre eigenen Showtermine bekannt geben. Ein Werbegeschenk (für ein neumodisches Fernsehgerät) zog rund 27.000 Einträge an. Carl begann auch eine neue wöchentliche Scheunentanzshow, The Tar Heel Barn Dance.
Zu diesem Zeitpunkt gehörte zu The Rambling Mountaineers eine Kerngruppe exzellenter Musiker, die seit Jahren zusammen musizieren: der Mandolinenspieler Red Rector, der Gitarrist Claude Boone und der Dobrospieler Ray'Duck' Atkins. Es ist diese grundlegende Gruppe, die in den Aufzeichnungen von Columbia zu hören ist. Ray Atkins (1927 - 1997) war der erste, der sich Carl anschloss; ein gebürtiger Erwin aus Tennessee (in der Nähe von Kingsport), traf er Story 1942, als er erst 15 Jahre alt war und Dobro in einem Talentwettbewerb spielte, den Story beurteilte. Beeindruckt von der Fähigkeit des jungen Mannes, den damals seltenen Dobro zu meistern, bat Story ihn, seiner Band beizutreten, dann in Asheville. 1946 schloss er sich Johnnie und Jack an, spielte in Nashville und Shreveport und bereicherte ihren Hit Poison Love mit seinem Sound. Er war 1951 wieder in Knoxville, als er wieder zu Story kam. Er wurde "Ente" genannt, weil er eine Komödie mit einer Marionette einer Ente aufgeführt hatte, und wegen seiner Donald Duck-Imitation, die er dabei gemacht hatte.
Bewertungen lesen, schreiben und diskutieren...
mehr
Kundenbewertungen für "A Life In Rural Music 1942-1952 (4-CD Deluxe Box Set)"
Von:
Gerhard Be.
Am:
22.09.2017
Meilenstein
Klasse Künstler,- klasse Box Set
Von:
Redecker
Am:
13.03.2014
In short - another Bear Family masterpiece!
Maverick 5-6/2012 Alan Cackett
Von:
Redecker
Am:
13.03.2014
Mit vier CDs und einem begleitenden Buch aus der Feder von Colin Escott setzt das norddeutsche Label dem Musiker nun ein Denkmal.
Dynamite 4-5/2012
Bewertung schreiben
Bewertungen werden nach Überprüfung freigeschaltet.
Weitere Artikel von Carl Story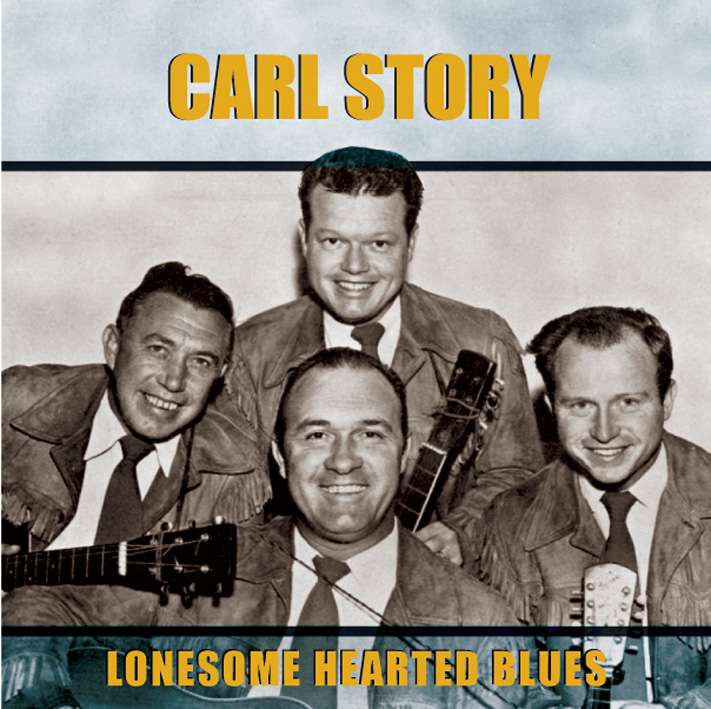 Carl Story: Lonesome Hearted Blues
Art-Nr.: BCD16689


Sofort versandfertig, Lieferzeit** 1-3 Werktage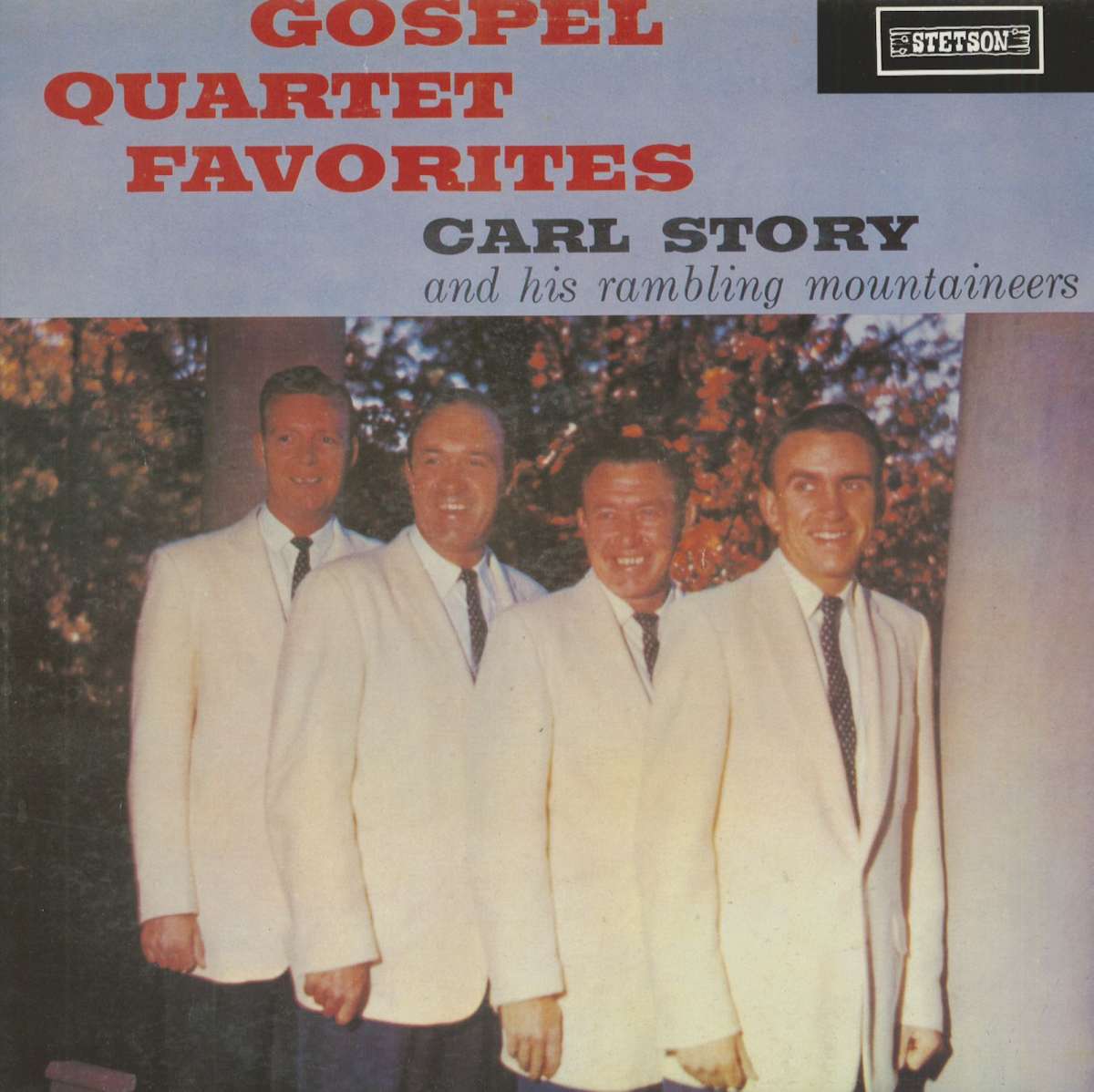 Carl Story & His Ramblin' Mountaineers: Gospel Quartet Favorites (Vinyl)
Art-Nr.: LPHAT3128


nur noch 2 verfügbar
Sofort versandfertig, Lieferzeit** 1-3 Werktage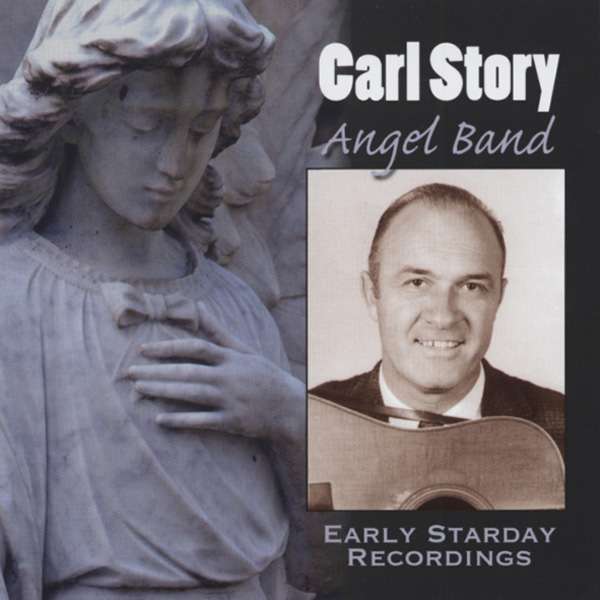 Carl Story: Angel Band - Early Starday Recordings
Art-Nr.: CDGT0548


Artikel muss bestellt werden