Der Artikel wurde erfolgreich hinzugefügt.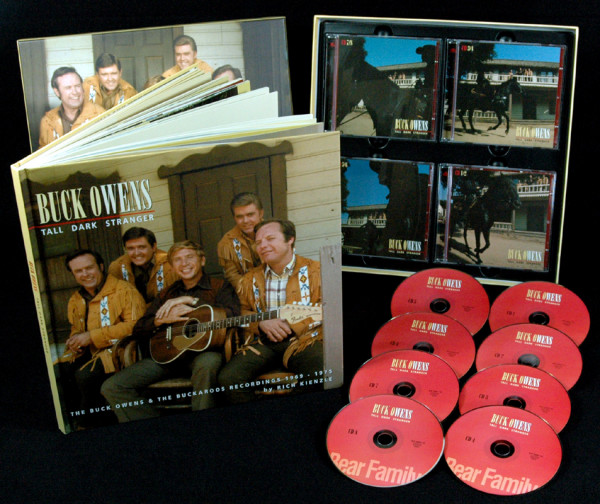 Benachrichtigen Sie mich, sobald der Artikel lieferbar ist.
149,95 € *
157,95 € *
(5,06% gespart)
inkl. MwSt. / zzgl. Versandkosten
Artikel derzeit nicht verfügbar, Lieferfristen von bis zu 2-3 Wochen sind zu erwarten. (soweit verfügbar beim Lieferanten - kann schneller gehen, manchmal aber leider auch nicht)
8-CD Box (LP-Format) mit 108-seitigem gebundenem Buch, 214 Einzeltitel, Spieldauer ca. 521...
mehr
Buck Owens: Tall Dark Stranger (8-CD)
8-CD Box (LP-Format) mit 108-seitigem gebundenem Buch, 214 Einzeltitel, Spieldauer ca. 521 Minuten.

SO WAR ES DAMALS, IM JAHR 1969 ... Diese 8-CD-Edition umfasst alle noch vorhandenen Aufnahmen von Buck Owens aus seinen letzten Jahren bei Capitol Records. In jenen Tagen trat er jede Woche bei der immens populären Fernsehshow 'Hee-Haw' auf, seine Konzerte waren regelmäßig ausverkauft und in seiner Wahlheimat Bakersfield in Kalifornien baute er sein eigenes Geschäftsimperium auf. Aufnahmen entstanden dort in seinem eigenen Studio, und Fans aus dem ganzen Land hatten einen unersättlichen Appetit auf seine raue Stimme, seine raffinierten Songs und den minimalistischen Twang seiner Band. Von einem Erfolg in dieser Größenordnung konnten die meisten Sänger nur träumen. Nur wenige konnten sich mit ihm messen und noch weniger konnten damit umgehen.

Während seiner letzten Jahre bei Capitol versuchte Buck, seinen Sound abwechslungsreicher zu gestalten. Er war sich der Veränderungen in der Popmusik durchaus bewusst und bewunderte die kreative Freiheit mancher Rockbands, mit neuen und unorthodoxen Sounds experimentieren zu können. Diese Ausgabe liefert den bislang größten Stilmix in Buck Owens' Karriere und enthält u.a. 20 Songs, die es in die Charts schafften - von Tall Dark Stranger bis zu Buck Owens' hochinteressanter neuer Fassung von The Battle Of New Orleans. Dazwischen finden sich Klassiker von Buck Owens wie I Wouldn't Live In New York City
(If They Gave Me The Whole Dang Town), Bridge Over Troubled Water, Ruby, Rollin' In My Sweet Baby's Arms, Made In Japan, Ain't It Amazing Gracie, On The Cover Of Music City News, Monsters' Holiday sowie die Originalversion von Streets Of Bakersfield (später im Duett mit Dwight Yoakam ein Nummer-Eins-Hit). Auf acht CDs liefert diese Edition darüber hinaus alle LPs, seine Bluegrass-Sessions, alle Aufnahmen im Duo mit Susan Raye und seinem Sohn, Buddy Alan, und schließlich eine unveröffentlichte Duoaufnahme mit der R&B-Sängerin Bettye Swann - und natürlich auch die 'Solo'-Alben der Buckaroos!

Neben den Hits gibt es viele zuvor unveröffentlichte Aufnahmen. ... BIS INS JAHR 1975.
Video von Buck Owens - Tall Dark Stranger (8-CD)
Artikeleigenschaften von

Buck Owens: Tall Dark Stranger (8-CD)
Albumtitel:

Tall Dark Stranger (8-CD)

Genre

Country

Preiscode

HK

Edition 2

Deluxe Edition

Artikelart

Box set

EAN:

4000127168986

Gewicht in Kg:

2.5
Owens, Buck - Tall Dark Stranger (8-CD)

Box set 1
01
Tall Dark Stranger
02
I've Got A Happy Heart
03
Somewhere Between
04
Just A Few More Days
05
Lonesome Valley
06
My Savior Leads The Way
07
But You Know I Love You
08
Today I Started Loving You Again
09
I'm A Natural Loser
10
The Biggest Storm Of All
11
If I Had You (By My Side)
12
Down At The Corner Bar
13
Nobody But You
14
Lay A Little Light On Me
15
Catfish Capers
16
Bossanova Buckaroo Style
17
Sweet-T-Pie
18
Roll Your Own
19
When The Roll Is Called Up Yonder
20
That Old Time Religion
21
Big In Vegas
22
Love Is Strange
23
Cinderella
24
I'll Be All Right Tomorrow
25
Hurry Come Running Back To Me
26
Ensenada
27
The Night They Drove Old Dixie Down
28
Take Care Of You For Me In Kansas City
29
One More Time
30
Goin' Home To The Bayou
31
Country Pickin'
32
Rompin ' And Stompin'
Owens, Buck - Tall Dark Stranger (8-CD)

Box set 2
01
We Were Made For Each Other
02
Everybody Needs Somebody
03
Togetherness
04
The Kansas City Song
05
I'd Love To Be Your Man
06
Together Again
07
Fallin' For You
08
Cryin' Time
09
Foolin' Around
10
Down In New Orleans
11
The Wind Blows Every Day In Oklahoma
12
Full Time Daddy
13
The Great White Horse
14
Black Texas Dirt
15
Bring Back My Peace Of Mind
16
Guitar Pickin' Man
17
Dublin Waltz
18
I'd Love To Be Your Man
19
Cajun Steel Guitar
20
Fishin' Reel
21
Potter's Field
22
When I'm With You
23
Pick-Nickin'
24
Boot Hill
25
Up On Cripple Creek
26
(It's A Long Way To) London Town
27
Scandinavian Polka
28
Amsterdam
Owens, Buck - Tall Dark Stranger (8-CD)

Box set 3
01
Let The World Keep On A Turnin'
02
High As The Mountains
03
Today I Started Loving You Again
04
I've Never Had A Dream Come True Before
05
Tennessee Bird Walk
06
Then Maybe I Can Get Some Sleep
07
Your Tender Loving Care
08
Think Of Me
09
I Thank Him For Sending Me You
10
I Don't Care (Just As Long As You Love Me)
11
I Wouldn't Live In New York City (If They Gav
12
No Milk And Honey In Baltimore
13
Reno Lament
14
Houston-Town
15
Santo Domingo
16
Down In New Orleans
17
The Wind Blows Every Day In Chicago
18
(It's A Long Way To) Londontown
19
The Kansas City Song
20
Big In Vegas
21
Reno Lament
22
No Milk And Honey In Baltimore
23
Bridge Over Troubled Water
24
I Am A Rock
25
Homeward Bound
26
The Devil Made Me Do That
27
Everything Reminds Me You're Gone
28
Catch The Wind
29
San Francisco Town
30
Within My Loving Arms
31
(I'm Goin') Home
32
Love Minus Zero - No Limit
Owens, Buck - Tall Dark Stranger (8-CD)

Box set 4
01
Ring Of Fire
02
Last Date
03
El Paso
04
King Of The Road
05
Orange Blossom Special
06
Tall Dark Stranger
07
Detroit City
08
Gentle On My Mind
09
It's Such A Pretty World Today
10
Okie From Muskogee
11
Ruby (Are You Mad)
12
Heartbreak Mountain
13
Uncle Pen
14
Corn Liquor
15
Rollin' In My Sweet Baby's Arms
16
I Know You're Married But I Love You Still
17
Ashes Of Love
18
Ole Slew Foot
19
Rocky Top
20
Salty Dog Blues
21
One Of Everything You Got
22
Home On Christmas Day
23
All I Want For Christmas Is My Daddy
24
A Very Merry Christmas
25
It's Not What You Give
26
Good Old Fashioned Country Christmas
27
Christmas Ain't Christmas Dear Without You
28
Santa Looked A Lot Like Daddy
29
Santa's Gonna Come In A Stagecoach
30
Tomorrow Is Christmas Day
Owens, Buck - Tall Dark Stranger (8-CD)

Box set 5
01
Too Old To Cut The Mustard
02
Wham Bam
03
Pfft You Were (Was) Gone
04
You're A Real Good Friend
05
Tobacco White Lightning And Women Blues No. 2
06
I Won't Go Huntin' With You Jake (But I'll Go
07
Cigareets, Whuskey And Wild, Wild Women
08
Beautiful Morning Glory
09
I'll Still Be Waiting For You
10
Daddy Frank (The Guitar Man)
11
Today I Started Loving You Again
12
The Fightin' Side Of Me
13
Silver Wings
14
Okie From Muskogee
15
The Legend Of Bonnie And Clyde
16
Hungry Eyes
17
Swinging Doors
18
I Take A Lot Of Pride In What I Am
19
Mama Tried
20
Made In Japan
21
Arms Full Of Empty
22
Ain't It Amazing, Gracie
23
Looking Back To See
24
You Ain't Gonna Have Ol' Buck To Kick Around
Owens, Buck - Tall Dark Stranger (8-CD)

Box set 6
01
I Love You So Much It Hurts
02
There Goes My Love
03
Sweethearts In Heaven
04
A Whole Lot Of Somethin'
05
Get Out Of Town Before Sundown
06
Something's Wrong
07
In The Palm Of Your Hand
08
The Good Old Days (Are Here Again)
09
I Know That You Know (That I Love You)
10
When You Get Back From Nashville
11
When You Get To Heaven (I'll Be There)
12
Long Hot Summer
13
Streets Of Bakersfield
14
She's Had All The Dreamin' She Can Stand
15
Your Monkey Won't Be Home Tonight
16
The Good Old Days (Are Here Again)
17
Old Faithful
18
Take A Taste Of My Wine
19
I Think I'm Going To Like Loving You
20
Sweethearts In Heaven
21
I've Got A Happy Heart
22
Arms Full Of Empty
23
All The Dreamin' They Can Stand
24
Honey... Let's Fall In Love
25
When You Get To Heaven (I'll Be There)
26
Love Makes The World Go Round
Owens, Buck - Tall Dark Stranger (8-CD)

Box set 7
01
Love Makes The World Go Around
02
Loving You
03
I Won't Be Needing You
04
Songwriter's Lament
05
That Loving Feeling
06
Someday I'm Gonna Go To Mexico
07
Colors I'm Gonna Paint The Town
08
It Never Will Be Over For Me
09
Happy Hour
10
Your Daddy Was A Preacher (And Your Mama Was
11
Hello Trouble
12
Big Game Hunter
13
(It's A) Monsters' Holiday
14
I Wish I Was A Butterfly
15
John Law
16
Stony Mountain West Virginia
17
Let The Fun Begin
18
Holdin' On
19
Great Expectations
20
All Around Cowboy Of 1964
Owens, Buck - Tall Dark Stranger (8-CD)

Box set 8
01
Meanwhile Back At The Ranch
02
On The Cover Of The Music City News
03
Great Expectations
04
Amazing Love
05
I Love
06
You're Gonna Love Yourself In The Morning
07
Kiss An Angel Good Mornin'
08
Pass Me By (If You're Only Passing Through)
09
41st Street Lonely Hearts' Club
10
Weekend Daddy
11
I Finally Gave Her Enough Rope
12
Run Him To The Roundhouse Nellie
13
Drifting Away
14
He Ain't Been Out Bowlin' With The Boys
15
It's Been A Long, Long Time
16
A Different Kind Of Sad
17
You Don't Find Work In Pool Rooms (And Love D
18
How's Everything
19
California Oakie
20
The Battle Of New Orleans
21
Country Singer's Prayer
22
Mexican Jumping Bean
Buck Owens geb. 12. 8. 1929 in Sherman - Texas Record Labels: Pep, Capitol, Warner...
mehr
"Buck Owens"
Buck Owens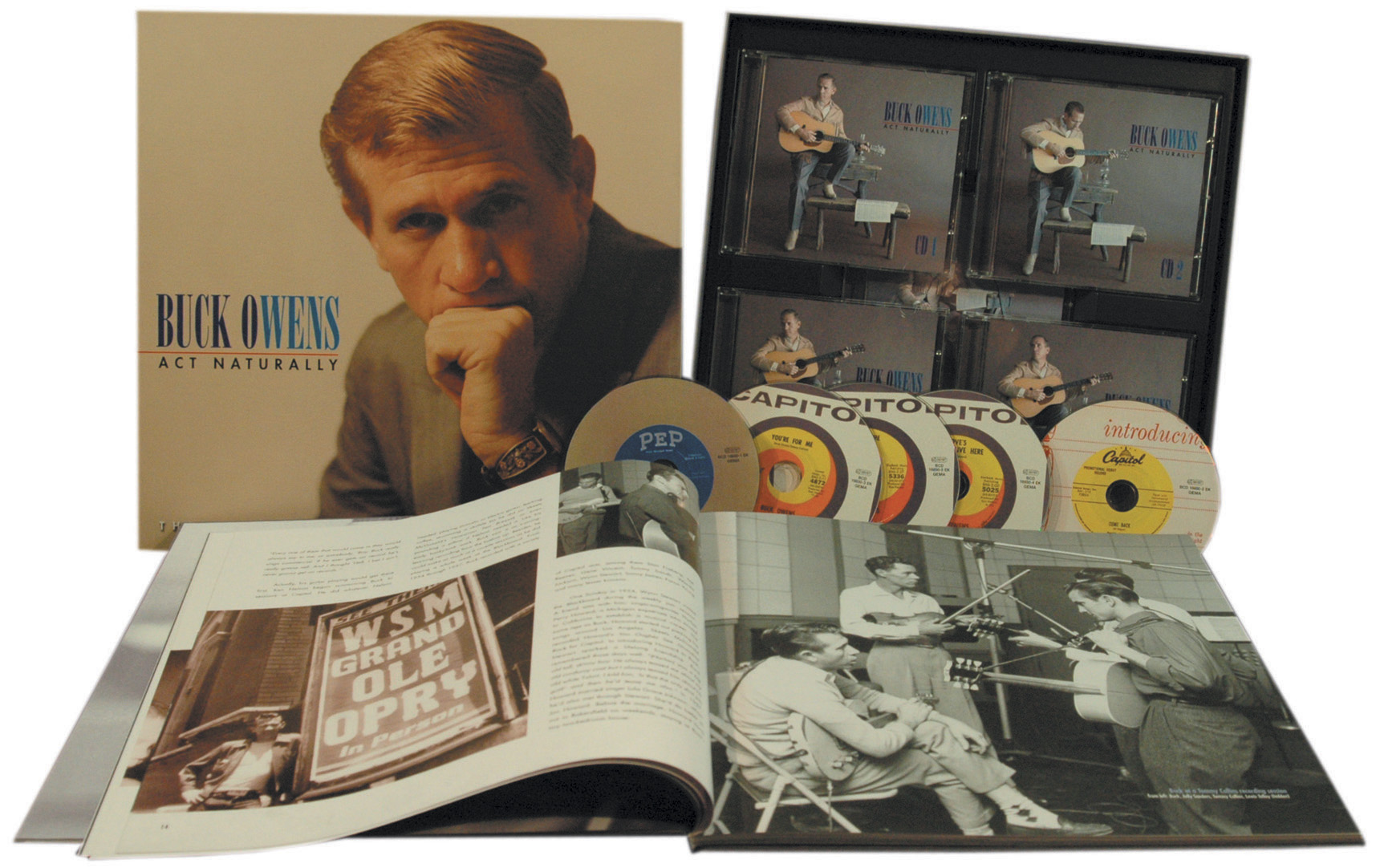 geb. 12. 8. 1929 in Sherman - Texas
Record Labels: Pep, Capitol, Warner Brothers, Trip, Starday, Longhorn, London, Emidisc
Erster Hit: Second Fiddle (1959)
Erster Top Ten Hit: Under Your Spell Again (1959)
Erster No. 1 Hit: Act Naturally (1963)

Alvis E. "Buck" Owens, einer der größten Country Stars der 60er Jahre, begann als Gitarrist und Mandolinenspieler in verschiedenen Bands in Arizona. 1951 kam Buck Owens nach Bakersfield, spielte in der Band von Bill Woods, gründete daneben auch mal eine eigene Band, die Schoolhouse Playboys und wurde ein begehrter Sessionmusiker für große Stars wie Wanda Jackson, Sonny James und Faron Young.

Buck Owens war einige Zeit Lead-Gitarrist in der Band von Tommy Collins und unterschrieb schließlich 1957 seinen ersten Schallplattenvertrag, dem zwei Jahre später der erste Hit folgte. Mit seiner Band, den Buckaroos",hatte Buck Owens außerdem ein paar der besten Musiker jener Zeit um sich geschart, es war eine Gruppe, die immer wieder Instrumental-L.P.s produzierte und auch in die Charts kam.

Buck Owens schaffte Hit auf Hit und die Erfolgsserie riss erst Mitte der 70er Jahre ab. Owens's Stern begann zu sinken. Er wechselte von Capitol zu Warner Brothers, konnte jedoch nie mehr an seine große Zeit anknüpfen. Seit vielen Jahren schon wirkt Buck Owens in der amerikanischen TV-Serie "Hee Haw" mit. Duett-Partner von ihm waren im Verlauf der Jahre Rose Maddox, Susan Raye, Emmylou Harris und sein Sohn Buddy Alan."
Bewertungen lesen, schreiben und diskutieren...
mehr
Kundenbewertungen für "Tall Dark Stranger (8-CD)"
Von:
Redecker
Am:
13.03.2014
Nach diesem Country-Titanen wurde sogar ein Highway in Kalifornien benannt.
KulturSPIEGEL 2/13 C: Dallach
Von:
Redecker
Am:
13.03.2014
More great Capitol recordings from the early 1970s. This is a must collection for any self-respecting Buck Owens' fan.
Maverick 1-2/2013 Alan Cackett
Von:
Redecker
Am:
13.03.2014
Somit beschließt die CD Box \Tall Dark Stranger\" eine wichtige und wegweisende Ära der Musik von Buck Owens und des Bakerfield Sounds der späten 60er und frühen 70er Jahre. Ein musikalisches Vermächtnis und einfach nur schöne Musik.
Western Mail 8/12 Kai Ulatowski"
Bewertung schreiben
Bewertungen werden nach Überprüfung freigeschaltet.
Weitere Artikel von Buck Owens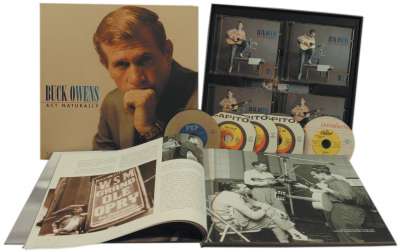 Buck Owens: Act Naturally (5-CD)
Art-Nr.: BCD16850


Sofort versandfertig, Lieferzeit** 1-3 Werktage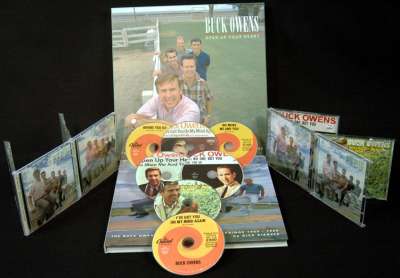 Buck Owens: Open Up Your Heart (7-CD)
Art-Nr.: BCD16855


Artikel muss bestellt werden
Buck Owens: 'Live' At The White House (1972)...plus
Art-Nr.: CDOM101104


Artikel muss bestellt werden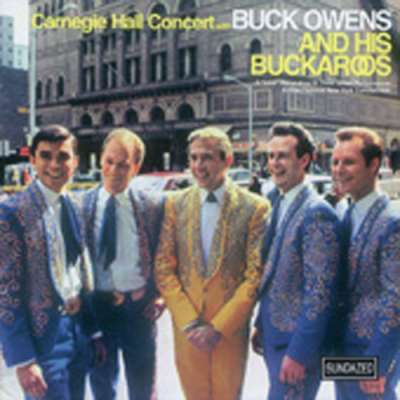 Buck Owens: Carnegie Hall Concert
Art-Nr.: CDSC11090


Artikel muss bestellt werden