Der Artikel wurde erfolgreich hinzugefügt.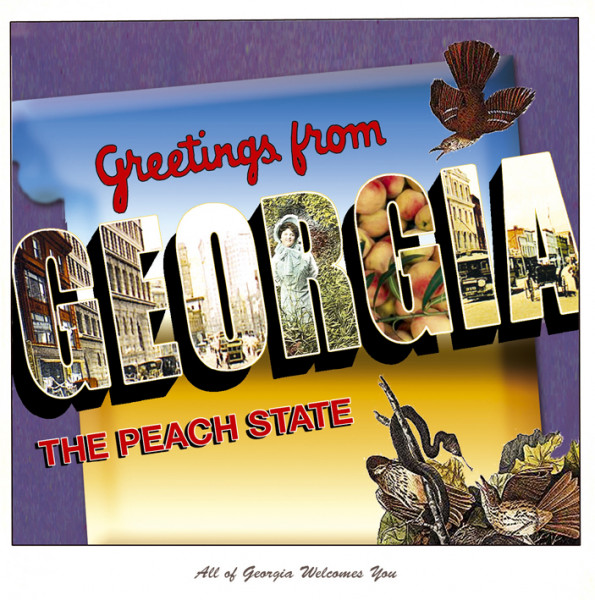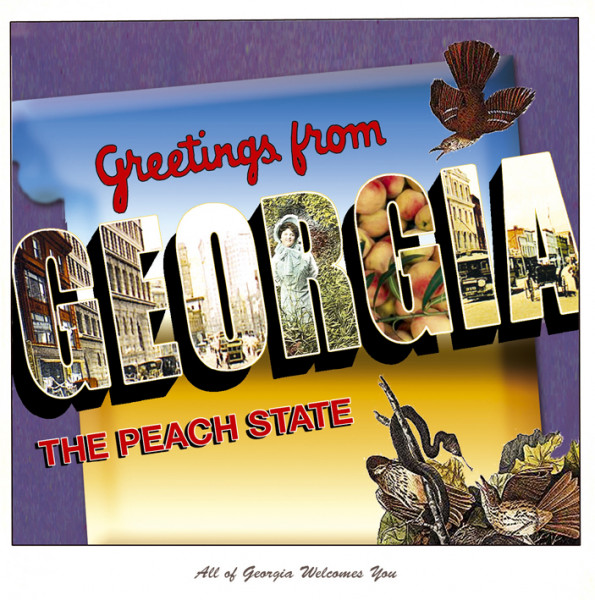 13,95 € *
15,95 € *
(12,54% gespart)
inkl. MwSt. / zzgl. Versandkosten
Sofort versandfertig, Lieferzeit** 1-3 Werktage
Artikel-Nr.:

ACD25015

Gewicht in Kg.:

0.115
Various Greetings From Georgia There are a lot of reasons you should know about Georgia....
mehr
Various - Greetings From: Greetings From Georgia
Various Greetings From Georgia
There are a lot of reasons you should know about Georgia. For one thing, it's the largest state east of the mighty Mississippi. It's been around almost from the start: Georgia officially became a state on January 2, 1788, making it the fourth addition to the growing Union. And there it sits today – a prime piece of lovely geography, boasting mountains, rivers, historic towns and modern urban centers - bordered by Florida, Alabama, Tennessee, North Carolina, South Carolina and the Atlantic Ocean.
If you're not from Georgia or one of its neighbors, what are you likely to know about this deep-south state? Probably Georgia's two most visible champions in the past quarter-century are President Jimmy Carter (1977-1981) and media mogul Ted Turner, an adopted southerner whose dreaded Atlanta Braves have been sold as 'America's team.' Another of Georgia's claims to fame is Margaret Mitchell, author of 'Gone With the Wind,' which won the Pulitzer prize for literature in 1937. In addition, if you're a Julia Roberts fan, you probably know that she hails from Smyrna, Georgia. Moving a bit down the cultural food chain, a few dedicated collectors might recall that the original Cabbage Patch Dolls were born, so to speak, in Cleveland, Georgia. A few other things before we get down to the music: Georgia produces about 40% of the chicken consumed in the US. That's a lot of poultry, explaining the oft-heard claim that in Georgia 'Chicken is King and Jesus is Lord.' Gobble gobble, amen!
You probably also know that a lot of that chicken gets washed down by a steady stream of Coca Cola, another native Georgia invention. Georgia is known as 'The Peach State.' It's true – they're everywhere. In Atlanta, there are, by last count, 55 different streets that have 'Peachtree' in their name. Even legendary baseball player Ty Cobb was known through his association with the state fruit. Cobb was called 'The Georgia Peach.'
Georgia is identified by one of the most famous compositions in all of American popular music – Georgia On My Mind. Not surprisingly, this 1930 composition by Stuart Gorrell and Hoagy Carmichael has become the state's official song. It is likely that every time someone enjoys a hit version of the song (e.g., Ray Charles in 1960, Willie Nelson in 1978) there is a corresponding spike in Georgia's tourist revenues. Since we've eased into the topic of music, let's consider some of the highlights presented on this CD. To begin, we offer a less well-known version of the Georgia state song by pop music legend Frankie Laine. This track dates from 1949. Pat Boone follows with a surprisingly swinging version of the Harlem Globetrotters theme song, Sweet Georgia Brown – a title we also include as an instrumental romp by Chet Atkins along with Homer &amp, Jethro, doing business as the Country All-Stars.
Country music legend Lefty Frizzell offers an extremely strong performance on Watermelon Time In Georgia. It's a reminder that the saga of displaced southerners laboring away in the frozen north, a tale poignantly told by Bobby Bare in his 1963 hit Detroit City, has many sides to it. A big-budget highly dramatic production surrounds Tompall Glaser on his reading of Burn, Georgia, Burn. Glaser's track is followed by another country legend, Waylon Jennings, offering a tale of cheating and vengeance on Cedartown, Georgia. Hank Snow moves the venue from Cedartown to Waycross, Georgia, but deals with exactly the same themes and the same dire consequences in Miller's Cave .
Greetings From ... CD-Album-Series by Bear Family &nbsp,&nbsp,
Music about the US Staates re-released on CDs by Bear Family

Read more at:&nbsp,https://www.bear-family.com/bear-family/country-series/greetings-from/
Copyright © Bear Family Records
Artikeleigenschaften von

Various - Greetings From: Greetings From Georgia
Albumtitel:

Greetings From Georgia

Genre

Country

Preiscode

AH

Artikelart

CD

EAN:

4000127250155

Gewicht in Kg:

0.115
Various - Greetings From - Greetings From Georgia

CD 1
01
Georgia On My Mind
LANINE, Frankie
02
Sweet Georgia Brown
BOONE, Pat
03
It's A Long, Long Way To Georgia
GIBSON, Don
04
Georgia Camp Meeting
ATKINS, Chet
05
Rainy Night In Georgia
STEWART, Wynn
06
Georgia Sunshine
MARTIN, Dean
07
Watermelon Time In Georgia
FRIZZELL, Lefty
08
Poor Red Georgia Dirt
JACKSON, Stonewall
09
The Devil Went Down To Georgia
DANIELS, Charlie
10
Burn, Georgia Burn
GLASER, Tompall
11
Cedartown, Georgia
12
Columbia Stockade Blues
NELSON, W. & Shirley Collie
13
Miller's Cave
SNOW, Hank
14
All Over Hell And Half Of Georgia
LEWIS, Jerry Lee
15
Tennemonk, Georgia
MANN, Carl
16
Marching Through Georgia
MAPHIS, Joe
17
If I Ever Get Back To Georgia
SNOW, Hank
18
Georgia Boogie
WILLIAMS, Curley
19
Wild Georgia Boys
JIM & JESSE
20
Georgia Piney Woods
OSBORNE BROS
21
Bringin' In The Georgia mail
FLATT & SCRUGGS
22
My Little Georgia Rose
MONROE, Bill
23
Peach Pickin' Time In Georgia
RODGERS, Jimmie
24
Atlanta, Georgia
DAVIS, Jimmie
25
Sweet Georgia Brown
COUNTRY ALL STARS
Postkarten aus Amerika 1x USA pauschal gefällig? Gern, aber vergessen Sie TUI, l'tur,...
mehr
"Various - Greetings From"
Postkarten aus Amerika
1x USA pauschal gefällig? Gern, aber vergessen Sie TUI, l'tur, Neckermann!
Wir empfehlen statt dessen 'amb' – ein Unternehmen, das Sie.....
.....hinbringt, ohne wegfahren zu müssen;
.....informiert, ohne zu belehren;
.....unterhält, ohne zu langweilen.
Und all das – und noch mehr – zu Preisen an der Grenze zum Geschenk.
'amb' könnte für 'amerika billig' stehen, ist aber – natürlich – das Kürzel für '...and more bears', das noch junge Label von Bear Family Records.
Also alles nur Spinnerei? Nein. Denn 'amb' lädt tatsächlich ein zu exklusiven Entdeckungsreisen in die (musikalische) Historie der USA – akribisch sortiert nach Bundesstaaten von Nord nach Süd, von West nach Ost. Jeder dieser speziellen Trips ist untergebracht auf 12 Zentimetern Durchmesser – damit kleiner als jeder wissenschaftliche Atlas und mit dem vielfachen Inhalt dessen, was eine noch so bunte Hochglanzpostkarte bieten kann:
Dies sind echte, authentische, erlebte und weitergegebene 'Greetings From. . .' !
Selbstverständlich kompetent und fundiert - aber ohne Oberlehrerhaftes, ohne Staubtrockenes (auch wenn es schon mal in die Wüste gehen kann), ohne touristisches Gehetze von einem Museum zum nächsten Wasserfall.
Texas und Tennessee waren bereits im Angebot, Oklahoma und Hawaii, Georgia und Alabama kamen anschließend hinzu. Und, mal ehrlich, wer außer '...amb' könnte Reiseleiter mit dem Bekanntheitsgrad eines Johnny Cash, Willie Nelson oder Waylon Jennings präsentieren? Von der Bedeutung eines Jim Reeves, Don Gibson oder Bill Monroe? Von der Klasse eines Tex Ritter, Roy Rogers Louis Jordan, oder Hank Snow?
Sie alle (und viele andere) präsentieren ihre Heimat - Land und Leute, Terrains und Typen - auf ihre ganz eigene, unverwechselbare Art und Weise. Und geben musikalisch Details auf Fragen preis, von denen übliche Prospekte oder geschönte Werbefilmchen nur träumen können:
Was war da los mit den Wassermelonen in Georgia? Wie fanden auf Hawaii Rock 'n' Roll und Hula zusammen? Und welche Bedeutung hatte eigentlich der dicke Sam aus Alabama? 'Greetings From....' geben die Antworten !
Wie waren die Honky Tonk Girls in Oklahoma wirklich? Klangen die Kirchenglocken in Tennessee schon immer so? Und wem war das Wiegenlied in Texas gewidmet? 'Greetings From....' klären auf nach Noten!
Tauchen Sie ein in die Riffe vor Hawaii, hüten Sie sich vor dem Knast in Alabama, wippen Sie mit zum Walzer in Oklahoma, zu Polka, Jive und Two Step in Tennessee! 'Greetings From....' laden dazu ein !
Erleben Sie nordamerikanische Geschichte(n), Geographie und Traditionen zum Anfassen – durch vertonte Episoden aus erster Hand.
Postkarten aus Amerika
Die CD-Cover dieser Reihe sind klassischen amerikanischen Postkarten nachempfunden, in denen der Schriftzug des jeweiligen Staates mit repräsentativen Fotos unterlegt ist.

Read more at: https://www.bear-family.de/bear-family/country-serien/greetings-from/
Copyright © Bear Family Records
Bewertungen lesen, schreiben und diskutieren...
mehr
Kundenbewertungen für "Greetings From Georgia"
Bewertung schreiben
Bewertungen werden nach Überprüfung freigeschaltet.
Weitere Artikel von Various - Greetings From