Der Artikel wurde erfolgreich hinzugefügt.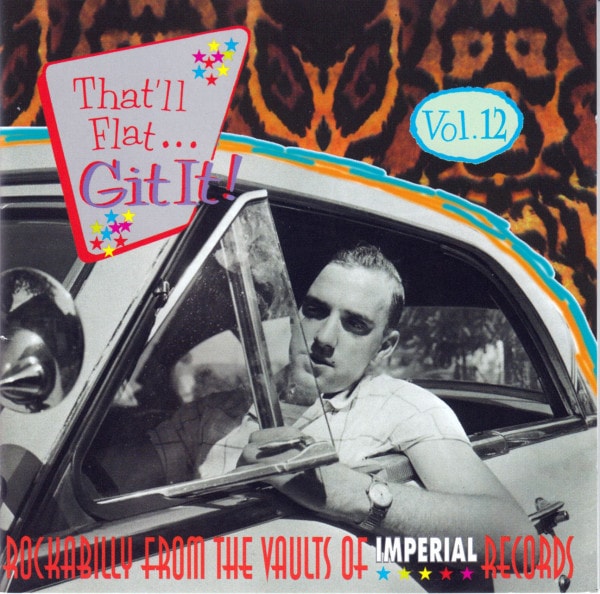 13,95 € *
15,95 € *
(12,54% gespart)
inkl. MwSt. / zzgl. Versandkosten - Abhängig vom Lieferland kann die MwSt. an der Kasse variieren.
Sofort versandfertig, Lieferzeit** 1-3 Werktage
Artikel-Nr.:

BCD16102

Gewicht in Kg.:

0.115
1-CD mit 44-seitigem Booklet, 30 Einzeltitel. Spieldauer ca. 66 Minuten. Rockabilly aus den...
mehr
Various - That'll Flat Git It!: Vol.12 - Rockabilly From The Vaults Of Imperial Records (CD)
1-CD mit 44-seitigem Booklet, 30 Einzeltitel. Spieldauer ca. 66 Minuten.
Rockabilly aus den Archiven von
Imperial Records
! Imperial steht für
Rick Nelson
und
Fats Domino
. Doch Imperial nahm auch einige der großartigsten Rockabilly-Nummern mit Bob '
Red Hot
' Luman, Johnny &
Dorsey Burnette
and the Strikes auf. Der frühere R&B-Star
Roy Brown
versucht sich an Rockabilly, und es gibt eine großartige frühe Aufnahme von
Bill Mack
.
Lewis R. Chudd vermeidet die Öffentlichkeit. Sogar zu seiner Blütezeit war alles, was man sehen konnte, ein gelegentliches verschwommenes Bild eines schlanken, streng aussehenden, spaltzahnigen Mannes, der Fats Domino oder
Ricky Nelson
eine goldene Scheibe überreichte. Der ehemalige NBC-Exekutive hatte in den 30er Jahren ein Radioprogramm namens "Let's Dance" produziert und Benny Goodmans Swing-Band populär gemacht.
Nach einem Aufenthalt im Office of War Information blieb Chudd in LA und trat in das Plattengeschäft ein. Er gründete Crown Records, ein Jazzlabel, und verkaufte es an einen anderen angehenden Mogul, Irvin Feld. Im Januar 1946 lancierte er Imperial (oder Discos Imperiales) zunächst seinen Katalog über mexikanische Gruppen, eine quadratische Tanzliste und alle Arten von ausländischer Volksmusik. Bis zum Ende des Jahres hatte er eine Anlaufinvestition von 10.000 Dollar in angebliche 90.000 Dollar investiert.
Chudd wurde als schroff, hartnäckig, schlecht erzogen, fordernd und abrasiv beschrieben. Laut Tontechniker Bunny Robyn: "Er wusste keine A-Wohnung von einem G, aber er roch Geld." Mitte der 50er Jahre hatte er ein Vermögen gemacht, Fats Domino im Rennsportfeld und
Slim Whitman
an Hillbilly-Fans zu verkaufen. Beide Künstler kreuzten sich in die entscheidende Pop-Domain ein, wo Chudd Anfang der 60er Jahre mit einem geschätzten Wert von 35 Millionen Dollar an Ricky Nelson-Platten beschäftigt war und Imperial zu einem der profitabelsten unabhängigen Unternehmen machte.
Ein Talent-Spotter mit wenigen Gleichen, Chudd war dennoch mehr mit Marketing und Promotion als mit Aufsicht oder Produktion beschäftigt. Mitarbeiter Arrangeur Jimmie Haskell überwachte viele der lokalen Rock'n'Roll-Sessions des Imperial, darunter die für Ricky Nelson. "Chudd", sagte Haskell, "war böse, rücksichtslos und unhöflich, aber er wusste, wie man Hit Records macht." Haskell hatte hier keinen umfassenden Input, da die meisten der schönsten Rockabilly-Momente des Imperiums weit weg vom Los Angeles 'Hauptquartier in Cleveland, Ohio (
Laura Lee Perkins
), Fort Worth, Texas (
The Strikes
), Clovis, New Mexiko (
Weldon Rogers
) und möglicherweise New Orleans (Roy Brown).
Chudds Dallas-Händler sagten ihm auch, was auf Shreveports "Louisiana Hayride" passiert, eine wichtige Sprosse auf der Leiter für aufstrebende Rockabilly-Sänger wie
Bob Luman
und
Al Jones
. Keiner dieser Künstler trug viel zu den Gewinnen des Unternehmens bei und Lew Chudds berühmtes Geruchssinn war nicht zu scharf, als er
Bill Allen
oder
Dennis Herrold
zum Beispiel aufhob. Nichtsdestotrotz handelt es sich hier um einen erstklassigen Rockabilly-Rockabilly und eine aufregende Kollektion, die Sie auf jedem Label finden werden.
Lew Chudd ritt 18 Jahre lang länger als die meisten seiner ebenso harten Zeitgenossen im unabhängigen Plattengeschäft. Liberty absorbierte 1963 Imperial und Chudd nutzte offenbar seine Kapitalgewinne, um mehrere Radiostationen zu kaufen. Firmenübernahmen erlauben auch die Aufnahme von Schallplatten über United Artists, die 1969 mit Liberty verschmolzen wurden. Zehn Jahre später wurde das gesamte Geschäft von EMI verschluckt. (Bill Millar,
Bear Family Records
1997)
Artikeleigenschaften von

Various - That'll Flat Git It!: Vol.12 - Rockabilly From The Vaults Of Imperial Records (CD)
Albumtitel:

Vol.12 - Rockabilly From The Vaults Of Imperial Records (CD)

Genre

Rock'n'Roll

Preiscode

AH

Artikelart

CD

EAN:

4000127161024

Gewicht in Kg:

0.115
Various - That'll Flat Git It - Vol.12 - Rockabilly From The Vaults Of Imperial Records (CD)

CD 1
01
Red Hot
LUMAN, Bob
02
So Long, Good Luck, Goodbye
ROGERS, Weldon
03
Play My Boogie
MACK, Bill
04
Let's Go Baby
ELDRIDGE, Billy
05
Bop Bop Ba Doo Bop
WILLIAMS, Lew
06
Please Give Me Something
ALLEN, Bill
07
Hip Shakin' Baby
BROWN, Roy
08
Make With The Lovin'
HERROLD, Dennis
09
If You Can't Rock Me
STRIKES
10
Centipede
WILLIAMS, Lew
11
Don't Wait Up
PERKINS, Laura Lee
12
Didi Didi
GARNER, Johnny
13
Everybody's Got A Baby But Me
MILLER, Warren
14
Warm Love
BURNETTE BROTHERS, THE
15
Abracadabra
WILLIAMS, Lew
16
Rockin'
STRIKES
17
Hip Hip Baby
HERROLD, Dennis
18
Sweet Baby Doll
BURNETTE, Johnny
19
Loretta
JONES, Al
20
Cat Talk
WILLIAMS, Lew
21
Hey Baby
LAWRENCE, Bill
22
I Don't Want To Cry Over You
STRIKES
23
All Night Long
LUMAN, Bob
24
Kiss Me Sweet
GARNER, Johnny
25
Gone Ape Man
WILLIAMS, Lew
26
You Arouse My Curiosity
HERROLD, Dennis
27
Dirty Dog
BANKS, Dick
28
Baby I'm Sorry
STRIKES
29
Something I Said
WILLIAMS, Lew
30
Rockin' By Myself
GOWANS, Sammy
That'll Flat Git It CDs Album-Serie produziert von Bear Family Records 'That'll Flat...
mehr
"Various - That'll Flat Git It!"
That'll Flat Git It
CDs Album-Serie produziert von Bear Family Records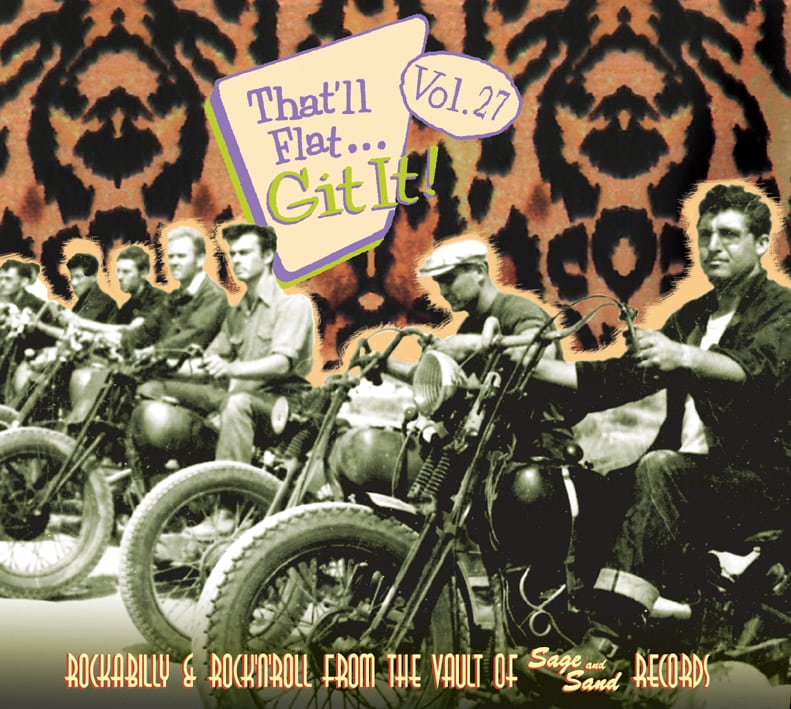 'That'll Flat Git It!' das war das verbale Erkennungszeichen des Memphis Disc Jockeys Dewey Phillip, der keinen geringeren als Elvis Presley erstmalig im Radio spielte... Und 'That'll Flat Git It' heisst unsere Bear Family Records Rockabilly CD-Album Serie! Wer kennt nicht die legendären Lanspielplatten wie die 'MGM Rockabillies', die 'Chess Rockabillies', die 'Rare Rockabilly' Zusammenstellungen der Firma MCA, oder die Columbia Zusammenstellungen. Alle Rockabillykracher, die auf diesen LPs enthalten waren, gibt es bei uns auf CD-Album plus mindestens doppelt so vieler weiterer Rockabilly Songs!
Einzigartige That'll Flat Git It! Rockabilly-Serie
Wir machten uns auf die Suche nach den am besten klingenden Bändern. Ließen sie dann von den führenden Mastering-Spezialisten bearbeiten und haben auch in puncto Verpackung neue Maßstäbe gesetzt. Als übergeordneten Serien-Titel wählten wir ' That'll Flat Git It!', das verbale Erkennungszeichen des ersten Rockabilly-Discjockeys Dewey Phillips.
Außerdem suchten wir unveröffentlichtes Fotomaterial und machten all jene Interpreten ausfindig, nach denen bis dahin vergeblich geforscht worden war.
Unterm Strich steht unsere einzigartige That'll Flat Git It! Serie
Bewertungen lesen, schreiben und diskutieren...
mehr
Kundenbewertungen für "Vol.12 - Rockabilly From The Vaults Of Imperial Records (CD)"
Von:
Vladimir
Am:
11.05.2018
Bewertung schreiben
Bewertungen werden nach Überprüfung freigeschaltet.
Weitere Artikel von Various - That'll Flat Git It!