Der Artikel wurde erfolgreich hinzugefügt.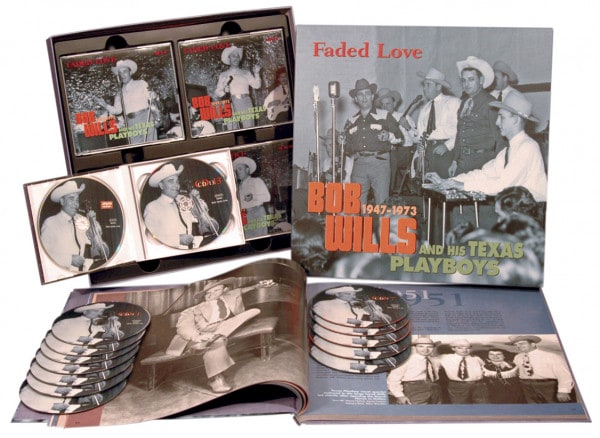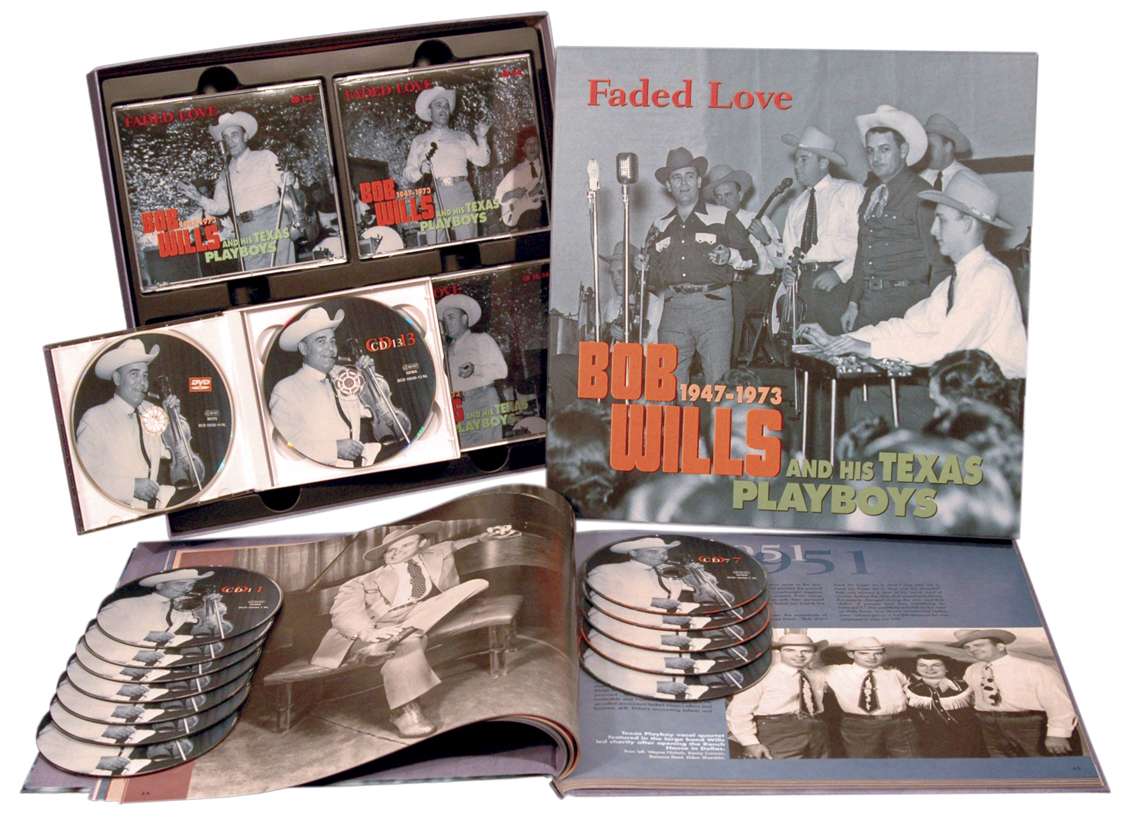 Benachrichtigen Sie mich, sobald der Artikel lieferbar ist.
inkl. MwSt. / zzgl. Versandkosten
Artikel derzeit nicht verfügbar, Lieferfristen von bis zu 2-3 Wochen sind zu erwarten. (soweit verfügbar beim Lieferanten - kann schneller gehen, manchmal aber leider auch nicht)
Artikel-Nr.:

BCD16550

Gewicht in Kg.:

2.75
13-CD/1-DVD Box (LP-Format) mit 140-seitigem gebundenen Buch. CD 357 Einzeltitel, Spielzeit ca....
mehr
Bob Wills & His Texas Playboys: Faded Love - 1947-1973 (13-CD & 1-DVD)
13-CD/1-DVD Box (LP-Format) mit 140-seitigem gebundenen Buch. CD 357 Einzeltitel, Spielzeit ca. 949 Minuten. DVD 7 Einzeltitel, Spielzeit ca. 19 Minuten.


Klassiker wie Faded Love, Bubbles In My Beer, Boot Heel Drag und My Shoes Keep Walking Back To You.
Bislang unveröffentlichte Aufnahmen, darunter die legendäre Reunion-Session von 1971 von Bob Wills' Playboys mit Superstar Merle Haggard. Seine kompletten Einspielungen mit Johnny 'Running Bear' Preston.
Dutzende, nie zuvor gezeigte Fotos, eine lückenlose Discographie von Bob Pinson und Kevin Coffey sowie eine Biographie aus der Feder des Bob Wills-Experten und C&W-Historikers Rich Kienzle.
Vor nunmehr fünf Jahren veröffentlichte Bear Family die gigantische 11 CD/1 DVD-Sammlung über die Jahre, in denen Bob Wills und seine Texas Playboys den Western Swing erfanden. Diese Kollektion,
'San Antonio Rose' (BCD 15933), deckte Bob Wills' Karriere bis zum Ende seiner Zusammenarbeit mit Columbia 1947 ab – sie wurde von Kritikern und Fans als eine der maßgeblichen Veröffentlichungen des Jahres gefeiert...und sogar darüberhinaus.
Und jetzt ist die Ergänzungs-Box ist fertig! 'Faded Love' schließt lückenlos an 'San Antonio Rose' an. Genauso unverzichtbar, wird hier der Rest von Bob Wills' aufregender Karriere abgehandelt. Hier erfahren wir, wie Bob Wills auf die sich ändernden musikalischen Entwicklungen reagierte. Es geht um das Ende der Western-Swing-Ära, den Angriff des Rock 'n' Roll und darum, wie die Anfänge des Revivals in den Jahren vor Bob Wills' Tod allmählich Gestalt annahmen...zum Beispiel dank Merle Haggard und Neulingen wie Asleep At The Wheel.
Das neue Set beginnt mit Bob Wills' ersten Sessions für MGM 1947 und reicht bis zu den letzten Einspielungen 1973 für United Artists. Alles Dazwischenliegende ist erfaßt: Bob Wills' komplette Aufnahmen für Decca, Liberty, Longhorn und Kapp, darunter die gefeierten Reunion-Platten mit Tommy Duncan. Natürlich sind auch Hits und zeitlose Klassiker wie Faded Love, Bubbles In My Beer, Ida Red Likes The Boogie und Heart To Heart Talk dabei sowie Bob Wills' atemberaubende Originalaufnahme von My Shoes Keep Walking Back To You. Zu all seinen jemals erschienenen Einspielungen kommen unveröffentlichte Titel hinzu – zum Beispiel die von den Sicherheitsbändern seiner letzten Aufnahmesession, die seinen Album-Klassiker 'For The Last Time' enthielt. Ferner gibt es 20 Songs der von Merle Haggard's legendärer 1971er-Housewarming-Party-Session mit den Playboys.
'Faded Love' – mit 13 CDs und einer DVD mit Bob Wills' Snader Transcriptions von 1951 – ist eine unverzichtbare, wichtige Veröffentlichung. Die wie immer makellose Bear-Family-Soundqualität – eines unserer Markenzeichen – ist natürlich auch hier garantiert. Zum Set gehört außerdem ein XXXseitiges Hartcover-Buch mit Dutzenden klassischer Fotos (viele nie zuvor veröffentlicht!), einer umfassenden und neu recherchierten Discographie von Bob Pinson und anderen sowie einer detaillierten Betrachtung der damaligen Zeit, geschrieben von Rich Kienzle.
Artikeleigenschaften von

Bob Wills & His Texas Playboys: Faded Love - 1947-1973 (13-CD & 1-DVD)
Albumtitel:

Faded Love - 1947-1973 (13-CD & 1-DVD)

Genre

Country

Edition 2

Deluxe Edition

Preiscode

NL

Artikelart

Box set

EAN:

4000127165503

Gewicht in Kg:

2.75
In den 30er bis 50er Jahren war er eine der einflußreichsten Persönlichkeiten in der Geschichte...
mehr
"Bob Wills & His Texas Playboys"
In den 30er bis 50er Jahren war er eine der einflußreichsten Persönlichkeiten in der Geschichte der Country Music: der legendäre Bob Wills, ein Pionier des jazzigen Western Swing, der im amerikanischen Südwesten und später an der Westküste entstand und seine große Blütezeit erlebte. Der Texaner – der innovative und charismatische 'König des Western Swing' - verbrachte die Hoch-Zeit seiner Karriere in Oklahoma und Kalifornien. Mit seiner klassischen Band, den Texas Playboys, vereinigte er texanische Fiddlemusic mit Hot Jazz, Blues, Pop und anderen Stilrichtungen. Bis sein Riesen-Hit San Antonio Roseihn landesweit berühmt machte, war Wills lediglich eine lokale Größe. Dann aber bescherte ihm seine Musik eine überdurchschnittliche Popularität und hatte einen unverrückbaren Einfluß auf die Entwicklung der herkömmlichen Country Music; außerdem machten ihn der Einsatz elektrischer Gitarren, ein betonter Beat und ein Blues-Touch in seiner Musik auch zum wichtigen Wegbereiter des Rock 'n' Roll.
Wills verstarb 1975, doch seine Popularität und Wirkung leben weiter. 2005 wäre er 100 Jahre alt geworden, und Bear Family Records feiert dies mit einer besonderen Ankündigung: Es wird ein zweites Wills-Box-Set geben, das die erste Box aus dem Jahr 2000, 'San Antonio Rose' (BCD 15933), ergänzt. Dieses gigantische Projekt – mit 11 CDs und einer DVD mit Wills' erstem Kinofilm – enthielt bereits Wills' richtungweisende frühe Aufnahmen aus den Jahren 1932 bis 1947. Volume 2 setzt seine Veröffentlichungen lückenlos fort – mit Wills' ersten MGM-Einspielungen aus dem Herbst 1947 bis zu seinen letzten Arbeiten von 1973. Die Box wird zahlreiche, bislang unveröffentlichte Songs präsentieren; außerdem eine komplette, ebenfalls bisher nicht veröffentlichte Reunion-Session von 1971, die von Country-Music-Legende Merle Haggard organisiert wurde, der auch selbst mitspielte.
Weiterführende Informationen werden wir rechtzeitig in unseren Katalogen und auf der Internetseite www.bear-family.de bekanntgeben.
Geb. 6. 3. 1905 im Limestone County - Texas
Gest. 13.5. 1975 in Fort Worth - Texas
Record Labels: Okeh, Brunswick, Columbia, Silver Bell, Decca, Harmony, Liberty, Kapp, MGM, MVA, Starday, United Artists, Capitol, Epic, RCA, Tishomingo, Bear Family
Erster No. 1 Hit: Silver Dew On The Blue (1945)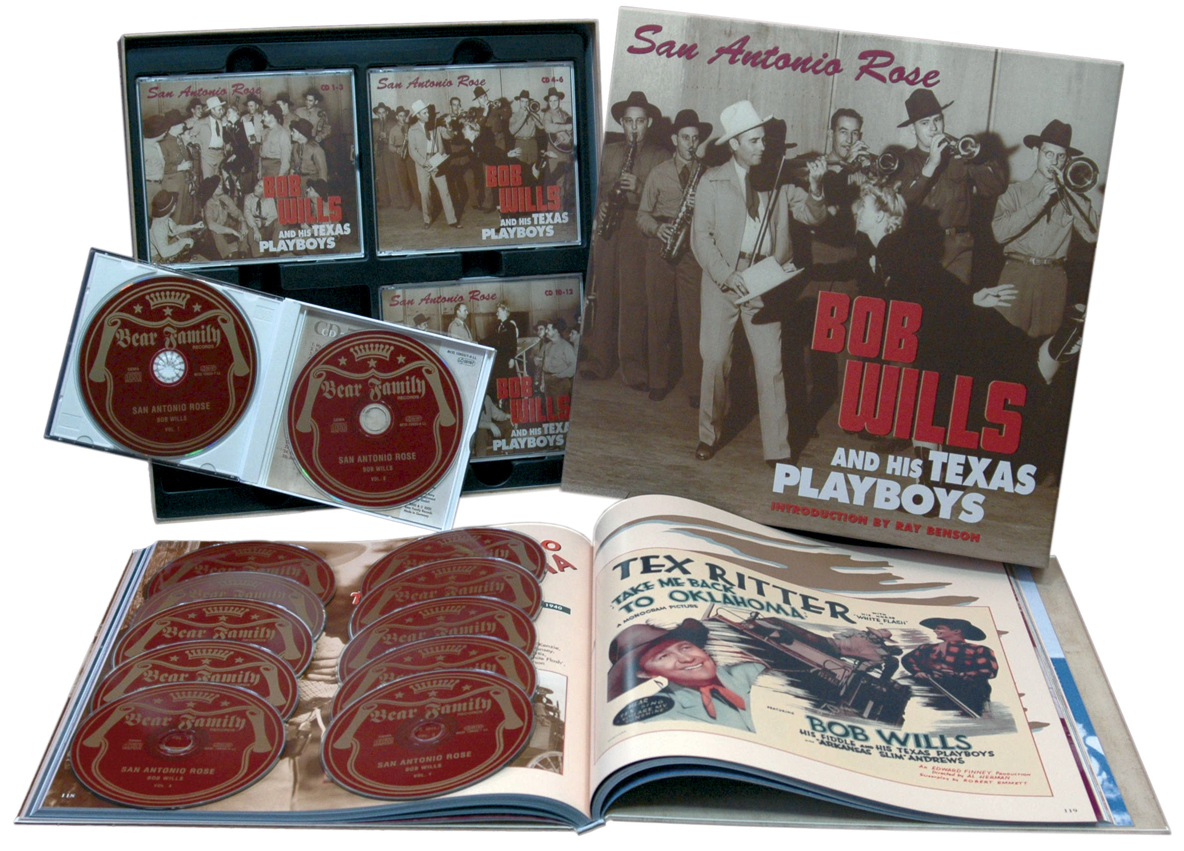 James Robert Wills, der King Of Western Swing, leitete vier Jahrzehnte lang eine der besten und einflussreichsten Western Swing Bands, die Texas Playboys. Mit einem Duo, der Wills Fiddle Band, hatte der Sänger und Fiddler Bob Wills zusammen mit dem Gitarristen Herman Arnspiger 1929 begonnen, 1931 war noch der Sänger Milton Brown dazugekommen und wenig später hatten sich aus der "Wills Fiddle Band die "Light Crust Doughboys entwickelt, eine Western Swing Formation, die später zur Legende hochstilisiert wurde.

1933, als Milton Brown und Bob Wills die Light Crust Doughboys verlassen hatten, gründete Bob seine eigene Band, die "Texas Playboys, eine Gruppe, mit der er Maßstäbe für den gesamten Western Swing Stil setzte. Er wurde im Verlauf weniger Jahre der Benny Goodman des Western Swing.

1968 wurde Bob Wills in die Country Music Hall Of Fame aufgenommen, doch den wohl schönsten Tribut zollte ihm Waylon Jennings, als er sang: "No matter who`s in Austin, Bob Wills is still the King."
Bewertungen lesen, schreiben und diskutieren...
mehr
Kundenbewertungen für "Faded Love - 1947-1973 (13-CD & 1-DVD)"
Von:
Jessie cordova
Am:
05.11.2017
Willis
Let me know if the set is in
Bewertung schreiben
Bewertungen werden nach Überprüfung freigeschaltet.
Weitere Artikel von Bob Wills & His Texas Playboys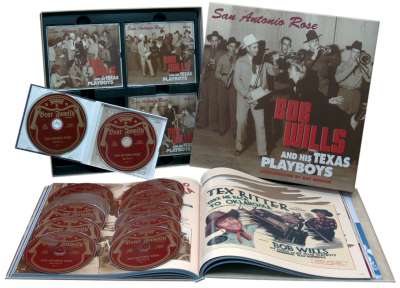 Bob Wills & His Texas Playboys: San Antonio Rose (11-CD & 1-DVD & Book)
Art-Nr.: BCD15933


Sofort versandfertig, Lieferzeit** 1-3 Werktage
Bob Wills & His Texas Playboys: The Rare Presto Transcriptions
Art-Nr.: CSR1


Sofort versandfertig, Lieferzeit** 1-3 Werktage
Bob Wills & His Texas Playboys: More Rare Presto Transcriptions (LP)
Art-Nr.: CSR2


Sofort versandfertig, Lieferzeit** 1-3 Werktage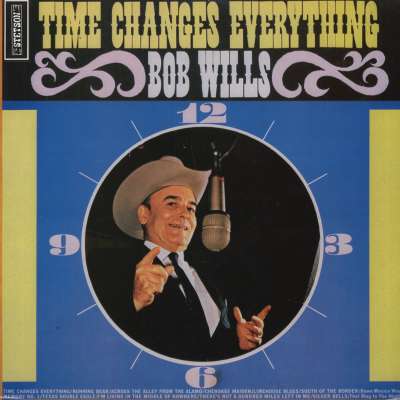 WILLS, Bob: Time Changes Everything
Art-Nr.: HAT3024


Sofort versandfertig, Lieferzeit** 1-3 Werktage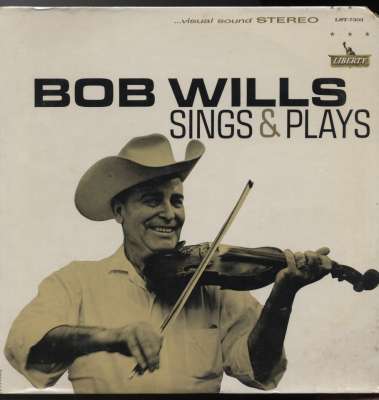 Bob Wills & His Texas Playboys: Sings & Play (1963) Cut-Out
Art-Nr.: LST7303


Artikel muss bestellt werden