Der Artikel wurde erfolgreich hinzugefügt.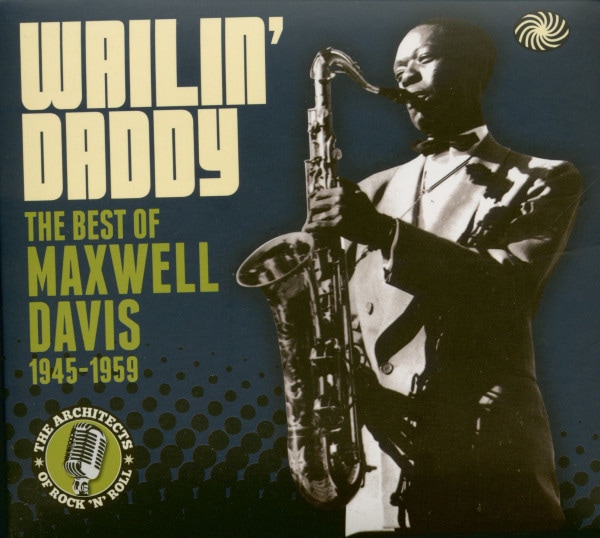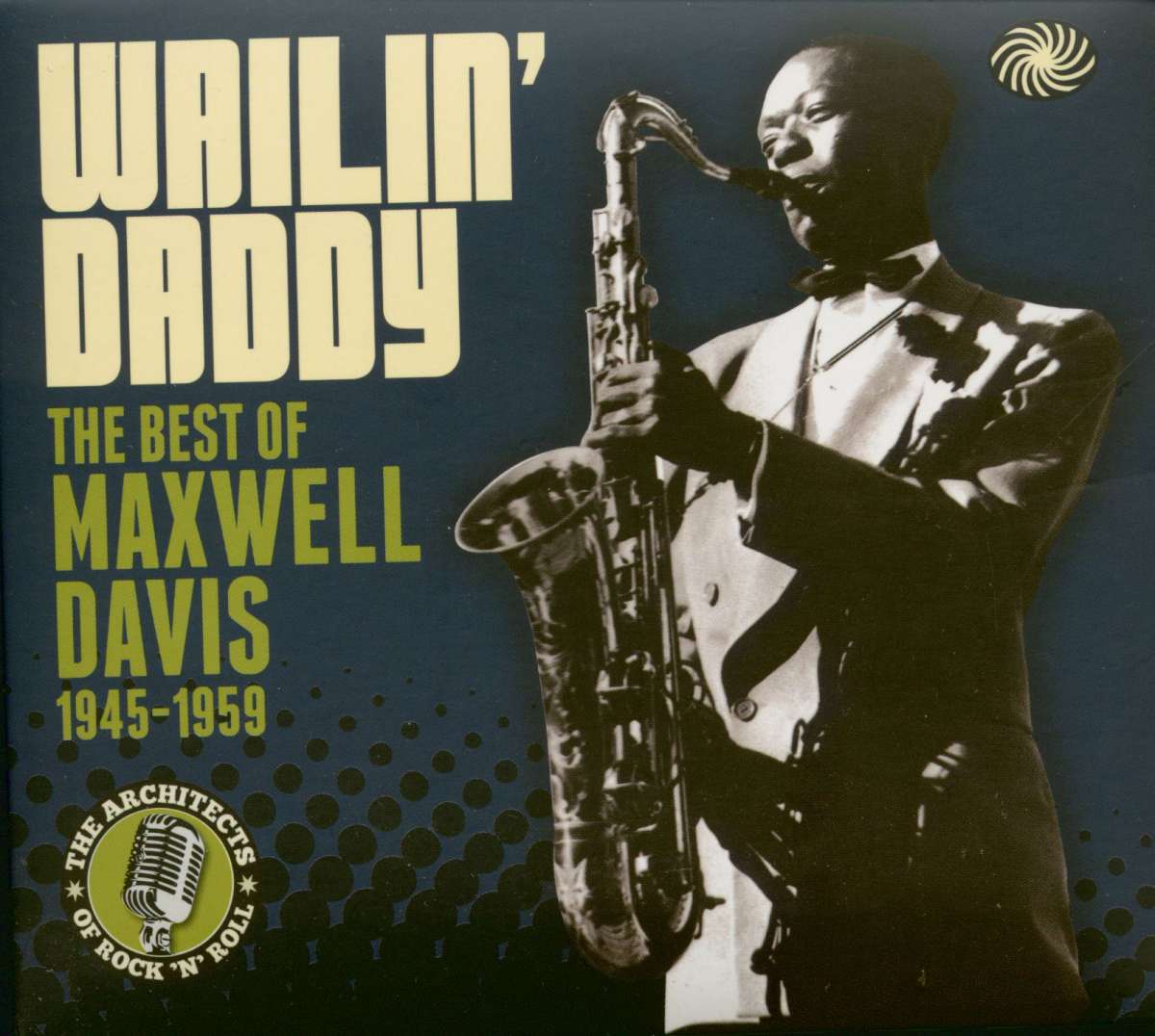 Benachrichtigen Sie mich, sobald der Artikel lieferbar ist.
inkl. MwSt. / zzgl. Versandkosten - Abhängig vom Lieferland kann die MwSt. an der Kasse variieren.
Artikel derzeit nicht verfügbar, Lieferfristen von bis zu 2-3 Wochen sind zu erwarten. (soweit verfügbar beim Lieferanten - kann schneller gehen, manchmal aber leider auch nicht)
Artikel-Nr.:

CDFV130

Gewicht in Kg.:

0.17
1-CD-Album Digipak (4-fach) mit 44-seitigem Booklet, 32 Titel. Spielzeit ca. 88 mns. Hochwertige...
mehr
Maxwell Davis & Others: Wailin' Daddy - The Best Of Maxwell Davis 1945-1959 (3-CD)
1-CD-Album Digipak (4-fach) mit 44-seitigem Booklet, 32 Titel. Spielzeit ca. 88 mns.
Hochwertige Seiten von einem der legendären Sänger und Musiker des Memphis Blues und Boogie,-
Doctor Ross
, aufgenommen als er Teil der Kleingruppenszene war, bekannt für seine Fähigkeiten als Mundharmonikaspieler und Sänger! Enthält alle Schach- und Sun-Singles und die unveröffentlichten Songs, die
Sam Phillips
(
Sun Records
) Anfang der 1950er Jahre aufgenommen hat, einschließlich des berühmten'
Chicago
Breakdown'! Enthält auch alle DIR-, Fortune- und Hi-Q-Singles aus Michigan, einschließlich des ebenso berühmten'Cat Squirrel'! Das Booklet enthält seltene Fotografien und Liner Notes von
Martin Hawkins
!
->,Isaiah Ross wurde in Mississippi geboren, machte sich seinen Ruf als Bluesman in Memphis und zog dann gelegentlich nach Michigan, um als Ein-Mann-Band aufzutreten.
Dr. Ross
war nicht der erste, der das Thema des musikalischen Arztes benutzte, um sich besser zu fühlen, aber
Dr. Ross
war einer der Besten, wenn es darum ging, hochrhythmische Backcountry-Tanzmusik zu kreieren und Folk-Blues-Paare zu recyceln, die hauptsächlich aus den Aufnahmen von
Sonny Boy Williamson
stammen, denen er etwas von seinem eigenen ironischen Humor und Witz hinzufügte. Von Anfang an mit Sam Phillips in Memphis, hatte sein Stil auf Chess and Sun eine Frische, die aktuell klang und er machte eine überraschend breite Palette von Blues-Aufnahmen auf den Detroiter Labels DIR, Fortune und Hi-Q. Sam Phillips (Sun Records) sagte einmal: 'Doctor Ross hatte einen ganz besonderen Sound. Er beherrschte seine Musik und hatte einen echten Instinkt für das, was um ihn herum geschah. 'Chicago Breakdown' ist eine der besseren Platten, die ich je in meinem Leben gehört habe.'(2006/FUEL) 16 Songs (44:05) mit Noten von
Bill Dahl
.
-
Known vor allem für seine klassische Version von Jerry Leiber und Mike Stoller's '
Kansas
City
', erschienen 1959 bei Bobby Robinson's Fury Records, und zu weniger für seinen 'Comeback'-Hit 'Let's Work Together' für Juggy Murray's Sue Records ein Jahrzehnt später, 1969, hat
Wilbert Harrison
viele mehr zu bieten, als die meisten Menschen glauben. Dieses abwechslungsreiche Set besteht aus einem gemischte Sammlung von Single-Veröffentlichungen, darunter 'Kansas City' und Harrison's 'Let's Stick Together', das sich zu einem der beliebtesten als seine letzte Entlassung für Fury. Auch hier sind drei Seiten enthalten aus Marshall E. Sehorns Sea-Horn Records von 1963,
Harrison's einsame 1965 Single von Port Records, 'You're Still My Baby' s/w 'Baby
Move
On', ein 1966er Track von
Allen Toussaint
's Deesu Records, 'Clementine', und ein nuanciertes Cover des in Mel London geschriebenen 'Poison Ivy'. von Vest Records. Bemerkenswert ist auch die 'Pretty Little Woman' von 1971. was eigentlich Harrison war, der ein völlig neues Lied über einem Backing sang. aufgenommen von
Elmore James
ein Jahrzehnt zuvor. Das Erstaunliche an dieses ziemlich zufällige Sortiment von Singles ist, dass es einen unglaubliche innere Kohärenz, und es macht eine gute Einführung in die Harrison, auch wenn es an 'Let's Work Together' und mehreren weiteren aus seiner Aufnahme-Karriere. Harrison's gemessener Gesang. Mix aus R&B und frühem Soul mit nur einem Hauch von Land, sind so unkompliziert und zugänglich, dass sich hier alles so anfühlt, als ob es dazugehört. zusammen, obwohl diese Tracks für ein halbes Dutzend Jahre aufgenommen wurden. verschiedene Labels. (Steve Leggett)
Video von Maxwell Davis & Others - Wailin' Daddy - The Best Of Maxwell Davis 1945-1959 (3-CD)
Artikeleigenschaften von

Maxwell Davis & Others: Wailin' Daddy - The Best Of Maxwell Davis 1945-1959 (3-CD)
Albumtitel:

Wailin' Daddy - The Best Of Maxwell Davis 1945-1959 (3-CD)

Genre

R&B, Soul

Artikelart

CD

EAN:

5055311001302

Gewicht in Kg:

0.17
Davis, Maxwell - Wailin' Daddy - The Best Of Maxwell Davis 1945-1959 (3-CD)

CD 2
01
Riffin' Without Helen
HUMES, Helen & ALL STARS
02
Goody Goody Baby
EVANS, Jo
03
Hard Headed Woman Blues
ADAMS, Jo Jo
04
Opus Five - Jake's Jive
PORTER, Jake
05
Jump Safari
PORTER, Jake
06
It's Better To Give Than To Receive
HUMES, Helen
07
Boogie Woogie Man
DE PINA, Mary
08
Effie's Boogie
SMITH, Effie
09
Swingin' An Echo
MINGUS SEXTET, Charles
10
T-Town Jump
SMITH, Geechie
11
Big Legs
PHILLIPS, Gene
12
Love Awhile
WATERFORD, Crown Prince
13
Jumpin' With Lloyd
GLENN, Lloyd
14
Without Me Baby
BROWN, Gatemouth
15
Don'T Talk Me To Death
TURNER, Joe
16
The Same Old Boogie
JONES, Betty Hall
17
Half Tight Boogie
JOHNSON SEXTETTE, Pete
18
Cornshuck's Blues
LITTLE MISS CORNSHUCKS
19
Call My Baby
WITHERSPOON, Jimmy
20
Alligator Meat
SWIFT, Joe
21
The Jumping Boogie Blues
McDANIELS, Big Speed
22
Gee
SCOTT, Mabel
23
Jimmy's Blues
FULSON, Lowell
24
Peaceful Lovin'
GROSS, Felix
25
Seeing Double
LEE YOUNG BAND
26
When I Had Money
COOPER, Micky
27
Half Awoke
MAYFIELD, Percy
28
Pot Luck Boogie
MILBURN, Amos
Davis, Maxwell - Wailin' Daddy - The Best Of Maxwell Davis 1945-1959 (3-CD)

CD 3
01
Wainting And Drinking
BOZE, Calvin
02
Real Lovin' Mama
DIXON, Floyd
03
He May Be Yours
HUMES, Helen
04
Going Back To New Orleans
LIGGINS, Joe
05
Get High
LA MELLE PRINCE
06
Goodbye
HOWARD, Meredith
07
Chico's Boogie
RED CALLENDER SEXTETTE
08
Let The Back Door Hit You
PEPPERMINT HARRIS
09
Welcome Blues
WALKER, T-Bone
10
Mr Juice Head
JOHNSON, Eddie
11
Wailin' Daddy
SCOTT, Mabel
12
Some Folks Do
CHRISTY, June
13
Blow, Man, Blow!
RAY ANTOHNY ORCHESTRA
14
Rock Heart's Blues
ROCK HEART JOHNSON
15
Talk To Me
WILLIAMS, Bob
16
Cry Hard Luck
NELSON, Jimmy
17
Loose Lips
MAYFIELD, Percy
18
Pachuko Hop
Ike CARPENTER ORCHESTRA
19
Hog Wash
JORDAN, Louis
20
I'm Hurt
GARLOW, Clarence
21
I Want Your Loving
CURRY, Earl
22
I'm In Love
KING, B B
23
Shtiggy Boom
ANNE, Patti
24
Dirty Pool
McDONALD, Rusty
25
Flip Your Daddy
COCOAS
26
Hot Banana
McLOLLIE, Oscar
27
I Ain't Gonna Hush
DE MILO, Cordella
28
Mary Lou
JESSIE, Young
29
Cross-Eyed Suzie Lee
SMITH, George
30
Kansas City
LITTLEFIELD, Little Willie
Bewertungen lesen, schreiben und diskutieren...
mehr
Kundenbewertungen für "Wailin' Daddy - The Best Of Maxwell Davis 1945-1959 (3-CD)"
Bewertung schreiben
Bewertungen werden nach Überprüfung freigeschaltet.