Der Artikel wurde erfolgreich hinzugefügt.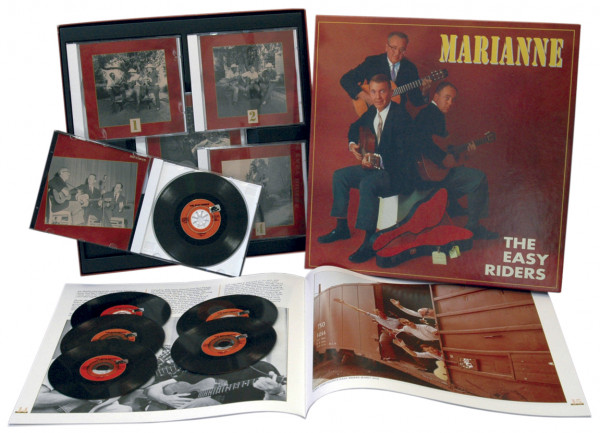 Benachrichtigen Sie mich, sobald der Artikel lieferbar ist.
99,95 € *
109,95 € *
(9,1% gespart)
inkl. MwSt. / zzgl. Versandkosten - Abhängig vom Lieferland kann die MwSt. an der Kasse variieren.
Artikel derzeit nicht verfügbar, Lieferfristen von bis zu 2-3 Wochen sind zu erwarten. (soweit verfügbar beim Lieferanten - kann schneller gehen, manchmal aber leider auch nicht)
Artikel-Nr.:

BCD15780

Gewicht in Kg.:

1.3
6-CD Box (LP-Format) mit 24-seitigem Buch, 173 Einzeltitel. Spieldauer ca. 425 Minuten. Hier...
mehr
EASY RIDERS: Marianne (6-CD Deluxe Box Set)
6-CD Box (LP-Format) mit 24-seitigem Buch, 173 Einzeltitel. Spieldauer ca. 425 Minuten.
Hier finden sich die fehlenden Jahre der Folk-Bewegung wieder - die Jahre zwischen den Weavers und dem
Kingston Trio
. Die
Easy Riders
bestanden schon, bevor sich ihnen Terry Gilkyson, der Autor von 'Cry Of The Wild Goose', anschloss. Doch erst mit ihm kristallisierte sich der typische Sound der Easy Riders heraus. Nachdem
Dean Martin
ihr Lied
Memories Are Made Of This
aufgenommen hatte, machten sie erste Einspielungen für Columbia. Die erste Columbia-Session produzierte den Riesenerfolg
Marianne
, aus den nachfolgenden Sessions kamen
Everybody Loves Saturday Night, Fast Freight
und
Greenfields
, allesamt große Erfolge für andere Künstler. 
Diese 173 Aufnahmen dokumentieren die Jahre 1949 bis 1962 und enthalten einige der besten Songs der frühen Folk-Bewegung sowie ganz persönliche Interpretationen von Standards. Die
Weavers
und
Guy Mitchell
zählen zu den Gästen.
Artikeleigenschaften von

EASY RIDERS: Marianne (6-CD Deluxe Box Set)
Albumtitel:

Marianne (6-CD Deluxe Box Set)

Genre

Country

Edition 2

Deluxe Edition

Preiscode

FI

Artikelart

Box set

EAN:

4000127157805

Gewicht in Kg:

1.3
THE EASY RIDERS   THE EASY RIDERS Rick Dehr und Frank Miller trafen sich in Los...
mehr
"EASY RIDERS"
THE EASY RIDERS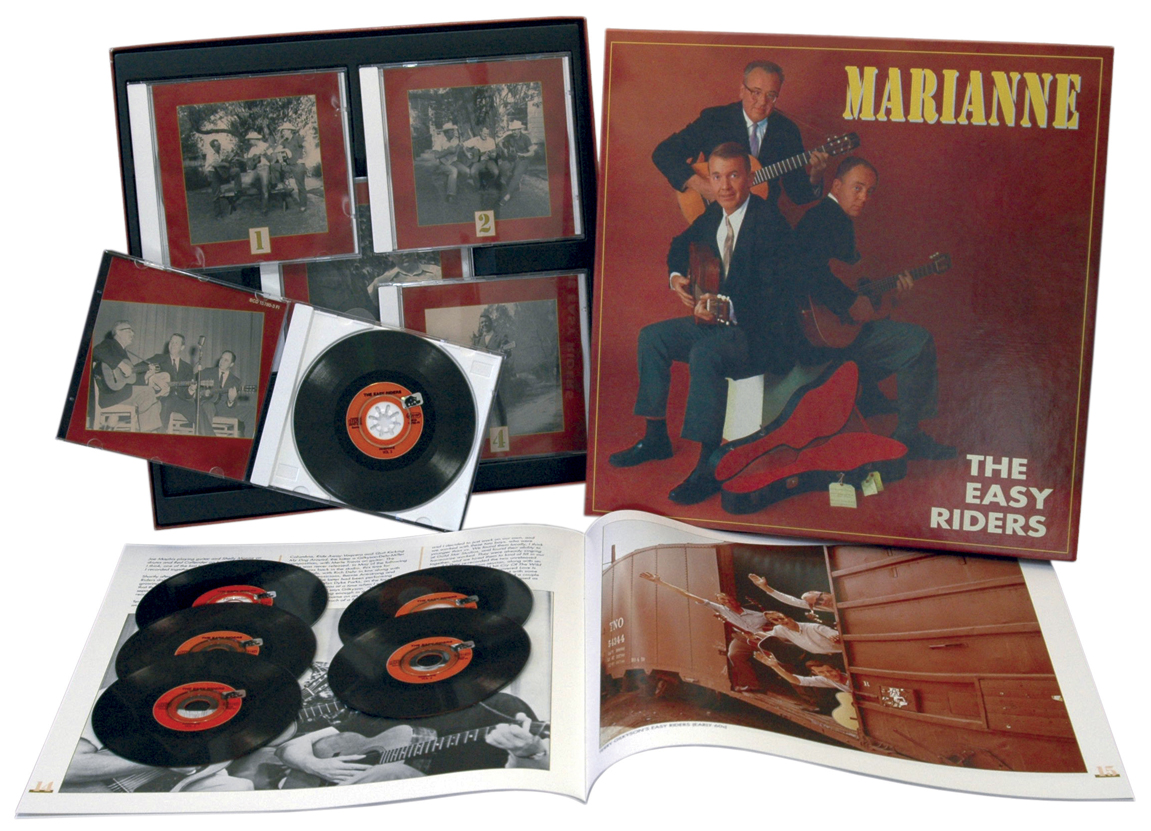 THE EASY RIDERS Rick Dehr und Frank Miller trafen sich in Los Angeles anlässlich eines zum Gedenken an den im Dezember 1949 gestorbenen Huddie 'Lead Belly' Ledbetter veranstalteten Hootenannys. Dehr gehörte zur Clique um Will und Herta Geer aus dem Topanga Canyon. Miller war ein in Brooklyn ansässiger Sänger und Gitarrist, der während der frühen Vierzigerjahre häufig die Folkszene in New Yorks Greenwich Village aufgesucht hatte. Während des Zweiten Weltkriegs war Miller auf der USS Saratoga gefahren, nach Kriegsende kehrte er nach Südkalifornien zurück. Als Miller und Dehr ungezwungen ein paar traditionelle Songs zusammen spielten, merkten sie, wie gut sie sich gegenseitig ergänzten. Dehrs instrumentale Fähigkeiten galten als eher bescheiden, er war jedoch ein ausgezeichneter Sänger. Miller war ein überragender Gitarrist, der ohne Anstrengung seine Tenorstimme über Dehrs Gesang legen konnte. Unter dem Namen The Easy Riders machten sie einige Aufnahmen und spielten in den Clubs der Gegend.
Etwa 1951 stellte ein Freund, der bei KGIL in Los Angeles arbeitete, Miller Terry Gilkyson vor. Der war bereits durch seine Decca-Aufnahmen und The Cry Of The Wild Goose bekannt geworden. Dehrs Frau schlug vor, die drei Männer sollten gemeinsam schreiben. Gilkyson, als Solist etabliert, hatte nie über eine Zusammenarbeit mit anderen nachgedacht. Er stimmte jedoch einer Probe mit Dehr und Miller zu. Seine kraftvolle Baritonstimme war eine Bereicherung für das Duo Dehr und Miller. Obwohl Gilkyson sich weiterhin um seine Karriere als Solosänger kümmerte, begannen die drei, gemeinsam Songs zu schreiben. Gilkyson nahm das erste gemeinschaftliche Werk, Fond Affection, bei seiner Decca-Session am 15. April 1952 auf. Im gleichen Jahr nahm Doris Day deren Mister Tap-Toe auf, ein Pop-Hit mit Spitzenposition Nummer 15. Der beste Song war Memories Are Made Of This. Die Easy Riders lieferten die gesangliche und instrumentale Unterstützung für Dean Martins Hitversion, die sich 1955 sechs Wochen lang an der Spitze der 'Billboard' Pop-Charts behauptete. Dieser Erfolg veranlasste Columbia Records, die Easy Riders unter Vertrag zu nehmen.
Den Durchbruch schafften sie mit dem Calypso-inspirierten Hit Marianne. Strollin' Blues besaß den gleichen rollenden Rhythmus wie Memories Are Made Of This. Der Song wurde 1957 veröffentlicht und kam nicht mal annähernd in die Charts. Allerdings nahmen Les Paul und Mary Ford eine erfolgreiche Coverversion auf. Greenfields war eine Solokomposition von Gilkyson, die auf dem zweiten Columbia-Album unterging. Die Brothers Four erweckten den Song 1960 zu neuem Leben und landeten einen Nummer-2-Hit in den 'Billboard' Charts. Gilkyson, Dehr und Miller lieferten 1958 auch die Begleitmusik zu 'Windjammer', einer halbdokumentarischen Breitwandproduktion, die äußerst lebendig die Reise des norwegischen Viermastschoners Christian Radich wiedergab. Zunehmende Spannungen zwischen Gilkyson und Miller führten schließlich zur Auflösung der Easy Riders Anfang 1959. Dehr hielt engen Kontakt zu seinen ehemaligen Partnern und trat später mit jedem der beiden zusammen auf. 1960 gründeten Gilkyson und Dehr eine kurzlebige Ausgabe der Easy Riders mit Bernie Armstrong und Carson Parks. Zwei Jahre später heuerte Miller Jerry Yester, Elvin Myres und Bert Dodson für ein einmaliges Albumprojekt unter dem Namen der Easy Riders auf Epic an. Keine dieser späteren Versuche konnte allerdings die Magie des Original-Trios einfangen.
Hamilton H. 'Terry' Gilkyson III verstarb am 15. Oktober 1999 im Alter von 83 Jahren in Austin, Texas.
Gilkyson war in der Musikwelt weitgehend ein Unbekannter, seine Melodien, darunter etliche große Hits, waren es sicher nicht: Cry Of The Wild Goose, Memories Are Made Of This, Greenfieldsoder etwa Marianne. Sein Lied The Bare Necessities (Probier's mal mit Gemütlichkeit) aus dem Disney-Klassiker 'Dschungel Buch' wurde für einen Oscar nominiert. Während der 60er Jahre schrieb er jeweils die Lieder für Disneys wöchentliche TV Serie 'The Wonderful World Of Disney' und später noch etliche Filmmusiken für Disney, so für 'Die Schweizer Familie Robinson', 'Thomasina' und 'Aristocats'. Zu den Interpreten seiner Lieder zählen Johnny Cash, Tony Bennett, das Kingston Trio, Mitch Miller, Spike Jones, Marlene Dietrich, Doris Day, Harry Connick Jr., Louis Armstrong und viele andere. Die ganze Geschichte von Terry Gilkyson wird in Bear Familys exklusiver 6-CD Box 'The Easy Riders: Marianne' (BCD 15780) beschrieben.
Am 17. Juni 1916 wurde Gilkyson in Mont Clare, Pennsylvania geboren. Den Titel Cry Of The Wild Goose, den er mit seiner Mutter zusammen geschrieben hatte, nahm er zunächst für Decca auf. Es war ihm jedoch kein Erfolg beschieden, bis Frankie Laine dann eine Version davon aufnahm. Er stieg bei Frankie Millers Easy Riders ein, einer Gruppe, die entscheidenden Einfluss auf den amerikanischen Folk hatte und eine wichtige, wenngleich selten gewürdigte Brücke zwischen den Weavers und dem Kingston Trio schlug. 1956 begannen sie mit ihren Aufnahmen, im selben Jahr, in welchem sie mit Memories Are Made Of Thisihren größten Hit als Komponisten verzeichnen konnten (man kann man sie auf Dean Martins Aufnahme dieses Hits als Begleitchor hören). Ihre erste Session für Capitol erbrachte noch einen weiteren großen Hit, Marianne. Am gleichen Tag entstand auch Everybody Loves Saturday Night (welches später von den New Christy Minstrels wiederbelebt wurde). Die Easy Riders nahmen bis 1961 auf und das ganze Material zuzüglich Gilkysons Soloaufnahmen von 1949 bis 1962 finden sich auf der Bear Family Box
EASY RIDERS Marianne (6-CD)
Read more at: https://www.bear-family.com/easy-riders-marianne-6-cd.html
Copyright © Bear Family Records
Bewertungen lesen, schreiben und diskutieren...
mehr
Kundenbewertungen für "Marianne (6-CD Deluxe Box Set)"
Bewertung schreiben
Bewertungen werden nach Überprüfung freigeschaltet.
Weitere Artikel von EASY RIDERS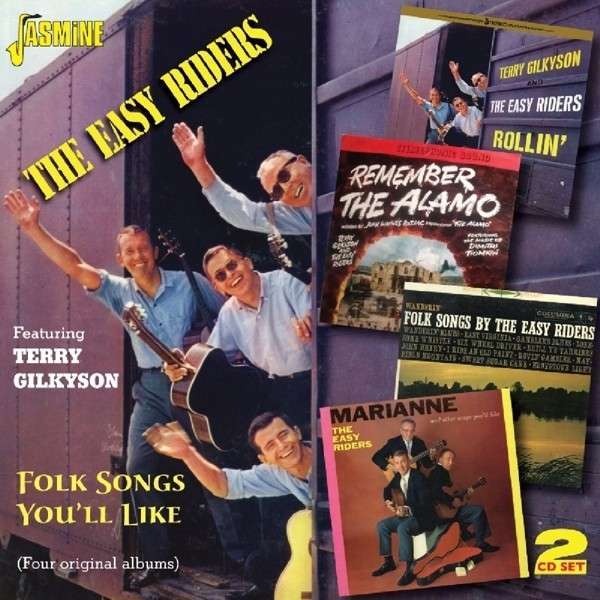 EASY RIDERS: Folk Songs You'll Like (2-CD)
Art-Nr.: CDJAS773


Artikel muss bestellt werden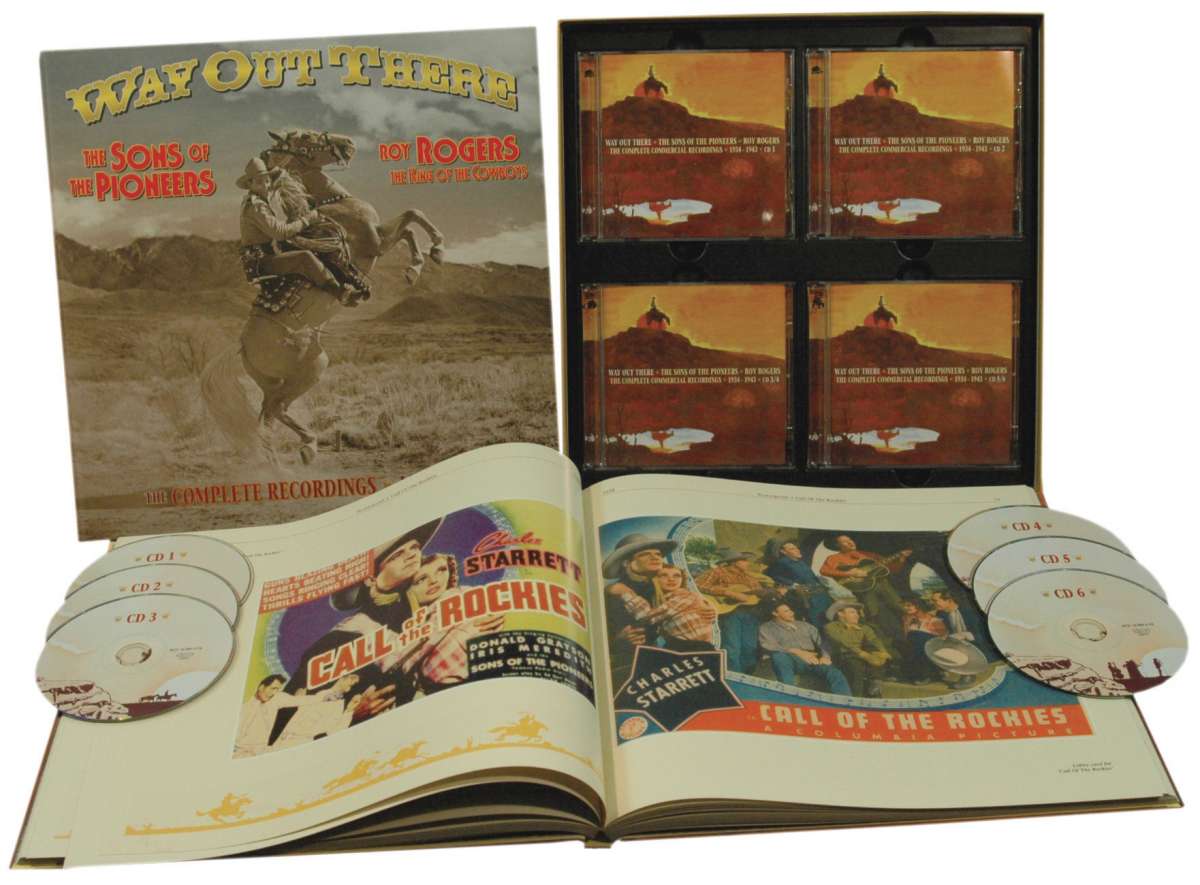 SONS OF THE PIONEERS: Way Out There (6-CD Deluxe Box Set)
Art-Nr.: BCD16389


Sofort versandfertig, Lieferzeit** 1-3 Werktage