Der Artikel wurde erfolgreich hinzugefügt.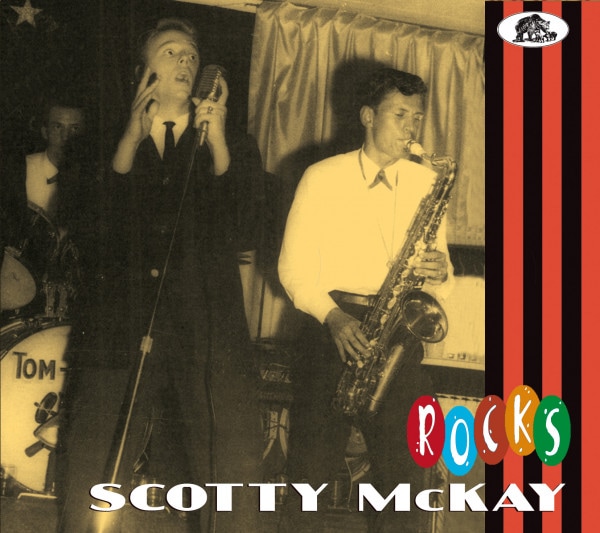 Scotty McKay alias Max K. Lipscomb – neu in unserer ROCKS!-Serie 1-CD mit 24-seitigem...
mehr
Scotty Mckay: Scotty McKay Rocks (CD)
Scotty McKay alias Max K. Lipscomb – neu in unserer ROCKS!-Serie

1-CD mit 24-seitigem Booklet, 32 Einzeltitel. Gesamtspieldauer ca. 79 Minuten.

Für diese Zusammenstellung hat Bear Family sämtliche Rocker von Scotty McKay aus den Jahren 1956-1967 zusammengetragen.

Er veröffentlichte in dieser Zeit auf Event, Swan, Lawn, Ace, Squire, Philips, Capri, Savannah Sound und Falcon.

Scotty war eine Zeitlang Mitglied der Blue Caps von Gene Vincent und trat mit dieser Formation am 17. November 1957 bei der Ed Sullivan Show auf!

Zwischen 1959 und 1962 war Scotty McKay Sänger bei Tommy & The Tom Toms, deren Rocker allerdings seinerzeit nicht veröffentlicht wurden.

Und er spielte unter seinem richtigen Namen Max K. Lipscomb einige Aufnahmen ein.

Umfangreiches Booklet mit Bio und weiteren Informationen von Bill Dahl.
Mag sein, Scotty McKay wird niemals in der Liste der '100 besten Musiker aller Zeiten' auftauchen. Als Pianist und Gitarrist hinterließ er nur wenige Spuren in der Geschichte des Rock 'n' Roll – auch wenn er um 1957 herum eine Zeitlang als Mitglied von Gene Vincents Blue Caps unterwegs und u.a. in der 'Ed Sullivan Show' vom 17. November 1957 dabei war. Er sang Background und spielte Klavier und Rhythmusgitarre auch bei Baby Blue und ist auf dem LP-Album 'Gene Vincent Rocks & The Blue Caps Roll' zu hören.
Als überzeugender echter Rocker und starker Leadsänger gehört Scotty McKay allerdings zu jener Gruppe von authentischen Meistern des Genres, die es durchaus verdient gehabt hatten, groß heraus zu kommen, zumeist jedoch im Schatten der großen Namen hervorragende Aufnahmen machten und regelmäßig auftraten.
Wir sind der Meinung, Scotty McKay gehört einfach in unsere einzigartige ROCKS!-Serie.

Für die erste umfangreiche Zusammenstellung hat Bear Family all seine Rocker aus den Jahren von 1959 bis 1966 zusammengetragen. Aufnahmen, die für Labels wie Event, Swan, Lawn, Ace, Squire, Philips, Capri, Savannah Sound und Falcon entstanden sind. Viele dieser Titel sind hiermit erstmals auf CD veröffentlicht! Neben seinen Rockern unter eigenem Namen (und denen unter seinem Geburtsnamen Max K. Lipscomb) war McKay zwischen 1959 und 1962 Sänger bei Tommy & The Tom Toms, deren Rockaufnahmen zunächst jedoch weder als Single noch auf LP veröffentlicht wurden.

Das Begleitbuch wurde von unserem Chicagoer Experten Bill Dahl geschrieben. Wir hier bei Bear Family sind uns absolut sicher: Scotty McKays Rocker wie Evenin' Time', Midnight Cryin' Time, Baby Let's Play House, Don't Wait und viele andere werden euch mit Sicherheit vom Hocker reißen!



Video von Scotty Mckay - Scotty McKay Rocks (CD)
Artikeleigenschaften von

Scotty Mckay: Scotty McKay Rocks (CD)
Albumtitel:

Scotty McKay Rocks (CD)

Genre

Rock'n'Roll

Preiscode

AR

Edition 2

Deluxe Edition

Artikelart

CD

EAN:

5397102175190

Gewicht in Kg:

0.2
McKay, Scotty - Scotty McKay Rocks (CD)

CD 1
01
Rollin' Dynamite
02
Baby Let's Play House
Tommy & The Tom Toms
03
The Girl Next Door
04
Bad Times (Acetate)
05
I've Got My Eyes On You
06
You're So Square
07
I've Been Thinkin'
08
Little Miss Blue
09
Be-Bop-A-Lula
10
Let It Rock
11
Evening Time (Acetate)
12
Midnight Cryin' Time
13
Somebody Help Me
Tommy & The Tom Toms
14
Don't Wait (Key C) (Acetate)
15
Oh Boy
Tommy & The Tom Toms
16
Roberta
17
Rollin' Danny (Acetate)
18
So Tough
Tommy & The Tom Toms
19
Pull Down The Sky
20
Who Do You Love
21
All Around The World
22
Waikiki Beach
23
Cry Me A River (Acetate)
24
Little Lump Of Sugar
25
Sea Cruise
26
You Can't Catch Me
Tommy & The Tom Toms
27
Dixie Doodle Dandy
28
Jambalaya
Tommy & The Tom Toms
29
Evenin' Time
30
The Train Kept-A-Rollin'
Scotty McKay Quintet
31
Don't Wait (Key F) (Acetate)
32
It's Too Late
Tommy & The Tom Toms
Scotty McKay At some point around mid 1957, Max Lipscomb joined Gene Vincent's Blue...
mehr
"Scotty Mckay"
Scotty McKay
At some point around mid 1957, Max Lipscomb joined Gene Vincent's Blue Caps, later insisting that he was seventeen at the time. He played piano on 'Gene Vincent Rocks and the Blue Caps Roll,' hung around for a tour or two, and appeared with Vincent on 'The Ed Sullivan Show.' In truth, Lipscomb wasn't much of a pianist and only took the role because Vincent had decided on the spur of the moment that he needed a piano in his line-up. Lipscomb later returned to the Blue Caps as a vocalist and sometime bassist and guitarist during the band's last hurrah. By all accounts, Lipscomb was born in Dallas in 1937, which would make him twenty when signed on with Vincent, not seventeen. The only major piece about him, 'And They Gave Me Oklahoma and Tennessee' by Bob Dunham ('New Kommotion' #12) doesn't dwell on the early years. When the Blue Caps folded, Lipscomb and fellow Blue Cap Grady Owen took a bus to New York, and looked up Frank Slay and Bob Crewe, who were in surreptitious partnerships with Dick Clark.
Slay and Crewe agreed to record Lipscomb, and apparently Clark insisted on the name-change to Scotty McKay. "I cut a song called 'Rollin' Dynamite' for Parkway Records," McKay told Dunham. "A pretty nice record, a territorial hit. My record was very rock 'n' roll. The rockin' rollin'est. Never have I rocked and rolled like that. The Rays, who did 'Silhouettes,' sang background on it." The composer credit on Rollin' Dynamite was 'Jo Ann Owen' (presumably Grady Owen sidestepping a prior contract). The Rays were produced by Slay and Crewe for XYZ and Cameo Records, and Slay/Crewe came to Boston to negotiate with Freddy Cannon, which might account for their contact with Cecil Steen. It would have been very strange for Parkway, then riding Chubby Checker's first hit, The Class, to lease a record to a smaller label, but unless Slay and Crewe indeed made contact with Steen in Boston, it's hard to account for Event's role in what was otherwise a New York/Philadelphia session. Both songs were recorded in New York and published by Conley Music in Philadelphia. Al Hawkes has no recollection other than that it was Cecil Steen's deal.
The release dates reported in 'Billboard' tend to support the assumption that the Event record came first (May 1959), followed by the Parkway record two months later, so the likeliest scenario is that Slay and Crewe sold the record to Event, and, when it started to get a little action, pressured Steen to let them lease it to Parkway. McKay auditioned for a Dick Clark tour, but told Dunham, "We were a Ronnie Hawkins type band, except more southern than Hawkins," and Clark didn't like "Southern" at all. There was one more single on Swan Records (another label in which Clark held an interest), and then it was back to Texas on the bus. The story from that point is one of missed opportunities, bad breaks, and brushes with rich and famous as the labels grew ever smaller. He was on Lawn, Ace, Squire, Desk, Falcon, Charay, Pompeii, and quite a few others.
In 1963, he produced and co-wrote a Top 50 hit, Kirby St. Romain's Summer's Comin', but was soon embracing the British Invasion with the same fervor with which he'd once embraced rock 'n' roll. He toured the US with the Yardbirds, and they brought him back to England for a one single deal with Columbia (UK). Soon after that, McKay recorded The Train Kept A Rolling, which he'd learned from the Yardbirds. His version was rumored to have Jimmy Page on guitar, although the revelation that it was Blair Smith reduced its value quite considerably. McKay wasn't doing well when Dunham spoke to him in 1972 (he was a local promo man for UA Records), but was still hoping for the big deal. His later years were spent dabbling in Christian music. A heart attack claimed him on March 17, 1991.
Various That'll Flat Git It Vol.20 (Event)
Read more at: https://www.bear-family.de/various-that-ll-flat-git-it-vol.20-event.html
Copyright © Bear Family Records
Bewertungen lesen, schreiben und diskutieren...
mehr
Kundenbewertungen für "Scotty McKay Rocks (CD)"
Von:
Roberta Scott
Am:
10.03.2020
Von:
Scott from Austin
Am:
10.03.2020
Top compilation!
A long overdue release at all and a fantastic add to 'The Greatest Rock & Roll series' ever! Thanks for this tremendous CD! Scotty McKay was a real wild man!


Von:
Frank Mueller
Am:
10.03.2020
Rock'n'Roll Rules OK
Rock'n'Roll Rules OK
Bewertung schreiben
Bewertungen werden nach Überprüfung freigeschaltet.