Der Artikel wurde erfolgreich hinzugefügt.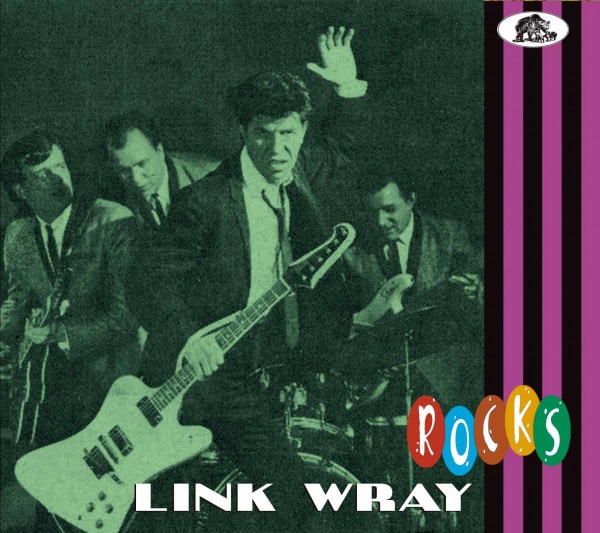 1-CD (Digipak) mit 36-seitigem Booklet, 34 Einzeltitel. Gesamtspieldauer ca. 79...
mehr
Link Wray: Link Wray Rocks (CD)
1-CD (Digipak) mit 36-seitigem Booklet, 34 Einzeltitel. Gesamtspieldauer ca. 79 Minuten.

•
Link Wray – von diesem großartigen Rocker musste es einfach eine Veröffentlichung in unserer hochgelobten ROCKS!-Serie geben!
•
Offiziell von verschiedenen Plattenfirmen wie Sony Music lizenzierte Aufnahmen, seine besten Rocknummern, die im Original zwischen 1958 und 1966 u.a. auf Cadence, Cameo, Epic, Mala, Rumble und Swan veröffentlicht waren.
•
Eine derartige Link Wray-Zusammenstellung gab es zuvor nicht!
•
Die CD enthält seine seltenen Gesangstitel Ain't That Lovin' You Baby und Mary Ann.
•
Als Bonus: unter dem Namen seines Bruders Vernon Wray (alias Ray Vernon) erschienene Titel mit Link Wray an der Gitarre!
•
Ausführliche Linernotes des Blues- und Rock'n'Roll-Experten Bill Dahl aus Chicago.
Jeder, der sich für Rock'n'Roll oder die Geschichte US-amerikanischer Popmusik im Allgemeinen interessiert, wird Rumble kennen, das Erkennungsstück von einem der großartigsten Rocker und Gitarristen aller Zeiten, Link Wray.
Link Wray (richtiger Name: Fred Lincoln Wray Jr) wurde am 2. Mai 1929 in North Carolina geboren und stand bis zu seinem Tod am 5. November 2005 in Dänemark auf den Bühnen dieser Welt.
Zusammen mit seinen Brüdern Doug und Vernon spielte er in den Fünfzigerjahren zunächst Western Swing. Sie wurden schließlich zur Hausband bei Milt Grant's House Party, wo sie u.a. Ricky Nelson und Fats Domino begleiteten.
Und dann kam Rumble, inspiriert von The Stroll der Diamonds. Produzent Archie Bleyer von Cadence Records nahm Link Wray & The Raymen unter Vertrag, und Rumble wurde vor allem in den USA und Großbritannien zu einem unerwartet riesigen Instrumentalerfolg, der es bis in die Top20 der US-Charts schaffte.
In den nächsten Jahren folgten weitere erfolgreiche Instrumentalnummern, die Link Wrays internationalen Ruf als einer der wegweisenden Gitarristen seiner Zeit festigten. Neben Neil Young, der gerne eine Zeitreise zu einem Konzert von Link Wray & The Raymen unternehmen möchte, zählt Pete Townsend von The Who zu seinen Bewunderern: ''Er ist der König; wären Link Wray und 'Rumble' nicht gewesen, hätte ich nie eine Gitarre in die Hand genommen''.
Wir nehmen nun endlich Link Wray in unsere erfolgreiche ROCKS!-Serie auf! Mit insgesamt 34 Einzeltiteln aus den Jahren 1958 bis 1966 liefern wir seine größten Rocker aus seinen Aufnahmen für Cadence, Cameo, Epic, Mala, Rumble und Swan in bestmöglicher Qualität. Da wir für diese Zusammenstellung Aufnahmen von verschiedenen Plattenfirmen lizenzieren konnten, unterscheidet sich ROCKS! deutlich von dem Billigschrott auf dem Markt.
Unsere CD enthält zudem zwei seltene Gesangstitel von Link Wray, Ain't That Lovin' You Baby und Mary Ann, sowie einige unter dem Namen seines Bruders Vernon Wray (alias Ray Vernon) erschienene Titel mit Link Wray an der Gitarre!
Zum Produkt gehört ein 36-seitiges Booklet mit ausführlichen Linernotes von einem der angesehensten Experten für die Musik jener Tage, Bill Dahl aus Chicago.
Video von Link Wray - Link Wray Rocks (CD)
Artikeleigenschaften von

Link Wray: Link Wray Rocks (CD)
Albumtitel:

Link Wray Rocks (CD)

Genre

Rock'n'Roll

Preiscode

AR

Edition 2

Deluxe Edition

Artikelart

CD

EAN:

5397102176005

Gewicht in Kg:

0.2
Link Wray may well have been the loudest rock guitarist I've ever heard in a concert setting....
mehr
"Link Wray"
Link Wray may well have been the loudest rock guitarist I've ever heard in a concert setting. Considering that over the decades I've also luxuriated in the teeth-rattling fretwork of Roy Buchanan and Dick Dale, that's saying a whole lot (granted, I'm not a heavy metal devotee). That extraordinary volume boost was a necessity for Wray; a childhood bout with the measles had robbed him of a good portion of his hearing (and some of his eyesight too, for that matter). Dedicated Wray fans didn't mind a temporary bout with deafness in the slightest following one of Link's signature shredfests; his pulverizing power chords and screaming staccato lead licks were the very definition of what rock guitar has always been and should forever be, making it a small price to pay. What's more, Link never stopped epitomizing the concept of cool. He proudly wore a leather jacket and shades onstage well into his 70s, when his demographic peers outside the music business had long since donned cardigan sweaters and settled into comfy easy chairs. Stardom didn't come easily for Wray; he and his brothers had to work long and hard to escape the impoverished circumstances of their youth and find a foothold in the music industry.
Fred Lincoln Wray, Jr. was the middle musical sibling, born May 2, 1929 in Dunn, North Carolina. Vernon was five years older than Link, born January 7, 1924 in Fort Bragg, N.C., and Doug five years younger (July 4, 1934). The Wray boys did some singing at the same church services where their mother, a full-blooded Shawnee Indian, preached the gospel. Link picked up some early guitar lessons when he was eight from an African American slide specialist called Hambone, who taught him the rudiments of how to play the blues. The Wray family moved to Portsmouth, Virginia during the mid-'40s, but Link was in no particular hurry to embark on his musical career—he didn't buy his first electric axe until 1949. Link was drafted in '51, stationed first in Germany and then in Korea, where he was felled by tuberculosis. Finally back in the U.S. in 1953, he bought a Les Paul guitar and a Premier amplifier and got serious about his playing. But he was never quite able to duplicate the elegant, complex technique of his hero, Chet Atkins, so he developed his own mind-melting attack. Jazz guitarists Tal Farlow, Les Paul, and Barney Kessel and country picker Grady Martin also caught his ear, although he wouldn't end up playing like any of them either. The Wrays formed a country band in 1954 to play the rough-and-tumble gin joints around Portsmouth and nearby Norfolk, recruiting their cousin, Brentley 'Shorty' Horton, to play bass and provide comic relief with Doug on drums, Vernon on rhythm guitar and occasional piano, and Dixie Neal, the brother of Gene Vincent's bassist Jack Neal, on steel guitar. They were billed as The Lazy Pine Wranglers for a time, then Lucky Wray (Vernon's temporary alias, stemming from his gambling skills) and The Palomino Ranch Gang. A connection with pioneering country broadcaster Connie B. Gay in Tidewater, Virginia led to the group minus Neal relocating to Washington, D.C., where Gay had established a popular television program, 'Town and Country Time,' hosted by young accordion wielder Jimmy Dean.
For all its political sophistication, D.C. was loaded with hillbilly talent and plenty of watering holes in which to showcase it. In addition to the personable Dean, Marvin Rainwater and guitarist extraordinaire Roy Clark were part of the bustling scene. All three of them recorded for producer Ben Adelman, the owner of Empire Studio there (West Virginia native Patsy Cline cut her first demos, long since lost, under Adelman's supervision with Dean's Texas Wildcats backing her). Although his legend rests solidly on a legacy of blistering instrumentals, Link's debut release in January of 1956 for Adelman's Kay label paired two of his raucous rockabilly vocals, I Sez Baby and the all but incomprehensible Johnny Bom Bonny, as half of an EP that Link shared with the obscure duo of Bob Dean and Cindy. Adelman indefatigably hustled his finished masters to various labels; he found a home for three country-oriented singles by the considerably smoother-voiced Lucky Wray (It's Music She Says, Got Another Baby, and Teenage Cutie) at H.W. 'Pappy' Daily and Don Pierce's Starday Records in 1956-57, the last one sub-billing Link and Doug on its label. Starday released the masters through its custom service rather than issuing them on the main label, intending them for regional exposure only with the manufacturing costs paid by the artists themselves. Right in the middle of it all, the TB that Link had contracted in Korea sent him to the hospital in the summer of 1956 all the way until March of the following year. A grueling operation to remove his left lung largely put an end to any serious singing aspirations; from here on, Wray would concentrate on his blazing guitar technique and mostly leave the vocal duties to others, in particular his brother Vernon, whose prospects looked bright once Bernie Lowe and Kal Mann's Philly-based Cameo Records brought him aboard in mid-1957.
The songwriting duo was on a real roll, having penned Elvis' pop chart-topper (Let Me Be Your) Teddy Bear. Their label was too, scoring its own number one seller that same year with Charlie Gracie's Butterfly. As Lowe led the choir-cushioned orchestra, Vernon crooned the Mann/Lowe copyright Remember You're Mine, issued in June of '57 after the label flipped the singer's name so he was billed as Ray Vernon. Cameo even sprang for a full-page ad promoting the single in 'The Billboard.' But any hopes of a hit were dashed when Pat Boone covered the tune for Dot, taking it into the Top Ten and leaving Ray's original in the dust (its bouncy flip Evil Angel might have nicely suited Gracie). Cameo responded to Boone's cover by replacing Remember You're Mine with I'll Take To-morrow (To-day) as Evil Angel's plattermate; Link's biting axe was prominent on the new ballad, unlike its sedate predecessor. Cameo tried again with Ray that autumn with the rocking I'm Counting On You, penned by Atlanta-born blues shouter Chuck Willis (1957 was a big year for Chuck; his revival of the ancient blues C.C. Rider for Atlantic, perfectly tempoed for dancing The Stroll, sailed to the top of the R&B charts). This time, Link made his presence felt with a searing solo, and even if the arrangement was a tad rough around the edges, Ray's encore outing stood as a contender for hitdom yet didn't quite make the grade.
Read more at: https://www.bear-family.com/wray-link-link-wray-rocks-cd.html
Copyright © Bear Family Records
Bewertungen lesen, schreiben und diskutieren...
mehr
Kundenbewertungen für "Link Wray Rocks (CD)"
Von:
Mia Wallace
Am:
20.09.2019
Think Link
My Man... love the Linkster great CD Folks *
Von:
Steen Sørensen
Am:
02.08.2019
Maybe not the best possible quality.
To be honest at first, I have only listened to the samples. But from what I heard, it seems that "Rumble" derives from a scratchy record. His most famous recording. Why? Better versions are available.
Von:
Admin
Am:
03.08.2019
Dear Steen, we haven't used the original master for the soundfiles on the Link Wray 'Rocks' CD! What we have used was the compilation CD which includes the 'Rumble' soundfile from a 45rpm record as the final product wasn't mastered at that time! You sure will get a proper product including a proper mastering which just came in and to which we now listen carefully! Hope that helps and have a great weekend! Regards, Nico Feuerbach (re-issue producer of the Link Wray 'Rocks')
Bewertung schreiben
Bewertungen werden nach Überprüfung freigeschaltet.
Weitere Artikel von Link Wray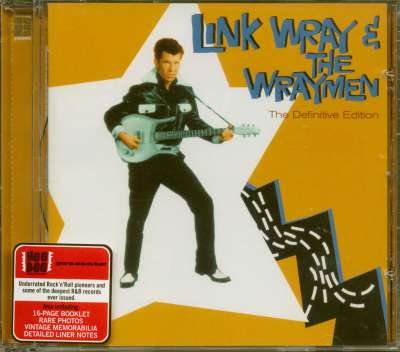 Link Wray & His Raymen: The Definitive Edition (CD)
Art-Nr.: CD263395


Artikel muss bestellt werden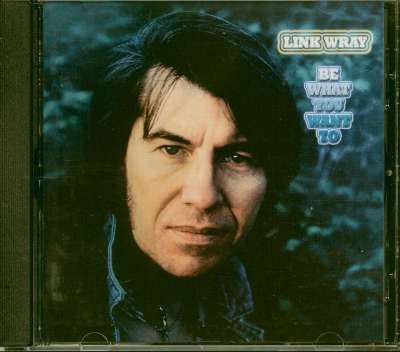 Link Wray: Be What You Want To (CD)
Art-Nr.: CDACA8066


Sofort versandfertig, Lieferzeit** 1-3 Werktage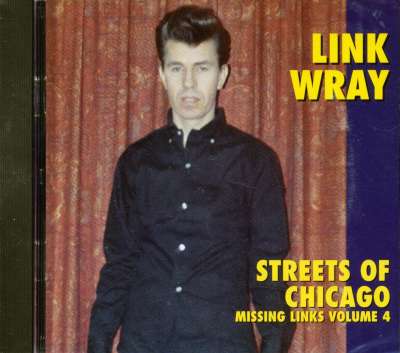 Link Wray: Missing Links Vol.4 - Streets Of Chicago (CD)
Art-Nr.: CDCED253


Sofort versandfertig, Lieferzeit** 1-3 Werktage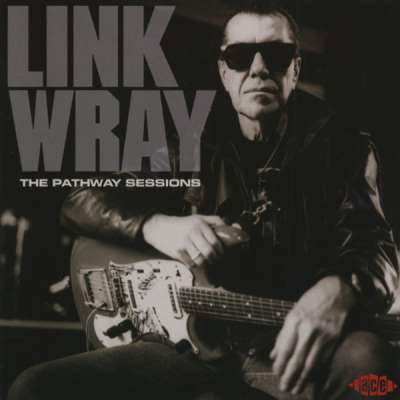 Link Wray: The Pathway Sessions
Art-Nr.: CDCHD1154


Artikel muss bestellt werden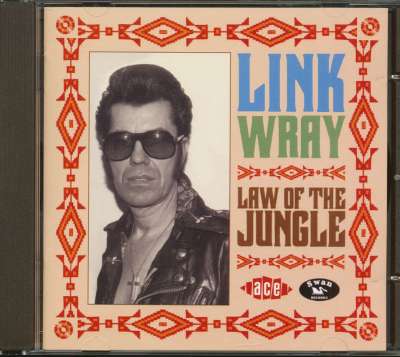 Link Wray: Law Of The Jungle (CD)
Art-Nr.: CDCHD837


Artikel muss bestellt werden