Der Artikel wurde erfolgreich hinzugefügt.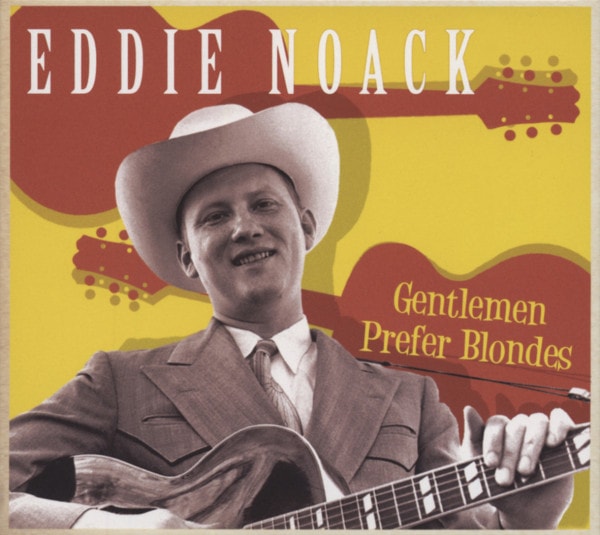 44,95 € *
49,95 € *
(10,01% gespart)
inkl. MwSt. / zzgl. Versandkosten - Abhängig vom Lieferland kann die MwSt. an der Kasse variieren.
Sofort versandfertig, Lieferzeit** 1-3 Werktage
3-CD Digipak (6-seitig) mit 104-seitigem Booklet, 104 Einzeltitel. Spieldauer ca. 231 Minuten....
mehr
Eddie Noack: Gentlemen Prefer Blondes (3-CD)
3-CD Digipak (6-seitig) mit 104-seitigem Booklet, 104 Einzeltitel. Spieldauer ca. 231 Minuten.
'
Eddie Noack
... wollte Journalist werden. Wir haben aber schon genug Journalisten, und viel zu wenig Sänger, die so singen und schreiben können wie Eddie Noack.'
Bob Dylan
, 2007.
Fans von authentischem Honky-Tonk, Hillbilly und Rockabilly haben uns seit Jahren um diese Zusammenstellung gebeten! Es dauerte eine kleine Ewigkeit, bis wir mit dem Ergebnis zufrieden waren.
Hier findet sich jede einzelne Aufnahme von Eddie Noack, der texanischen Honky-Tonk- Legende der 50er Jahre, und - sofern noch erhalten - überspielt von den original Masterbändern und mit alternativen Versionen.
Insgesamt 27 Demoaufnahmen, abgebrochene Aufnahmeversuche und Gespräche im Studio, überwiegend erstveröffentlicht, ergänzt um Songs, die es noch nicht auf CD gab.
Das Begleitbuch liefert frühe Fotos und Zeitungsauschnitte, eine Biografie auf Basis aktueller Recherchen und eine komplette Diskografie.
Etliche Musiker, die ihr Leben lang Country gesungen hatten und zwischendurch, auf dem kommerziellen Höhepunkt des Genres, die eine oder andere Rockabilly-Single aufgenommen hatten, akzeptierten nur zu gerne eine späte Imageänderung, die ihnen in der Regel auch von Musikkritikern die Anerkennung brachte, die sie ansonsten nie erfahren hätten. Eddie Noack widerstand dieser Versuchung nachdrücklich. 'Nein, ich stehe für unverfälschte Country Music', erwiderte er beharrlich. Er schrieb
Too Hot To Handle
, die Hymne des Honky-Tonk,
Hank Snow
s Hit
These Hands
und eine Reihe weiterer Songs, die ihn bei Dylan und bei Fans von unverfälschtem texanischen Hony-Tonk beliebt werden ließen.
'Gentlemen Prefer Blondes', die erste von zwei der Musik von Eddie Noack gewidmeten Retrospektiven auf Bear
Family
, beschäftigt sich mit den Jahren 1948 bis 1961. Hier finden Sie sämtliche Singles der 50er Jahre und außerdem 13 unveröffentlichte Titel und alternative Fassungen sowie 27 akustische Demos. Kurzum: der bislang umfassendste Überblick über die bedeutsamsten Jahre in Noacks Karriere. Lediglich eine dieser Platten wurde 1958 zum Hit für Eddie Noack selbst, 'Have Blues - Will Travel'. Kaum jemand bekam diese Platten zu hören, als sie aktuell waren. Als er 1978 starb, gedachte man dem 'Songwriter' Eddie Noack und weniger dem 'Singer-Songwriter'. Diese Zusammenstellung und der zweite Teil mit den Aufnahmen aus den 60er Jahren möchte das Bild des Künstlers zurecht rücken und ihn so präsentieren, wie man ihn zu Lebzeiten hätte wahrnehmen sollen und wie er sich selbst für die Nachwelt in Erinnerung rufen wollte: nicht nur als 'Songwriter', vielmehr als Sänger, Songwriter und Verteidiger 'unverfälschter Country Music'.
Die luxuriöse 3-CD-Ausgabe wird von einer aktuellen und aufschlußreichen Biografie des Countrymusic-Historikers Andrew Brown abgerundet.
Video von Eddie Noack - Gentlemen Prefer Blondes (3-CD)
Artikeleigenschaften von

Eddie Noack: Gentlemen Prefer Blondes (3-CD)
Albumtitel:

Gentlemen Prefer Blondes (3-CD)

Genre

Country

Edition 2

Deluxe Edition

Preiscode

CH

Artikelart

CD

EAN:

4000127171429

Gewicht in Kg:

0.21
Eddie Noack Pure Country Gentlemen Prefer Blondes Eddie Noack Reines Land...
mehr
"Eddie Noack"
Eddie Noack
Pure Country
Gentlemen Prefer Blondes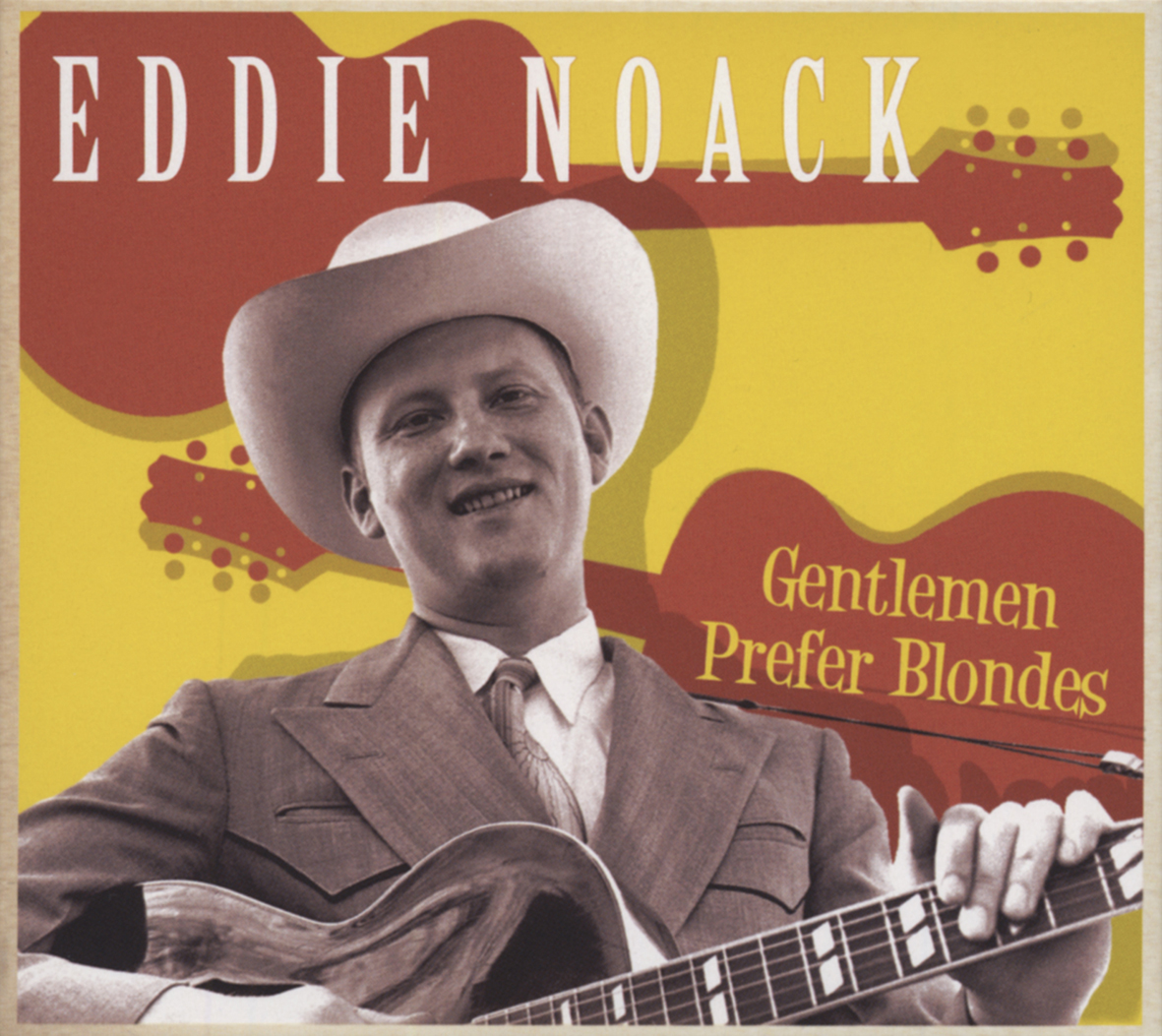 Eddie Noack
Reines Land
Gentlemen bevorzugen Blondinen.
Ein altes, vorgefertigtes Haus in einem abgelegenen Teil von East London war nicht der Ort, an dem man normalerweise erwartet hätte, dass sich ein Starday Recording Artist aus den fünfziger Jahren findet. Aber da war er, Eddie Noack, ein Flüchtling aus der fernen Vergangenheit der texanischen Honky-Tonk-Szene, kurz davor, eine kurze Tour durch England zu starten. Es war 1976. Die Londoner Promoter hatten ihn angerufen, und obwohl er seit vielen Jahren nicht mehr in der Öffentlichkeit aufgetreten war und sich in einem schlechten Zustand befand, stimmte er zu. Seine Karriere war vorbei, und er wusste nur zu gut, dass eine Tour durch englische Pubs sie nicht wiederbeleben würde, aber vielleicht könnte sie zumindest die Illusion noch ein wenig länger bewahren.
Noack war nie berühmt gewesen, aber die Hardcore-Landfans in England hatten von ihm gehört und wollten ihn sehen. Er hatte kürzlich ein Album mit seinen Original-Songs für ein englisches Label veröffentlicht, Songs, die besser bekannt sind durch Interpretationen von Stars wie George Jones, Hank Snow und Johnny Cash. Nur wenige hatten jemals die längst vergessenen Singles von Noack auf Starday gehört, oder eines der anderen kleinen Labels, für die er im Laufe seiner dreißigjährigen Karriere in der Country-Musik aufgenommen hatte.
Der Musikjournalist Bill Millar arrangierte zusammen mit Ray Topping ein Interview mit Noack zu Beginn der Tour. Zu diesem Zeitpunkt war das Wort "Rockabilly" mit einer Wirkung entstanden, die es in den fünfziger Jahren nie hatte. Es war die magische Beschwörung, die so viel gute, aber vergessene Musik für eine neue Generation freigab und revitalisierte. Für die Anbieter des in England stattfindenden Rockabilly-Revivals stellte die Präsenz von Noack an ihren Ufern ein Dilemma dar: Starday wurde für seine Rockabilly-Singles anerkannt, aber Noack hatte es vermieden, welche zu machen. Und so ignorierten sie ihn.
Als Millar und Topping um 4 Uhr nachmittags vorfuhren, wurden die Vorhänge zum Haus zugezogen. "Lange bevor er die Tür öffnete.... fragte ich mich, welche Art von Problemen diesen talentierten Künstler in einen so bedauerlichen Zustand gebracht hatten", schrieb Millar später in Melody Maker. Ein zerzauster Mann, der um Jahre älter als 46 Jahre zu sein schien, kam zur Tür und trug noch immer seinen Pyjama. Der Raum war übersät mit überquellenden Aschenbechern, Pillen und Flaschen zwischen Sammelalben und Schallplatten. Eddie erzählte den jungen Schriftstellern, dass er an einer Darmerkrankung litt, aber trotz allem gelang es ihm, Fragen über seine lange Musikkarriere mit, so Millar, "einem stillen Stolz" zu beantworten.
Eddies Tournee, unterstützt von der englischen Country-Band Rusty Douch and the Wild Bunch, war keine totale Katastrophe, aber sie war enttäuschend für jeden, der erwartet, dass er zwanzig Jahre zuvor etwas Ähnliches wie einen Time-Warp zurück zu einem texanischen Honky-Tonk hört. Die Bewertungen waren schlecht und Noack schien schwer krank zu sein. Wie "Country Music People" später über seinen Auftritt in South Humberside schrieb: "Der Ort war vollgepackt, aber ich kann mich nicht erinnern, einen schlechteren Künstler als Noack gesehen zu haben.... und er wusste es. Er gab zu, dass er kein Recht hatte, dort zu sein, da er fast so lange keine Bühnenarbeit mehr gemacht hatte, wie er sich erinnern konnte."
"Es war eine Ehre, den sanften Riesen eines Mannes zu unterstützen", sagt Rusty Douch heute. "Er gab mir Ratschläge zum Schreiben von Songs und sagte, gib nichts auf, was du schreibst... Eddie blieb bei mir und meiner Frau auf dieser Tour. Er war kein guter Mann."
Viele lebenslange Country-Sänger, die während ihrer kurzen kommerziellen Herrschaft ein oder zwei Rockabilly Single oder zwei gemacht hatten, waren nur zu gerne bereit, dieses Rebranding später zu akzeptieren, wenn es zu einer kritischen Anerkennung oder Anerkennung führte, die sie sonst nie erlebt hätten. Nicht Eddie Noack. Während ihres Interviews, als Millar und Topping unweigerlich das Thema Rockabilly ansprachen, widersetzte sich Eddie mit Nachdruck der Versuchung. "Nein, ich bin reines Land", bestand er darauf. Andernfalls zu suggerieren, würde bedeuten, sein Leben und sein Werk stark zu missverstehen und zu verstehen, wie er sich wünschte, dass dieses Werk interpretiert würde.
"Nichts an Eddie Noack erinnert dich an den archetypischen Hillbilly-Rekordstar eines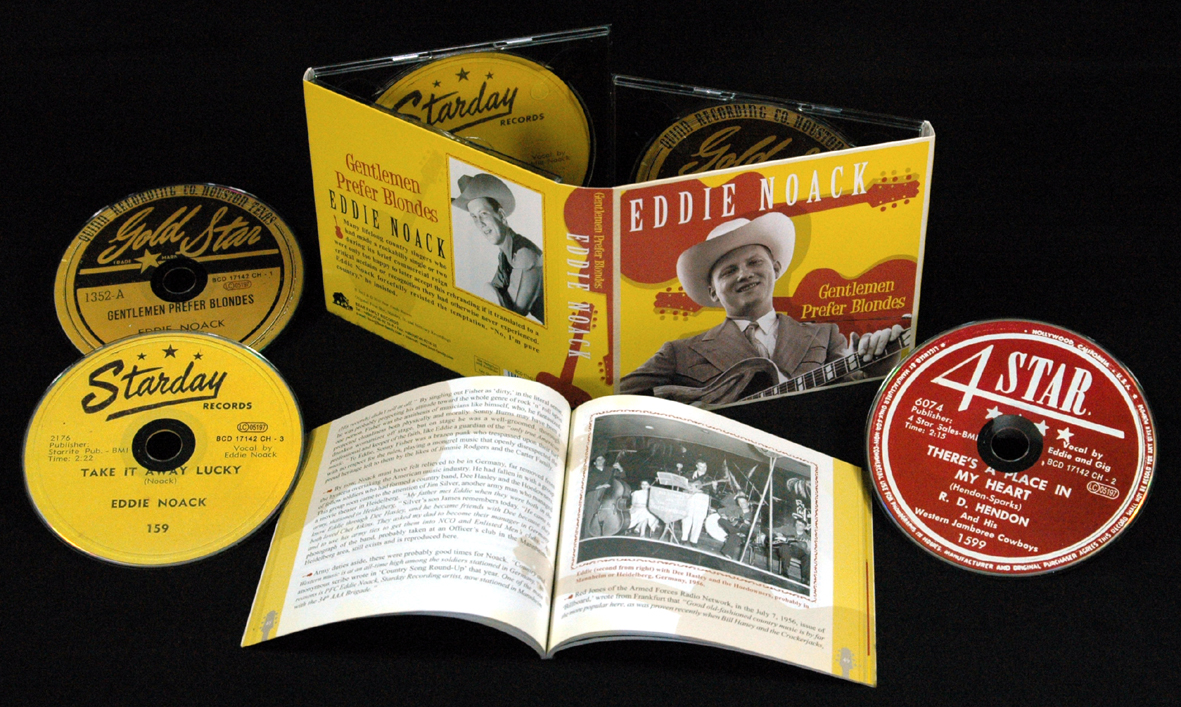 anderen Zeitalters", schrieb Millar über ihr Treffen. "Ausgestattet mit Abschlüssen der University of Houston, ist er witzig und gelehrt, ein wandelnder Fundus an genauen Geschichten." Für seine Interviewer waren die Person und die Persona auf den ersten Blick phasenverschoben: Wie konnte der Mann, der archetypische Hillbilly-Songs wie Too Hot to Handle, Take It Away, Lucky und It Ain't Much schrieb, aber It's Home selbst kein archetypischer Hillbilly sein? Noack hatte ihnen einen Hinweis gegeben, als er seine Musik als "reines Land" verteidigte: Während seiner gesamten Karriere hatte er sich selbstbewusst als Country-Musiker aus Nachahmung, nicht aus Identifikation heraus stilisiert. Er schätzte Künstler wie Jimmie Rodgers, Hank Williams, Ernest Tubb und Wilf Carter, aber ihre Lebenserfahrung war ganz anders als seine. Viele Country-Künstler wie Tubb hatten tatsächlich versucht, ihre Musik zu glätten, ohne den Ausdruck "Hillbilly" als abfällig zu bezeichnen. Aber Noack war ein Idealist. Seine Mission war es, die Integrität der Country-Musik und ihre Wurzeln zu schützen, die kommerzielle Attraktivität zu verdammen. Als er sagte, dass seine Musik "reines Land" sei, meinte er, dass er früh im Leben die Treue zu einem persönlichen Kodex geschworen hatte. Wenn jemand Eddies Musik als "Hillbilly" bezeichnete, akzeptierte er sie als Kompliment. So war der stille Stolz, den Millar gespürt hatte, in Eddies Überzeugung verwurzelt, dass er seinem Code treu geblieben war, während fast alle anderen ausverkauft waren und die "reine" Country-Musik verfallen und sterben ließen.
en singles on Starday, or any of the other small labels he had recorded for over the course of a thirty-year career in country music.
Music journalist Bill Millar, along with Ray Topping, arranged to interview Noack at the start of the tour. By then, the word 'rockabilly' had emerged with an impact it never had in the fifties. It was the magical incantation that unlocked and revitalized so much good but forgotten music for a new generation. For the purveyors of the rockabilly revival underway in England, Noack's presence on their shores presented a dilemma: Starday was recognized for its rockabilly singles, but Noack had avoided making any. And so they ignored him.
When Millar and Topping drove up at 4 o'clock in the afternoon, the curtains to the house were drawn. "Long before he answered the door…I was wondering what sort of problems had brought this talented artist to such a lamentable state," Millar later wrote in 'Melody Maker.' A disheveled man, appearing to be years older than 46, came to the door still wearing his pajamas. The room was littered with overflowing ashtrays, pills, and bottles among scrapbooks and records. Eddie told the young writers that he was suffering from an intestinal disorder, but despite everything managed to answer questions about his long music career with, Millar observed,"a quiet pride."
Eddie's tour, backed up by the English country band Rusty Douch and the Wild Bunch, was not a total disaster, but it was disappointing to anyone expecting to hear something resembling a time-warp back to a Texas honky-tonk twenty years earlier. Reviews were bad and Noack appeared to be severely ill. As 'Country Music People'later wrote of his appearance in South Humberside, "The place was packed solid, but I can't remember seeing a worse performer than Noack … and he knew it. He admitted himself that he had no right to be there, as he hadn't done any stage work at all for almost as long as could remember."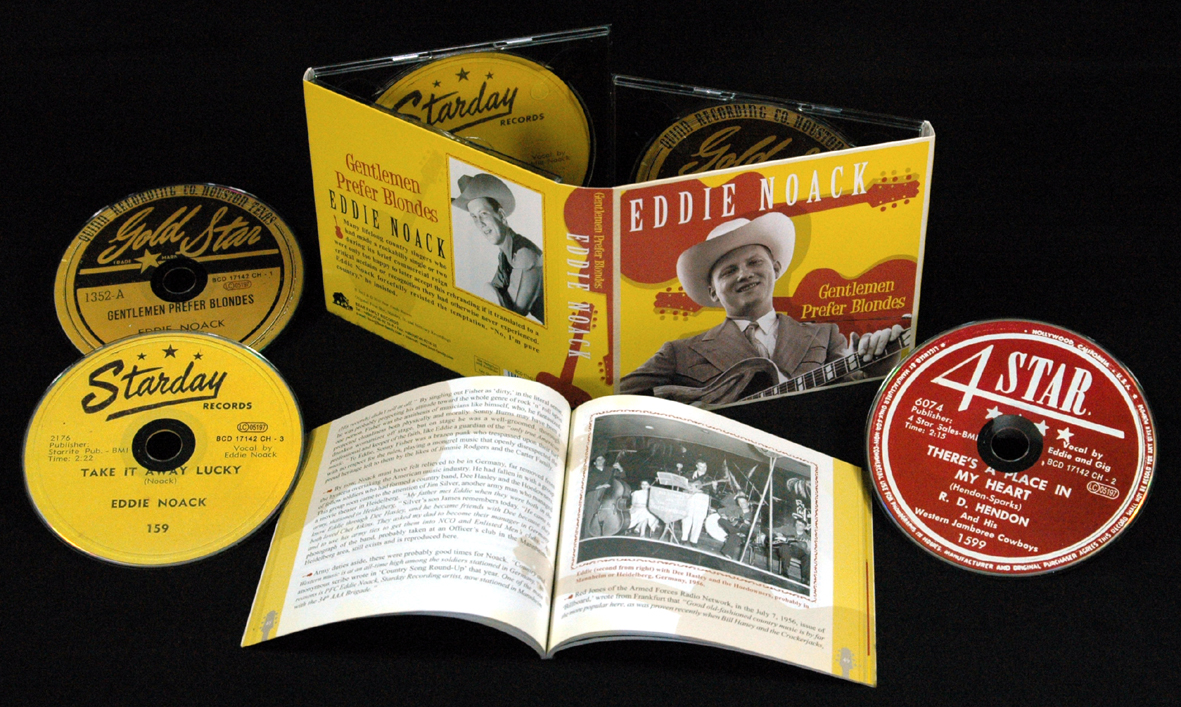 "It was an honor to back the gentle giant of a man," Rusty Douch says today. "He gave me advice about writing songs, and said don't give up on anything that you write…Eddie stayed with me and my wife on that tour. He was not a well man."
Many lifelong country singers who had made a rockabilly single or two during its brief commercial reign were only too happy to later accept this rebranding if it translated to a critical acclaim or recognition they had otherwise never experienced. Not Eddie Noack. During their interview, when Millar and Topping inevitably broached the subject of rockabilly, Eddie forcefully resisted the temptation. "No, I'm pure country," he insisted. To suggest otherwise would be to badly misunderstand his life and work, and how he wished that work to be interpreted.
"Nothing about Eddie Noack reminds you of the archetypal hillbilly record star of another age," Millar wrote of their meeting. "Equipped with degrees from the University of Houston, he is witty and erudite, a walking fund of accurate stories." To his interviewers, the person and the persona were, at a glance, out of phase: how could the man who wrote archetypal hillbilly songs like Too Hot to Handle, Take It Away, Lucky and It Ain't Much, But It's Home not be an archetypal hillbilly himself? Noack had given them a clue when he defended his music as 'pure country': For his entire career, he had self-consciously styled himself as a country music artist out of emulation, not identification. He appreciated artists like Jimmie Rodgers, Hank Williams, Ernest Tubb, and Wilf Carter, but their life experiences had been quite different from his. Many country artists like Tubb had actually tried to smooth out their music, shunning the phrase 'hillbilly' as derogatory. But Noack was an idealist. His mission was to protect the integrity of country music and its roots, commercial appeal be damned. When he said that his music was 'pure country,' he meant that he had, early in life, sworn allegiance to a personal code. If somebody called Eddie's music 'hillbilly,' he accepted it as a compliment. Thus, the quiet pride that Millar had sensed was rooted in Eddie's conviction that he had stayed true to his code while nearly everyone else had sold out and allowed 'pure' country music to decay and die.
And as went country music, so fell Eddie Noack. "Eddie was plainly ill when I met him," Millar says today. "I really did think, 'This man hasn't got long to live.'" His grim assessment was correct. In 1978, less than two years after the tour, Noack died, alone, in Nashville.
Eddie Noack Gentlemen Prefer Blondes (3-CD)
Read more at: https://www.bear-family.com/noack-eddie-gentlemen-prefer-blondes-3-cd.html
Copyright © Bear Family Records
Bewertungen lesen, schreiben und diskutieren...
mehr
Kundenbewertungen für "Gentlemen Prefer Blondes (3-CD)"
Von:
Schweder
Am:
23.05.2014
Honky Tonk at it's best. Eddie Noack was one of the greatest ever!!!
Von:
Redecker
Am:
13.03.2014
An excellent three CD set of every 1950s single by Texas honky tonk legend Eddie Noack, including altenate takes, and all from the master tapes where available.
Blues & Rhythm 11/13 Byron Foulger
Von:
Redecker
Am:
13.03.2014
Auf diesen drei CDs sind 18 bislang unveröffentlichte Titel zu hören. Ausserdem 27 Demoaufnahmen.
R & R Musikmagazin 6/2012 H.G. Hartig
Von:
Hollihn
Am:
28.04.2013
Eine Bear-Family-typische hervorragende CD-Box mit troller Musik!
Bewertung schreiben
Bewertungen werden nach Überprüfung freigeschaltet.
Weitere Artikel von Eddie Noack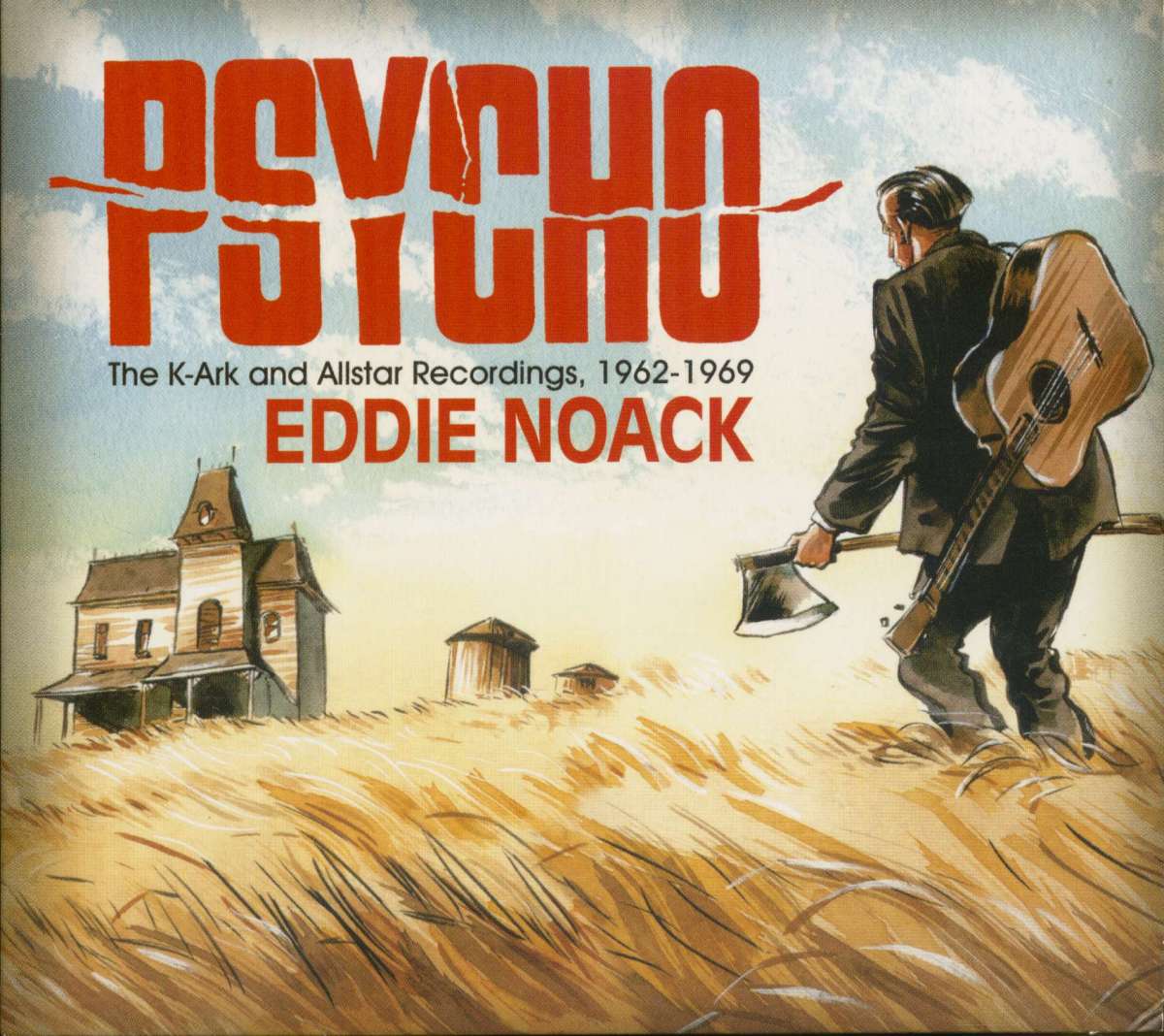 Eddie Noack: Psycho - The K-Ark and Allstar Recordings...
Art-Nr.: BCD17204


Sofort versandfertig, Lieferzeit** 1-3 Werktage