Der Artikel wurde erfolgreich hinzugefügt.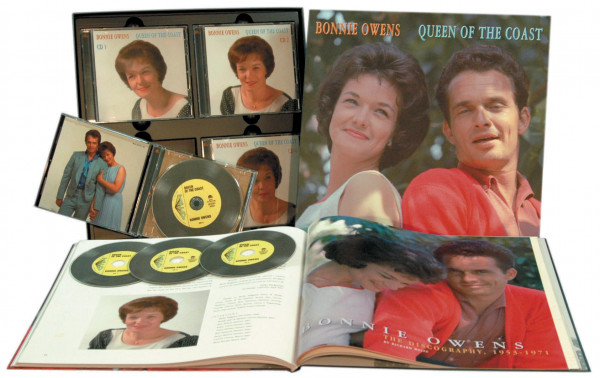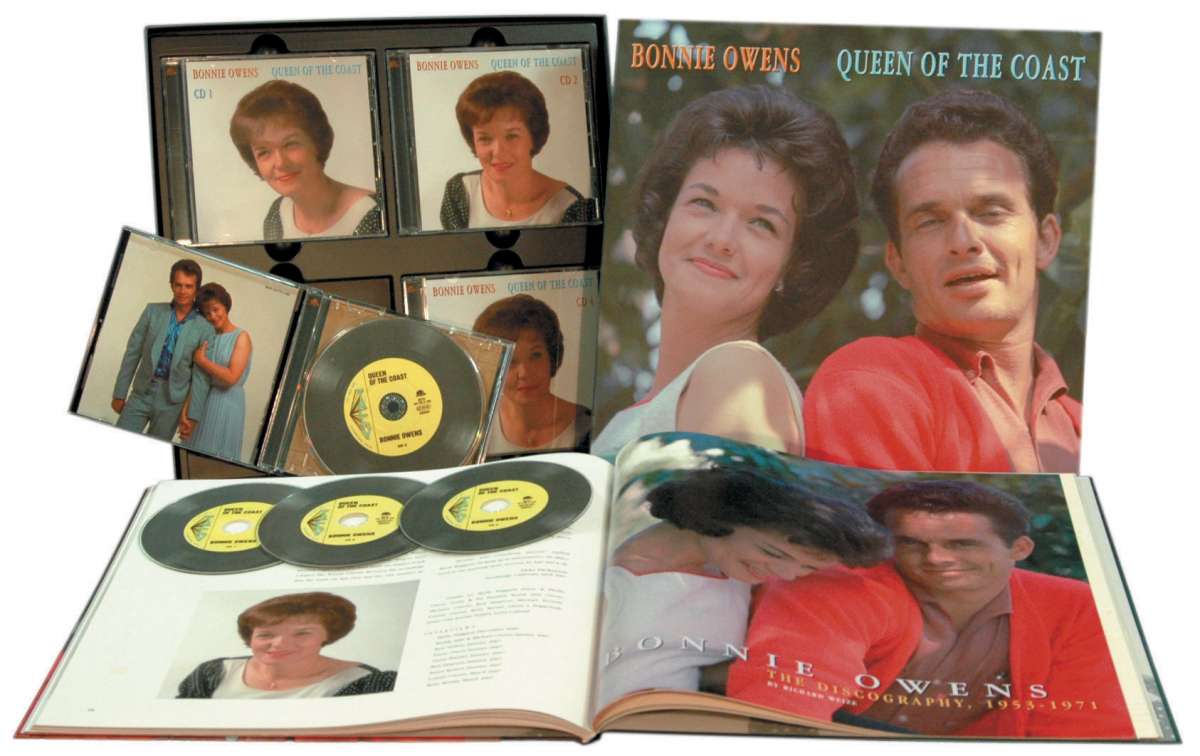 Dieser Artikel ist gestrichen und kann nicht mehr bestellt werden!
Benachrichtigen Sie mich, sobald der Artikel lieferbar ist.
4-CD Box (LP-Format) mit 76-seitigem gebundenem Buch, 103 Einzeltitel. Spieldauer ca. 252...
mehr
Bonnie Owens: Queen Of The Coast (4-CD Deluxe Box Set)
4-CD Box (LP-Format) mit 76-seitigem gebundenem Buch, 103 Einzeltitel. Spieldauer ca. 252 Minuten.
Bonnie Owens
war mit
Buck Owens
und
Merle Haggard
verheiratet, sie galt als die 'Königin von Bakersfield' und war der wahre Honky Tonk Angel. Hier gibt's Bonnies sämtliche Aufnahmen von 1953 bis 1971 – die meisten erstmals auf CD! Die CD enthält die Originalversion von
A Dear John Letter
mit Fuzzy Owen und alle ihre Duette mit Merle Haggard, z.B.
Just Between The Two Of Us, Slowly But Surely
und
A Stranger In My Arms
.
Bear
Family
präsentiert eine der besten und meistunterschätzten Country-Sängerinnen der Geschichte. Bonnie Owens war die bedeutendste Künstlerin der Bakersfield-Szene – jener Szene, die auch Merle Haggard,
Tommy Collins
,
Ferlin Husky
,
Wynn Stewart
und Buck Owens hervorbrachte und die später
Dwight Yoakam
und ganze Generationen von Honky-Tonk-Sängern inspirierte. Natürlich ist es
Bear Family
gelungen, unglaublich seltene und obskure Aufnahmen ans Licht zu befördern, darunter auch Bonnies Originalversion des Country-Klassikers
A Dear John Letter
.
Bonnie Owens gewann diverse Preise, sie war Mitkomponistin von
Today I Started Loving You Again
, sie ging jahrzehntelang pausenlos auf Tournee – viele Hits sprangen dabei jedoch nicht heraus. Das aber hat absolut nichts mit ihrem riesigen Talent und Können zu tun! Bear Family jedenfalls freut sich, mit dieser Box einer der bislang ungewürdigten Architektinnen alternativer Country Music ein verdientes Denkmal zu setzen!
Artikeleigenschaften von

Bonnie Owens: Queen Of The Coast (4-CD Deluxe Box Set)
Albumtitel:

Queen Of The Coast (4-CD Deluxe Box Set)

Genre

Country

Edition 2

Deluxe Edition

Artikelart

Box set

EAN:

4000127161789

Gewicht in Kg:

2
Bonnie Owens Bonnie Owens, a fine country singer and songwriter in her own right, will...
mehr
"Bonnie Owens"
Bonnie Owens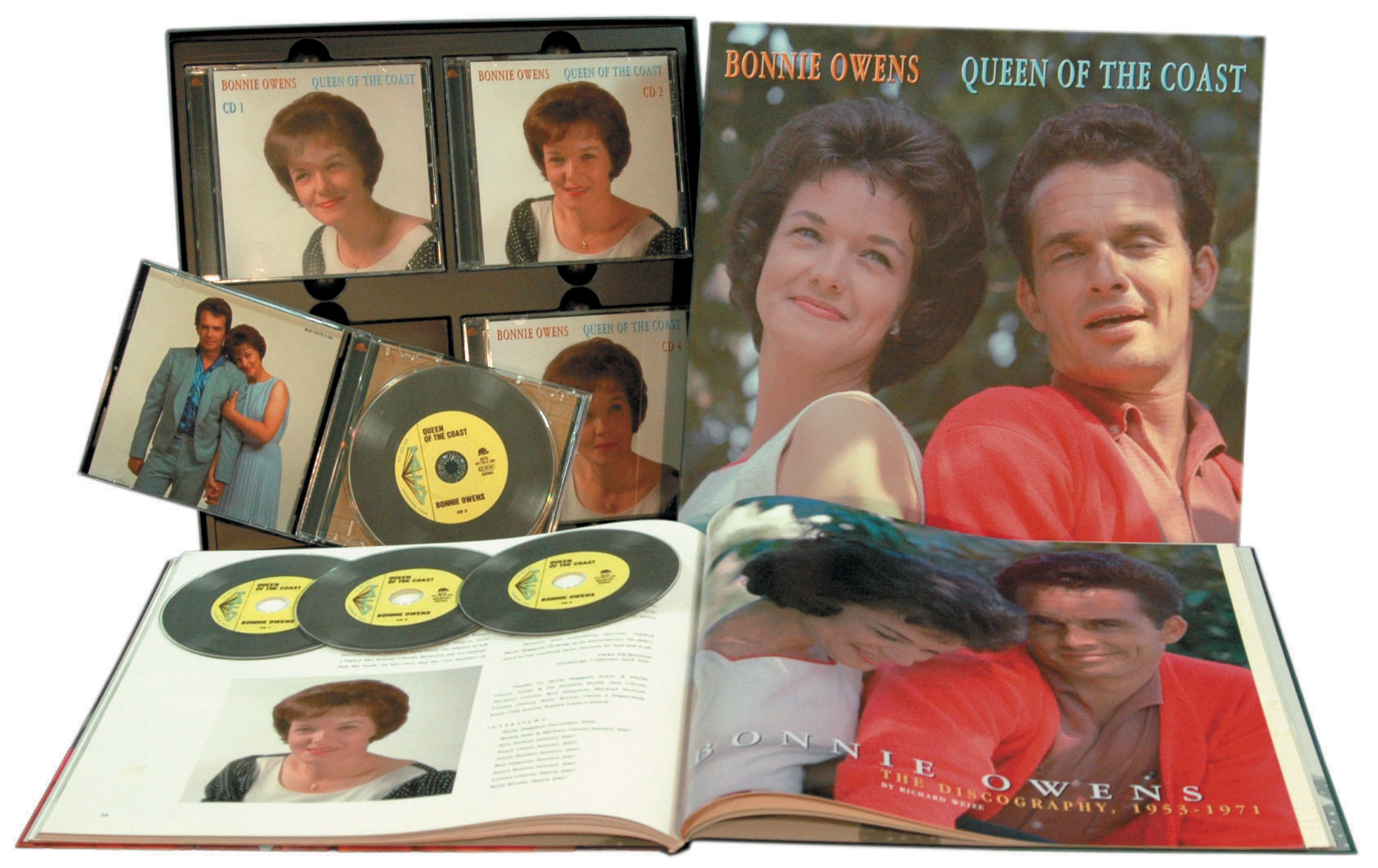 Bonnie Owens, a fine country singer and songwriter in her own right, will forever go down in history as the woman who was married to both Buck Owens and Merle Haggard. Although this association alone would get her mentioned in the 'Country Music Who's Who,' the fact remains that as a solo performer Bonnie Owens recorded an impressive body of work, enough material to make up the box set that you are now holding. Whether or not she would have been more or less famous without her life being intertwined with two of country music's biggest giants is a mystery, and even though she never had any huge hits to her name, Bonnie Owens is still known today as one of the genre's finest underrated female singers.
Bonnie Owens was a woman everyone liked; not one person has anything bad to say about her. Over and over again, that sentiment was echoed by every single person interviewed for this box set, not only from Merle Haggard and her sons with Buck Owens—Buddy and Mike, but from people that Bonnie met only in passing.
Bonnie would ultimately find her greatest success as Merle Haggard's harmony and duet singer, a job she would keep long after her marriage with Merle had ended. It was this professional role that most country music fans and historians will forever associate with Bonnie Owens, but on her own she left behind an impressive discography of singles and albums that place her as one of the most important female artists of the West Coast brand of country music that came to be known as 'The Bakersfield Sound.'
This box set represents everything that Bonnie Owens ever recorded as a solo artist in her golden era of 1953 to 1971, from her first single on the tiny Mar-Vel label, through one-offs on small labels like "X," Del-Fi, Pike, and fine early efforts for the Tally label of Bakersfield, to her six albums of material that she recorded for Capitol Records. When added to the incredible volume of work that she recorded with Merle Haggard during their 40-year association, it becomes apparent that Bonnie was one of the most recorded female singers in country music history.
Why didn't Bonnie Owens become a star? In retrospect, it's hard to pinpoint exactly why it never happened for her. If you ask the key players in the Bonnie Owens saga, a complex picture emerges, with no clear answers.
Merle Haggard: "I have no doubt that my success overshadowed Bonnie—it had to. Bonnie would be the last one to bring that up. She never complained, we were married and she was happy to tour and sing and write with me."
Fuzzy Owen: "There are a lot of great singers who never made it big. I think Bonnie's problem was that she never had that song, that one hit song that would have made her."
Ken Nelson: "Bonnie's problem was that she was timid—she was just too darn shy."
Michael Owens: "Mom had the talent to be a recording star, but she just didn't have the cold heart and the cut-throat attitude that it takes to make it."
We'll never know the real reason why Bonnie didn't make it big on her own, but the fact remains that she was one of the finest female country singers of all time. The recordings on this box set attest to this fact.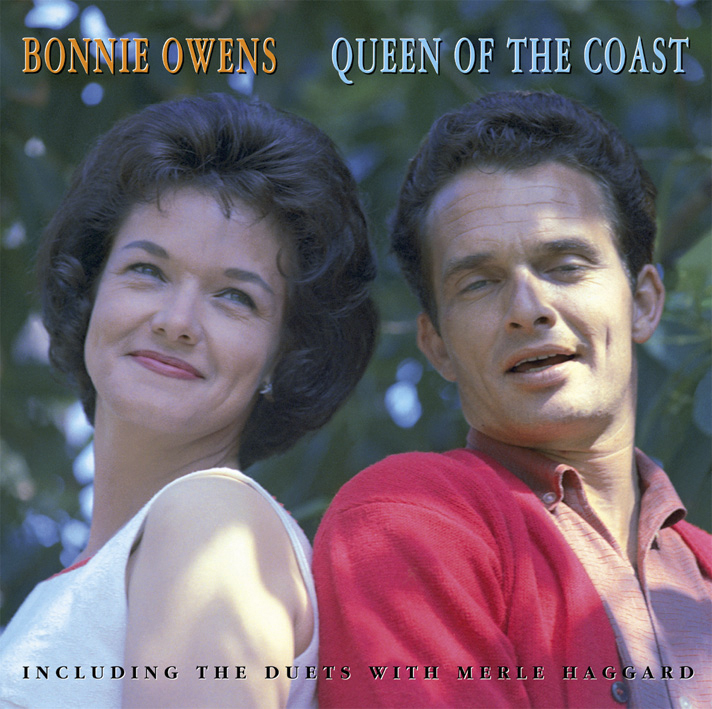 PART ONE—THE EARLY YEARS
Bonnie was born Bonnie Maureen Campbell on October 1, 1929, in Oklahoma City, Oklahoma, as the fourth of six girls and two boys in a typical Depression-era family. Like many families of the day, they worked the land as sharecroppers, and did lots of other odd jobs to make ends meet. The family moved to Blanchard, Oklahoma, when Bonnie was just a baby, and that is the town that Bonnie usually cited as her hometown. In those Dust Bowl hard times, the family also moved around to Middleburg and Tuttle, Oklahoma, and eventually migrated to Gilbert, Arizona, near Phoenix.
Bonnie's father, Wallace Campbell, was a 'jack of all trades' and worked many different jobs, including stints as an iceman and then as a carpenter at nearby Williams Air Force Base. Wallace played fiddle, piano, harmonica, and sang—in general he loved music and he fostered the musical abilities of all the kids in the family. Although he never played professionally, Wallace was by all accounts the first musical inspiration that Bonnie had.
From a very young age, Bonnie was always singing. Her sister, Betty, recounts that as a little girl, Bonnie talked endlessly about wanting to be a singer. She was fond of yodelers like Patsy Montana, and practiced yodeling constantly. An early family memory of Bonnie is of her standing on bales of hay in their barn singing, using a broomstick as a microphone. A typical rural family, the Campbells listened to the Grand Ole Opry on the weekends, with country music singers as the centers of their musical universe. Bonnie's sister Loretta remembers "there was always music around us, we were surrounded by music."
Bonnie was so sure about her future as a singer, that she attempted to drop out of school in the seventh grade. Her father talked her into returning, which she did, even though it meant starting over and repeating the seventh grade. Bonnie's lack of interest in scholarly things was so intense that she would fail the eighth grade, which suited her just fine as the setback landed her in the same grade as her sister Betty, who was two years younger. Betty remembers that one of the only things Bonnie liked about school was playing in the school orchestra, where she played both the trombone and French horn. She also sang in some of the school assemblies. Ultimately, their schooling mattered little, because both Bonnie and Betty would drop out of high school in their junior years.
Bonnie Owens Queen Of The Coast (4-CD)
Read more at: https://www.bear-family.com/owens-bonnie-queen-of-the-coast-4-cd.html
Copyright © Bear Family Records
Bewertungen lesen, schreiben und diskutieren...
mehr
Kundenbewertungen für "Queen Of The Coast (4-CD Deluxe Box Set)"
Von:
Bertram
Am:
21.09.2017
neuer kunde
auf Verdacht bestellt und nicht enttäuscht schöne Box unbekannte
Lieder mit Herz und Stil
alles top mfg
Bewertung schreiben
Bewertungen werden nach Überprüfung freigeschaltet.