Der Artikel wurde erfolgreich hinzugefügt.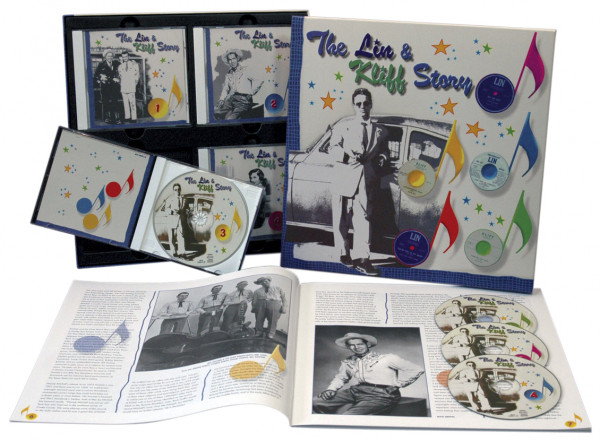 69,95 € *
79,95 € *
(12,51% gespart)
inkl. MwSt. / zzgl. Versandkosten
Sofort versandfertig, Lieferzeit** 1-3 Werktage
Artikel-Nr.:

BCD15950

Gewicht in Kg.:

1.2
4-CD Box (LP-Format) mit 52-seitigem Buch, 124 Einzeltitel. Spieldauer ca. 296 Minuten....
mehr
Various - Record Label Profiles: The LIN & KLIFF Story (4-CD)
4-CD Box (LP-Format) mit 52-seitigem Buch, 124 Einzeltitel. Spieldauer ca. 296 Minuten.

Verglichen mit anderen unabhängigen Plattenfirmen, die in den ersten Jahren nach dem Zweiten Weltkrieg gegründet wurden, erschien das von Joe Leonard in Gainesville, Texas gegründete Schallplattenlabel Lin Records relativ spät auf der Bildfläche. Lin Records war nicht sonderlich produktiv; doch auf Lin und der Tochterfirma Kliff erschienen innerhalb jener vierzehn Jahre, die beide Labels bestanden (1954-1968), einige ausgezeichnete und nachhaltige Veröffentlichungen. Mit Ken Copelands Pledge Of Love gelang Lin 1957 ein Amerikaweiter Hit. Außerdem schaffte es Leonard, einige seiner Produktionen bei größeren Firmen wie MGM, Imperial oder Dot unterzubringen. Stilistisch deckten Lin und Kliff ein großes Spektrum ab, von Honky-Tonk und Western Swing bis Rockabilly, Rock and Roll, Doo Wop, Rhythm and Blues und Pop.

Joe Leonard war ein scharfsinniger Geschäftsmann mit ausgeprägten Fähigkeiten im Bereich Promotion und Marketing. Er besaß ein gutes Gespür für Talente und eine raffinierte Bereitschaft, sich ständig neuen Moden anzupassen. Und er wusste genau, wann er eine Gelegenheit auf keinen Fall auslassen sollte.

Buck Griffin und Andy Starr waren die produktivsten und wichtigsten Künstler auf Lin. Von ihnen hat Bear Family bereits umfangreiche musikalische Chroniken herausgebracht. Diese 4-CD Box enthält repräsentative Ausschnitte aus jenen Veröffentlichungen und zusätzlich mehr als einhundert weitere Aufnahmen von populären und obskuren Lin-Künstlern wie Jerry Fuller, Ray Ruff, David Ray,
Ken Copeland, The Strikes, The Four Mints, J.B. Brinkley und vielen anderen. Jeweils eine CD in dieser Edition widmet sich den Country- bzw. Pop-Aufnahmen auf Lin. Die beiden übrigen CDs beschäftigen sich mit Rockabilly, Rock and Roll und allem, was dazwischen liegen mag.
Artikeleigenschaften von

Various - Record Label Profiles: The LIN & KLIFF Story (4-CD)
Albumtitel:

The LIN & KLIFF Story (4-CD)

Genre

Country

Preiscode

DI

Edition 2

Deluxe Edition

Artikelart

Box set

EAN:

4000127159502

Gewicht in Kg:

1.2
Various - Record Label Profiles - The LIN & KLIFF Story (4-CD)

Box set 1
01
A Crazy Mind Plus A Foolish Heart
JETTON, Wayne
02
Meadowlark Boogie
GRIFFIN, Buck
03
I'm Running For Your Heart
SWITZER, Bill
04
Too Fast, Too Wild
RAY, David
05
Just Give Me Time
CRABB, Larry & Louis
06
I Love You Just Because
SHELTON, Merle
07
The Dirty Bird Song
STARR, Andy
08
Lookin' For The Green
GRIFFIN, Buck
09
Pecosita (Freckle-Face)(& FRANK DOVE)
ARMSTRONG, Gene
10
(Love You, Baby) All The Time
RAY, David
11
My Louisiana Home
CRABB, Larry & Louis
12
Bawlin' And Squallin' (Over You)
GRIFFIN, Buck
13
Do You Remember?
BUSKIRK, Paul & Freddy Powers
14
Loser
BUSKIRK, Paul & Freddy Powers
15
Do It Right
STARR, Andy
16
The Richest Man Alive
GOLD, Johnny
17
Somebody's Girl
JETTON, Wayne
18
Chilena, My Dancing Girl
SHELTON, Merle
19
Why Can't You And I
RAY, David
20
Cochise
GRIFFIN, Buck
21
You Are Still In My Heart
CRABB, Larry & Louis
22
Little Red Bird
SWITZER, Bill
23
Wasted Love
BUSKIRK, Paul
24
Let's Elope Baby
GRIFFIN, Buck
25
Lonely Hours
ARMSTRONG, Gene
26
Chapel Of My Heart
BUSKIRK, Paul
27
Because I Love You
GOLD, Johnny
28
Please Pardon My Tears
CRABB, Larry & Louis
29
The Prisoner's Farewell
MITCHELL, Woody
30
It Don't Make No Never Mind
GRIFFIN, Buck
31
She's Somebody's Mother
MITCHELL, Woody
32
Lonesome Baby Blues
RAY, David
Various - Record Label Profiles - The LIN & KLIFF Story (4-CD)

Box set 2
01
Rockin' Rollin' Stone
STARR, Andy
02
Lonesome Baby Blues
RAY, David
03
Guitar Smoke
BRINKLEY, J.B.
04
Mother Goose At The Bandstand
FULLER, Jerry
05
Stutterin' Papa
GRIFFIN, Buck
06
Busy Body Rock
FOUR MINTS
07
Where The Rio De Rosa Flows
COPELAND, Ken
08
Teenage Love
FULLER, Jerry
09
I Took A Liking To You
RUFF, Ray
10
If You Can't Rock Me (alt.)
STRIKES
11
I Am A Fool
RAY, David
12
The Door Is Open
FULLER, Jerry
13
Saccharin Sally
TU-TONES
14
Angel Blue
RUFF, Ray
15
I Want To Go Steady With You
COPELAND, Ken
16
Blue Memories
FULLER, Jerry
17
The Fickle Chicken
ATMOSPHERES
18
My Girlfriend's Car
RUFF, Ray
19
Now I Know
McCLAREY, Butch
20
Kabalo
ATMOSPHERES
21
Far And Distant Lands
WRIGHT, Steve
22
Little Mama Tree Top
FOUR MINTS
23
I'll Be Your Baby
BRINKLEY, J.B.
24
Come Back To Me
STRIKES
25
A Certain Smile
FULLER, Jerry
26
Jelly Roll Man
SIMPSON, Bill
27
Pledge Of Love
RUFF, Ray
28
Rockin' Hall
McCLEARY, Butch
29
(Don't Leave Me) Alone
FOUR MINTS
30
Wild, Wild Woman
WRIGHT, Steve
Various - Record Label Profiles - The LIN & KLIFF Story (4-CD)

Box set 3
01
Round And Round
STARR, Andy
02
Rough Tough Man
CURTIS, Don
03
Jitterbugging Baby
RAY, David
04
I Found A New Love
FULLER, Jerry
05
Jessie Lee
GRIFFIN, Buck
06
Dogfight
JOKERS
07
Night Air
FOUR MINTS
08
Through Eternity
FULLER, Jerry
09
A Fool Again
RUFF, Ray
10
My Poor Heart
STRIKES
11
Still In Love With You
TU-TONES
12
Lonesome Feeling
RAY, David
13
Telegraph
ATMOSPHERES
14
Angel From Above
FULLER, Jerry
15
Do You Know
PECK, Bill
16
In Dreamland
RUFF, Ray
17
Caravan
ATMOSPHERES
18
Special Kind Of Loving
ALEXANDER, Don
19
Lipstick And Rouge
FULLER, Jerry
20
Until You're Mine
FOUR MINTS
21
Knee Shakin'
TERRY, Don
22
I Do
STRIKES
23
Fanny Brown
COPELAND, Ken
24
My Little Girl
CURTIS, Don
25
Old Man Mose
SIMPSON, Bill
26
Beatle Maniacs
RUFF, Ray
27
Do You Love Me
FULLER, Jerry
28
She Giggles
TERRY, Don
29
Blue Moonbeam
JOKERS
30
Whistling Rock And Roll
STUBBLEFIELD, Bill
Various - Record Label Profiles - The LIN & KLIFF Story (4-CD)

Box set 4
01
Disc Jockey Fever
CHUCK-A-LUCKS
02
Pledge Of Love
COPELAND, Ken
03
Dark Eyes
TANNER COMBO, Bob
04
Music Box Lullaby
JOHNSTON, Nora
05
Rendezvous
REDD, Ramona
06
Someone To Love Me
COPELAND, Ken
07
Late In The Evening
DUNCAN, Doodle
08
You'e Getting The Idea
COPELAND, Ken
09
Show Me The Way (To Your Heart)
ROBINSON, Margee
10
A Twist Of Lemon
TANNER, R. Wolfe
11
The Devil's Train
CHUCK-A-LUCKS
12
And So It Goes
PECK, Bill
13
Give Me Your Heart
REDD, Ramona
14
Somewhere Angels Are Smiling
JOHNSTON, Nora
15
Love Only Me
COPELAND, Ken
16
Lonely Rhapsody
TANNER COMBO, Bob
17
Death Row
DUNCAN, Doodle
18
Beyond A Shadow Of A Doubt
THOMPSON, Virginia
19
Suez
STUBBLEFIELD, Bill
20
Who Am I?
CHUCK-A-LUCKS
21
Hurt Me
ROBINSON, Margee
22
Golden Grain
HOLMAN, Dixon
23
The Magic Of First Love
CHUCK-A-LUCKS
24
Locked In The Arms Of Love
COPELAND, Ken
25
Fools
HART, Trella
26
Going Home, All Alone
HART, Trella
27
Why Did She Leave
WELCH, Honee
28
It's Me Girl
WELCH, Honee
29
I'm Gonna Try (To Steal Her)
WELCH, Honee
30
Woman Child
WELCH, Honee
31
Angels Can Lie
WELCH, Honee
32
It Must Be Love
WELCH, Honee
Schallplatten Visionäre Label Profiles Geschichte und Wedegang von Plattenfirmen...
mehr
"Various - Record Label Profiles"
Schallplatten Visionäre
Label Profiles
Geschichte und Wedegang von Plattenfirmen
Neben der Präsentation von besonderen Schallplattenfirmen auf einzelnen CDs hat Bear Family Records in den letzten zwanzig Jahren einigen Labels Boxen und ganze Reihen gewidmet.
Das texanische Label D-Records zum Beispiel wandelt sich auf 24 CDs von einem ethnisch-folkloristischen Label zu einer Hardcore-Honky-Tonk-Schmiede und zur Heimat des ganz jungen George Strait.
Dann gibt es die unverzichtbare Sun-Reihe und einige andere tolle Boxen.
Bewertungen lesen, schreiben und diskutieren...
mehr
Kundenbewertungen für "The LIN & KLIFF Story (4-CD)"
Von:
LINda
Am:
18.05.2017
Let's Elope Baby
musikalisch für jeden etwas
gelungene Aufmachung
Bewertung schreiben
Bewertungen werden nach Überprüfung freigeschaltet.
Weitere Artikel von Various - Record Label Profiles