Der Artikel wurde erfolgreich hinzugefügt.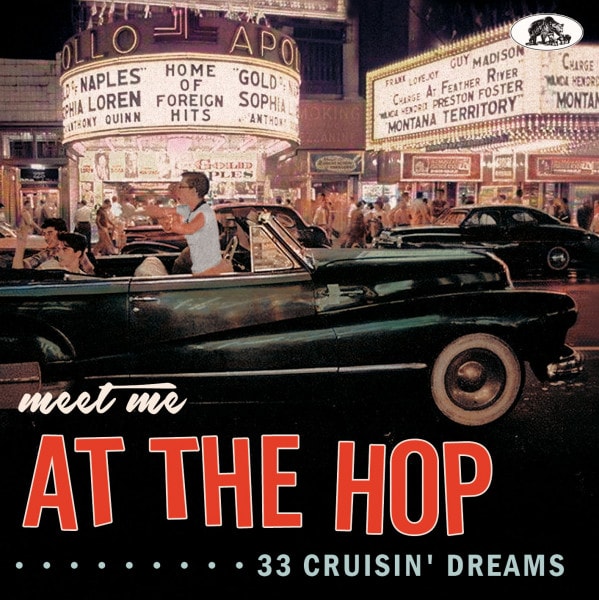 inkl. MwSt. / zzgl. Versandkosten - Abhängig vom Lieferland kann die MwSt. an der Kasse variieren.
Sofort versandfertig, Lieferzeit** 1-3 Werktage
1-CD mit 16-seitigem Booklet, 33 Einzeltitel. Gesamtspieldauer ca. 79 Minuten. Diese...
mehr
Various Artists: Meet Me At The Hop - 33 Cruisin' Dreams (CD)
1-CD mit 16-seitigem Booklet, 33 Einzeltitel. Gesamtspieldauer ca. 79 Minuten.

Diese liebevolle Zusammenstellung auf Bear Family könnte der alternative Soundtrack zu Kult-Filmen wie 'American Graffiti', 'American Diner', oder 'Lemon Popsicle' sein!  
Das Thema 'Cruising' gehört zu Amerikas Geschichte, wie Kennedy, Marilyn, Cola und Hula-Hoop. 
Auf 33 Tracks der Jahre 1954-1964, also aus der Hochzeit des Rock 'n' Roll, wird ein kulturell äußerst lebendiges Jahrzehnt wieder entdeckt, ob als 'Soundtrack' im Auto oder als musikalische Aufwertung der nächsten Party!
Es kommen reichlich Titel zum Einsatz, die zur damaligen Zeit häufig im (Auto-)Radio gehört wurden und zum Cruisen im stilgerechten Oldtimer einladen.
Doo-Wop ist stark vertreten, darunter heutzutage richtig seltene Aufnahmen, allen voran Ding Dong eines gewissen Tony Orlando, für Doo-Wop extrem schnell gespielt!
Mit Ricky Nelson, Fabian, Troy Shondell und Darrell McCall gibt es reichlich Teen-Rock, dazu ein grandioses Instrumental der Viscounts.
Ed Townsend, Ronnie Love und Larry Tamblyn zählen zum sogenannten Popcorn-Sound, mit Hank Ballard gibt es sogar einen frühen Blues Rock-Vorreiter zu hören!                                                                                                                            
Das 16-seitige farbige Booklet enthält Anmerkungen des Produzenten Marc Mittelacher zu jedem einzelnen Song und viele teilweise seltene Fotos und Illustrationen.
Cruisin'
Stellt euch vor, es ist Sommer, die Sonne am blauen Himmel, dann das Cruisen in einem schmucken 50er Jahre Straßenkreuzer und dazu diese Zusammenstellung im Autoradio! Das Cruisen ist bis heute in den USA weit verbreitet. Wenn nicht gerade eine Tanzveranstaltung in der High School lief, wusste man ja auch nicht, wohin sonst. Also nahm man sich Vaters Auto und pendelte zwischen Milchbar, dem örtlichen Diner und dem Drive-In Kino. Man traf sich in Straßen zu wilden Auto-Parties, nahm an illegalen Rennen teil oder brach nachts in die Badeanstalt ein, nicht nur um zu schwimmen! Hatte man seine/seinen Liebste/Liebsten bereits an der Hand, ging es meist zur 'Lover's Lane' zum ... oder zu einem romantischen See außerhalb der Stadt. Was immer auch gemacht wurde, es wurde nie langweilig, und das Auto und der Rock'n'Roll waren immer dabei!
At The Hop
Gleich der erste Song At The Hop, hier in der raren Version von Barry Frank, ist eine echte Abgeh-Tanznummer, gefolgt von Bumble Bee, LaVern Bakers schönster Interpretation überhaupt. Vokal-Gruppen gehören zum Cruisen wie das Salz in der Suppe und so finden sich eine ganze Reihe von Doo-Wop Sounds in dieser Zusammenstellung, darunter einige Hits, ebenso wie äußerst Seltenes. Ein Highlight ist One Bad Stud der Honey Bears, das in dem Film 'Straßen in Flammen' von den Blasters gecovert wurde. Hank Ballard liefert uns mit Look At Little Sister lupenreinen frühen Blues/Rock, später von
Stevie Ray Vaughan
gecovert. Dazwischen immer wieder der wunderschöne mehrstimmige Sound der Vokalgruppen. Die Idee zu dieser sehr persönlichen Zusammenstellung kam über das Gefühl, das die Zeit der 1950er und frühen 60er Jahre lebendig hält und das in Kult-Filmen wie 'American Graffiti' transportiert wird. Somit könnte diese Zusammenstellung auch ein alternativer Soundtrack zu diesem Film sein. Die CD enthält ein 16-seitiges Büchlein in Farbe mit Anmerkungen zu jedem einzelnen Song, zusammengetragen und geschrieben von Marc Mittelacher, sowie viele teils seltene Fotos und Illustrationen!
Video von Various Artists - Meet Me At The Hop - 33 Cruisin' Dreams (CD)
Artikeleigenschaften von

Various Artists: Meet Me At The Hop - 33 Cruisin' Dreams (CD)
Albumtitel:

Meet Me At The Hop - 33 Cruisin' Dreams (CD)

Genre

Rock'n'Roll

Preiscode

AB

Artikelart

CD

EAN:

5397102176333

Gewicht in Kg:

0.22
Bewertungen lesen, schreiben und diskutieren...
mehr
Kundenbewertungen für "Meet Me At The Hop - 33 Cruisin' Dreams (CD)"
sehr gut
dann könnt ihr bestimmt auch Alkohol besorgen ?
Bewertung schreiben
Bewertungen werden nach Überprüfung freigeschaltet.
Weitere Artikel von Various Artists