Der Artikel wurde erfolgreich hinzugefügt.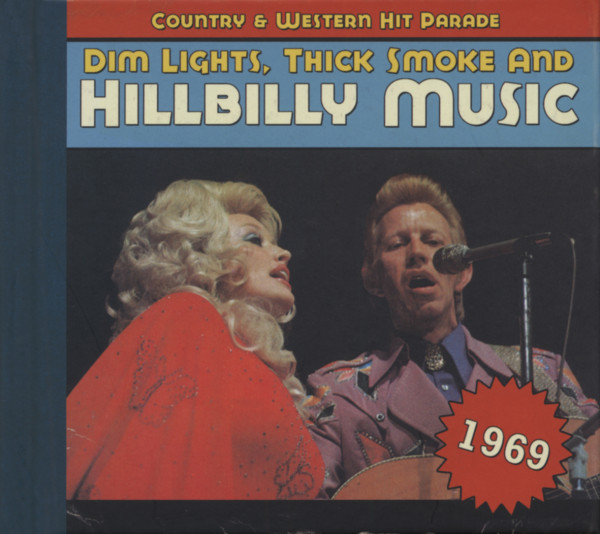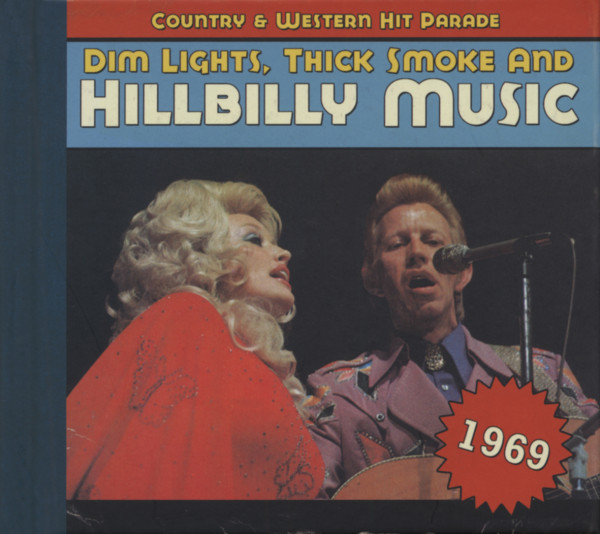 14,95 € *
16,95 € *
(11,8% gespart)
inkl. MwSt. / zzgl. Versandkosten
Sofort versandfertig, Lieferzeit** 1-3 Werktage
1-CD Deluxe-Album mit 72-seitigem Booklet, 28 Tracks. Gesamtspieldauer ca. 87 Minuten. Dim...
mehr
Various - Country & Western Hit Parade: 1969 - Dim Lights, Thick Smoke And Hillbilly Music
1-CD Deluxe-Album mit 72-seitigem Booklet, 28 Tracks. Gesamtspieldauer ca. 87 Minuten.

Dim Lights, Thick Smoke And Hillbilly Music 1996'.
Country & Western Hit Parade 1969

Am 20. Januar 1969 wurde Richard Nixon der 37. Präsident der Vereinigten Staaten. Später in diesem Jahr nahm er den Satz Stumme Mehrheit an, um das Übergewicht von Menschen zu konnotieren, die nicht protestierten, Drogen nahmen oder ihn verurteilten. Und 1969 war das Jahr, in dem die von der stillen Mehrheit bevorzugte Musik, Country, in das Fernsehen eindrang. Vielleicht war zum ersten Mal Country-Musik unvermeidlich. Eine Woche vor Nixons Amtseinführung wurde The Glen Campbell Goodtime Hour erstmals auf CBS-TV ausgestrahlt, und wer brauchte eine gute Stunde mehr als die stille Mehrheit um '69? Campbells Potenzial als sympathischer TV-Moderator wurde 1968 entdeckt, als er die Sommerersatz-Show der Smothers Brothers moderiert hatte. Und dann, als CBS sah, dass Campbells völlig unumstrittene Show gut lief, kündigte das Netzwerk abrupt die anti-autoritären Smothers Brothers. Campbell steigerte die Karriere von Mel Tillis und Jerry Reed, und sein Titelsong Gentle On My Mind wurde normalerweise von John Hartford gesungen, aber die meisten seiner Gäste stammten aus der Mainstream-Unterhaltung.

Das Zeitfenster der Smothers wurde nicht von Campbell, sondern von Hee Haw eingenommen. Mit The Beverly Hillbillies, Mayberry RFD, Green Acres, Petticoat Junction und Glen Campbell's Goodtime Hour, die gleichzeitig mit Hee Haw lief, schien es, als wären ländliche Werte und ländliche Musik allgegenwärtig, und das zu einer Zeit, als traditionelle Werte unter Beschuss waren. Neben den Netzwerkmessen waren die Porter Wagoner Show und die Wilburn Brothers Show noch in 100 Märkten im Süden und anderswo syndiziert.

Zwei von Hee Haws drei Schöpfern waren Kanadier und der dritte war ein New Yorker, Bernie Brillstein, so dass es kaum verwunderlich war, dass die Show Stereotypen zugute kam. Brillstein und seine Partner formulierten Hee Haw als Länderversion von Rowan & Martin's Laugh-In. Wie Brillstein später sagte: "Ich wandte mich an Laura und sagte: "Was sagt ein Esel, wenn er dieses schreckliche Geräusch von sich gibt?" Hee-haw", sagte sie. "Das ist es! In der ersten Woche bekamen wir 41 Anteile[41% aller Fernseher, die in diesem Zeitfenster eingeschaltet waren, waren auf Hee-Haw" eingestellt].

Selbst dann wollte CBS es nach dem Sommer nicht mehr aufheben. Sie haben Leslie Uggams angezogen, der untergetaucht ist, und an wen haben sie sich gewandt? "Hee Haw." (Tatsächlich wurde Uggams durch Campbell ersetzt, während Hee Haw auf die Wochenmitte verschoben wurde). Nachdem CBS Hee-Haw im Juli 1971 in Dosen abgefüllt hatte, fanden die Produzenten Sponsorenmarkt für Markt, und es lief bis 1992 in Syndizierung. Wenn der Corpone-Humor grässlich war, war die Musik oft erstklassig. Buck Owens moderierte die Show bis 1986 und fast jeder große Country-Star des Tages erschien. Sogar Elvis Presley wollte erscheinen, aber der Colonel wollte etwas anderes.

Eine Woche vor der ersten Ausstrahlung von Hee Haw begann die Johnny Cash Show ihren dreijährigen Lauf auf ABC-TV. Die Show wurde im Ryman Auditorium gefilmt, dem zunehmend heruntergekommenen Zuhause der Grand Ole Opry im Herzen des sich schnell verschlechternden Stadtkerns von Nashville. Die erste Show zeigte Bob Dylan und Joni Mitchell und machte Doug Kershaw zum Star. Die Gästeliste war vielseitig und reichte von alten Showbiz-Lizenzen bis hin zu hochmodernen Folk-, Rock- und R&B-Künstlern. Mitten in jeder Show machte Cash sein Ride This Train Segment und verschönerte damit seine Rolle als Kurator von Americana weiter. Merle Travis wurde eingezogen, um einen Teil des Dialogs zu schreiben. Und in England lief im April das von Granada-TV im Februar 1969 gedrehte Cash's San Quentin Special, bevor das begleitende Album und die Single von A Boy Named Sue veröffentlicht wurden.

In den meisten der 1960er Jahre waren Cash's Sun Aufnahmen zusammen mit denen anderer Sun-Künstler schwer zu finden. Am 1. Juli 1969 verkaufte Sonnenpräsident Sam Phillips den Katalog an Shelby Singleton und katapultierte Sun in das Zeitalter der Fülle. Die Kollektionen mit den größten Hits von Johnny Cash und Jerry Lee Lewis kamen in der ersten Septemberwoche in die Geschäfte. Phillips hielt den Musikverlag und hielt zwanzig Prozent der Anteile an der neu gegründeten Sun International Corporation. Schon bevor die ersten LPs veröffentlicht wurden, hatte Phillips Singleton wahrscheinlich darauf aufmerksam gemacht, dass Jerry Lee Lewis' letzte Sun-Sessions eine treffsichere Blaupause für seinen neu entdeckten Erfolg auf Mercury-Smash waren. Singleton veröffentlichte diese verlassenen Aufnahmen, und sie wurden zu Hits. Niemand würde sich jemals wieder eine Sun-Platte wünschen. Singleton gründete auch ein neues Label, Sun International, und die erste Veröffentlichung im Juli 1969 war der ehemalige Sun Rockabilly Billy Lee Riley mit Kay. Es ist unser Bonustrack.


Artikeleigenschaften von

Various - Country & Western Hit Parade: 1969 - Dim Lights, Thick Smoke And Hillbilly Music
Albumtitel:

1969 - Dim Lights, Thick Smoke And Hillbilly Music

Genre

Country

Preiscode

AR

Edition 2

Deluxe Edition

Artikelart

CD

EAN:

5397102172649

Gewicht in Kg:

0.2
Various - Country & Western Hit Parade - 1969 - Dim Lights, Thick Smoke And Hillbilly Music

CD 1
01
Kay
Ryles I, John Wesley
02
Who's Gonna Mow Your Grass?
Owens, Buck
03
(Margie's At) The Lincoln Park Inn
Bare, Bobby
04
Drug Store Truck Drivin' Man
Byrds, The
05
Workin' Man Blues
Haggard, Merle
06
Woman Of The World (Leave My World Alone)
Lynn, Loretta
07
All I Have To Offer You (Is Me)
Pride, Charley
08
Galveston
Campbell, Glen
09
To Make Love Sweeter For You
Lewis, Jerry Lee
10
A Boy Named Sue
Cash, Johnny
11
Rings Of Gold
West, Dottie & Gibson, Don
12
Statue Of A Fool
Greene, Jack
13
Me And Bobbie McGee
Miller, Roger
14
Sin City
Flying Burrito Brothers
15
Homecoming
Hall, Tom T.
16
I'll Share My World With You
Jones, George
17
God Bless America Again
Bare, Bobby
18
Wine Me Up
Young, Faron
19
You Gave Me A Mountain
Bush, Johnny
20
Just Someone I Used To Know
Wagoner, Porter & Parton, Dolly
21
Try A Little Kindness
Campbell, Glen
22
She Even Woke Me Up To Say Goodbye
Lewis, Jerry Lee
23
Okie From Muskogee
Haggard, Merle
24
To See My Angel Cry
Twitty, Conway
25
Bloody Merry Morning
Nelson, Willie
26
Life's Little Ups and Downs
Rich, Charlie
27
Ruben James
Rogers, Kenny & the First Edition
28
Kay
Riley, Billy Lee
Dim Lights, Thick Smoke And Hillbilly Music Country & Western Hit Parade Diese...
mehr
"Various - Country & Western Hit Parade"
Dim Lights, Thick Smoke And Hillbilly Music
Country & Western Hit Parade

Diese Serie ist das Nonplus ultra, großartig aufgemacht und mit perfektem Mastering
Jack Clement, der Johnny Cash, Roy Orbison, Waylon Jennings, Don Williams und viele andere produziert hat, sagte: "Dies ist fraglos die beste Country-Serie der Musikgeschichte, kein Zweifel!" Und Robert Hilburn schrieb in der 'Los Angeles Times': "Dieses unschätzbar wertvolle Album-Projekt... ermöglicht es den Fans so zuzuhö ren, wie es schon Elvis Presley, Ray Charles und Bob Dylan taten."
Die Hits sind ergänzt um Raritäten, die die Country Music – und die Musik generell – in den Folgejahren be- einflußt haben: zum Beispiel Wanda Jacksons Originalversion von Silver Threads And Golden Needles, Carl Belews Original von Lonely Street und Chet Atkins' wegweisendes Walk, Don't Run.
Diese Serie ist konzipiert, um neue Hörer für das Beste zu gewinnen, das die Country Music je anzubieten hatte, aber auch um alte Fans bestens zu unterhalten. Jede einzelne CD steht für eine wunderbare Zeitreise.
Neben den Hits präsentiert die Serie viele Raritäten, die die Country Music – und die Musik generell – in der Folgezeit beeinflußt haben.
Wie alles begann: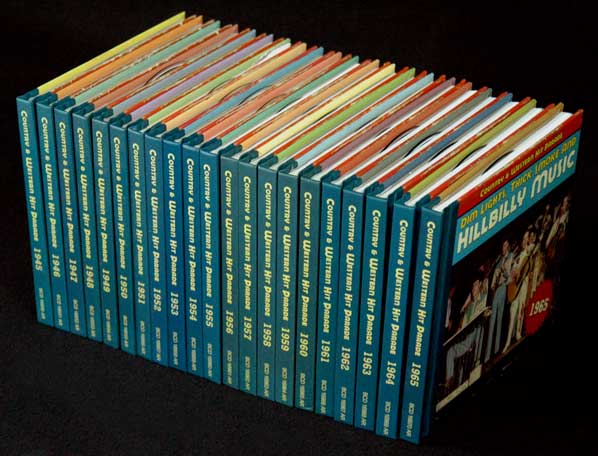 Seit vielen Jahren erhielten wir immer wieder Anfragen nach einer definitiven Country-Serie. Und nachdem unsere chronologisch sortierten R&B-/Soul-Reihen 'Blowin' The Fuse' und zuletzt 'Sweet Soul Music' (denen sich demnächst ein Projekt zur Funk Music anschließen wird) zu Riesenerfolgen wurden, haben wir entschieden: Das machen wir in vergleichbarer Form auch für die Country Music! Die ersten Folgen von 'Dim Lights, Thick Smoke And Hillbilly Music' befaßten sich mit den Jah- ren 1945 bis 1955 – jetzt setzen wir die Reise fort und bewegen uns dabei Richtung Nashville Sound.
Die Serie wurde auf Fans von heute zugeschnitten. Natürlich enthält sie die großen Hits; aber ebenso gibt es klassische Aufnah- men, die es damals nicht nach ganz oben geschafft haben und dennoch später einflußreich wurden. Jede CD glänzt mit bei- spielhaft detaillierten Erläuterungen aus erster Hand sowie mit sensationell seltenen Fotos. Und es wird aufgezeigt, wie sich die Country Music kontinuierlich weiterentwickelte, während es in anderen Bereichen des amerikanischen Musikgeschäftes deutli- che Verwerfungen gab. Jedes einzelne Booklet ist unglaubliche 72 Seiten stark! Also alles wie gewünscht: die definitive Serie!
Superlative werden zwar manchmal überstrapaziert – aber wir sind sicher: Die Serie ist Teil unserer Idee, diese Musik auch nach- gewachsenen Fans näherzubringen – und zugleich die Kenner gut zu unterhalten. Los geht es im Jahr 1956 – als die Country Music sich mit dem Rock'n'Roll arrangieren musste, der für Aufruhr sorgte....
Dim Lights, Thick Smoke And Hillbilly Music - Country & Western Hitparade
Read more at: https://www.bear-family.de/bear-family/country-serien/dim-light-thick-smoke-and-hillbillly-music/
Copyright © Bear Family Records
Bewertungen lesen, schreiben und diskutieren...
mehr
Kundenbewertungen für "1969 - Dim Lights, Thick Smoke And Hillbilly Music"
Von:
Redecker
Am:
13.03.2014
These CDs are both essential and things of beauty. Everybody should own them. All of them.
Country Music People 11/13 Duncan Warwick

Ohne Übertreibung darf man feststellen: Besser geht's nicht!
Good Times 6/2013 Ulrich Schwartz

Dringende Kaufempfehlung für die gesamte Reine!
Dynamite 1/14

Nur Richard Weize und sein Team trauen sich an eine so monumentale Aufgabe heran. Egal ob konservativ oder innovativ: Es ist viel fabelhafte Musik auf diesen CDs.
Rookie 11/13 Jörn Schlüter

Ein passendes Schlusswort einer tollen Serie!
R & R Musikmagazin 6/13 H.-G. Hartwig


An essential collection and well worth investing in the whole series to see and hear how country music progressed from 1945 throught to 1970.
Maverick 1-2/2014 Alan Cackett
Bewertung schreiben
Bewertungen werden nach Überprüfung freigeschaltet.
Weitere Artikel von Various - Country & Western Hit Parade