Der Artikel wurde erfolgreich hinzugefügt.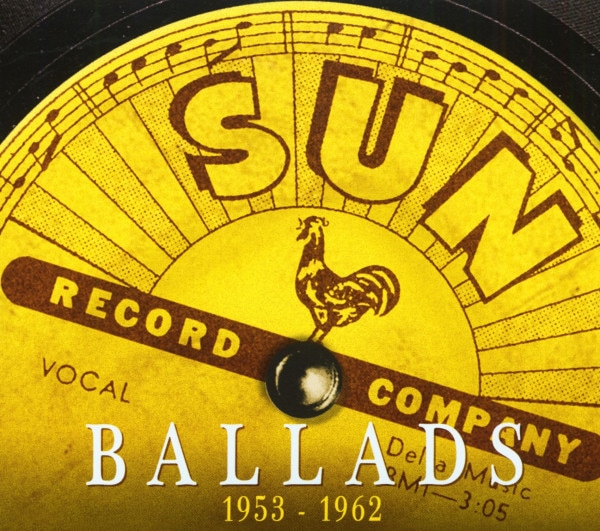 19,95 € *
49,95 € *
(60,06% gespart)
inkl. MwSt. / zzgl. Versandkosten - Abhängig vom Lieferland kann die MwSt. an der Kasse variieren.
Sofort versandfertig, Lieferzeit** 1-3 Werktage
3-CD-Album DigiPac (8-seitig) mit 90-seitigem Booklet, 78 Einzeltitel. Spieldauer ca. 137...
mehr
Various - SUN Records: Sun Ballads 1953-1962 (3-CD)
3-CD-Album DigiPac (8-seitig) mit 90-seitigem Booklet, 78 Einzeltitel. Spieldauer ca. 137 Minuten.
- Sonderverkauf - solange der Vorrat reicht! - danach gestrichen !
Die erste wirklich umfassende Zusammenstellung auf einem CD-Album der Balladen aus dem Katalog von
Sun Records
, ein Streifzug durch zehn Jahre: von den frühen Blues- und Hillbilly-Tagen über das goldene Rockabilly-Zeitalter bis in die frühen 1960er-Jahre. Insgesamt 78 Titel mit einerseits den bekanntesten Sun-Künstlern, aber auch mit weniger populären Interpreten und Songs. Mit umfassendem musikhistorischem Material und detaillierten Kommentaren zu jedem einzelnen Song und somit insgesamt eine unverzichtbare Anschaffung für alle musikgeschichtlich Interessierten, für eingefleischte Sun-Fans und -Sammler.
Sun Records erlangte seinen weitreichenden Ruhm durch Memphis als Wiege von Rock 'n' Roll-Pionieren wie
Elvis Presley
,
Jerry Lee Lewis
,
Carl Perkins
und
Billy Riley
, aber auch von anderen Ikonen amerikanischer Musik wie etwa
Johnny Cash
,
Roy Orbison
und
Charlie Rich
. Sun Records war außerdem die Heimat von Blues-Legenden wie
Howlin' Wolf
,
B. B. King
,
Rufus Thomas Jr.
und
Rosco Gordon
.
Firmenchef
Sam Phillips
hat all das mit seinem kleinen Memphis-Label auf die Reihe gebracht - und wurde so verdient zur Legende. Obwohl Sun Records in erster Linie für seine Rocker und rockige Musik steht, war es auch die Heimat für die gemäßigteren, weichen Momente dieser Künstler. Sun nahm verblüffend viele solcher Titel auf und hat auf diese Weise einen umfassenden Balladen-Fundus aufgebaut. Dieser Aspekt des Sun-Vermächtnisses wurde noch nie nachhaltig beleuchtet - bis jetzt.
'Sun Ballads' umfasst zehn Jahre der Labelgeschichte auf einem 3-CD-Album - beginnend mit den frühen Blues- und Hillbilly-Tagen über die Goldenen Jahre des Rockabilly und darüber hinaus bis in die Frühsechziger. Diese Zusammenstellung versammelt die bekanntesten Sun-Künstler sowie einige obskure Interpreten mit selten veröffentlichten Songs, die Ihre Balladen präsntieren; zum Package gehört ein großzügig illustriertes Buch mit detaillierten Kommentaren des Sun-Historikers
Hank Davis
zu jedem einzelnen Song. Dieses 3-CD-Album-Set ist ein nie zuvor angebotenes Füllhorn für Sun-Fans und -Sammler, denen Sun-Balladen nich in Ihrem CD-Regalen fehlen.
Video von Various - SUN Records - Sun Ballads 1953-1962 (3-CD)
Artikeleigenschaften von

Various - SUN Records: Sun Ballads 1953-1962 (3-CD)
Albumtitel:

Sun Ballads 1953-1962 (3-CD)

Genre

Rock'n'Roll

Edition 2

Deluxe Edition

Preiscode

CH

Artikelart

CD

EAN:

4000127172136

Gewicht in Kg:

0.21
Various - SUN Records - Sun Ballads 1953-1962 (3-CD)

CD 1
01
Walking in the Rain
Thomas, Rufus
02
Just Walking In the Rain
Prisonaires, The
03
Beggin' My Baby
Little Milton
04
I've Been Deceived
Feathers, Charlie
05
Old Brother Jack
Turner, Bonnie
06
Seems Like A Million Years
Nix, Willie
07
No Teasin' Around
Emerson, Billy
08
Turn Around
Perkins, Carl
09
There Is Love In You
Prisonaires, The
10
Before Long
Jimmy & Walter
11
The House of Sin
Slim Rhodes Band: vocal: Dot,
12
Sitting By My Window
Five Tinos, The
13
Daydreams Come True
Wimberly, Maggie Sue
14
I Forgot To Remember To Forget
Presley, Elvis
15
No Greater Love
Emerson, Billy
16
My Treasure
Cash, Johnny
17
You Can Tell Me
Miller Sisters
18
Bad Girl
Slim Rhodes Band: vocal: Suggs
19
Wedding Gown Of White
Feathers, Charlie
20
Sure To Fall
Perkins Brothers Band
21
No More
Haggett, Jimmy
22
I'd Rather Be Safe Than Sorry
Smith, Warren
23
A Fool For Loving You
Earls, Jack
24
I Walk The Line
Cash, Johnny
25
Finders Keepers
Miller Sisters
26
No Matter Who's To Blame
Pittman, Barbara
Various - SUN Records - Sun Ballads 1953-1962 (3-CD)

CD 2
01
Take And Give
Slim Rhodes Band: vocal: Brook
02
I'll Wait Forever
Honeycutt, Glenn
03
Only You
Perkins, Carl
04
Don't Make Me Go
Cash, Johnny
05
Restless
Burgess, Sonny
06
Fool's Hall of Fame
Orbison, Roy
07
Just In Time
Jenkins, Harold aka Twitty, Co
08
That Depends On You
Williams, Jimmy
09
Two Young Fools In Love
Pittman, Barbara
10
Foolish Heart
Harris, Ray
11
I'm Lonesome
Chaffin, Ernie
12
It All Depends (On Who Will Buy The Wine) (ov
Lewis, Jerry Lee
13
Easy To Love
Self, Mack
14
More Than Yesterday
Bruce, Edwin
15
Forever Yours
Perkins, Carl
16
Your Cheating Heart
Greene, Jeanie aka Johnson, Ma
17
Give My Love To Rose
Cash, Johnny
18
It Only Hurts For A Little While
Miller Sisters
19
I Fell In Love
Smith, Warren
20
Love Is A Stranger
Sunrays, The
21
Trying To Get To You
Orbison, Roy
22
You Win Again
Lewis, Jerry Lee
23
I Was A Fool
Cook, Ken
24
I'm Getting Better All The Time (demo)
Pittman, Barbara
25
Sweet Misery
Burgess, Sonny
26
Ain't It A Shame
Rich, Charlie
Various - SUN Records - Sun Ballads 1953-1962 (3-CD)

CD 3
01
One More Time
Riley, Billy
02
Port of Lonely Hearts
Cash, Johnny
03
Part of My Life
Bruce, Edwin
04
I'll Make It All Up To You
Lewis, Jerry Lee
05
Breeze
Taylor, Vernon
06
Goodbye Mr. Love
Smith, Warren
07
Apple Blossom Time (undubbed)
Rich, Charlie
08
Sail Away
Smith, Ray
09
The Miracle of You
Fay, Little Hannah
10
Please Don't Ever Leave Me
Chaffin, Ernie
11
Why Why Why
Smith, Ray
12
I'm Bluer Than Anyone Can Be
Mann, Carl
13
To Tell The Truth
Bobbie & The Boys
14
River of No Return
Greene, Jeanie aka Johnson, Ma
15
How's My Ex Treating You?
Lewis, Jerry Lee
16
How Well I Know
Anthony, Rayburn
17
Ain't Got Nothin' But The Blues
Wilcox, Mikki
18
Stay (alt)
Rich, Charlie
19
Cheaters Never Win
Jean, Bobbie
20
I Can't Forget You (undubbed version)
Mann, Carl
21
Is It Too Late?
Pendarvis, Tracy
22
I'll Wait Forever
Wood, Anita
23
Fools Like Me
Lewis, Jerry Lee
24
I Know What It Means
Wilcox Mikki,
25
The Quiet Look
Wayne, Thomas
26
Who Will The Next Fool Be
Rich, Charlie
Bear Family Sun Records CD-Album Sun Records editions by Bear Family Records Sun Records...
mehr
"Various - SUN Records"
Bear Family Sun Records CD-Album
Sun Records editions by Bear Family Records
Sun Records editions by Bear Family Records
Sun RecordsIm Frühjahr 1952 riskierte es Sam Phillips, ein eigenes Plattenlabel zu gründen - Sun Records. Er war damals schon einige Jahre als unabhängiger Produzent tätig gewesen und hatte den größten R&B-Hit von 1951 aufgenommen, Jackie Brenstons Rocket 88.
Folglich wusste Sam Phillips, dass er den richtigen Job gewählt hatte. Aber würde es auch mit Sun Records klappen, wo doch viele unabhängige Labels schnell wieder dichtmachen mussten? Anfangs sah es auch nicht gut aus. Nach nur zwei Veröffentlichungen auf Sun Records gab es bereits eine einjährige Pause.
Doch allmählich stellten sich die Hits ein: Mit Aufnahmen von Rufus Thomas, den Prisonaires, von Junior Parker und natürlich von Elvis Presley. Dann gab es kein Halten mehr. Carl Perkins, Johnny Cash, Jerry Lee Lewis, Charlie Rich, Roy Orbison, Conway Twitty, Carl Mann, Billy Riley, Warren Smith und viele andere kamen hinzu. Sie haben die Welt der Popmusik nachhaltig verändert.
if you're not doing something different, you're not doing anything
Nach dem Verkauf des Labels Sun Records 1969 gab es ungezählte Wiederveröffentlichungen des Materials. Doch nur Bear Family hat sich dabei stets auf hohem Qualitätsniveau bewegt. Einzig und allein diese Neuauflagen von Sun Records sind empfehlenswert. Denn diese CDs und CD-Album Boxsets liefern den besten Klang, die besten Fotos, die besten Begleittexte und die beste Präsentation!
Bewertungen lesen, schreiben und diskutieren...
mehr
Kundenbewertungen für "Sun Ballads 1953-1962 (3-CD)"
Von:
Bernard Burnier
Am:
22.11.2020
Excellent SUN comme toujours
Von:
Bernard Burnier
Am:
22.11.2020
Excellent SUN comme toujours
Von:
Hans Drommershausen
Am:
29.06.2020
Eine sehr schöne CD und typisch Bear-Family. Sehr zu empfehlen.
Diese CD erfüllt alle Erwartungen an hoher Qualität und an einem guten Preis-/Leistungsverhältnis.
Von:
Roman Tic
Am:
12.06.2020
Dream!
What a nice compilation that is! I have all the 'Ballads' incl. Eddie Cochran, Gene Vincent, Jack Scott and the others! It's great to have the 'Rocks' and the 'Ballads' of certain artists - it's like Ying and Yang .... Sigh!
Von:
MIller Bro
Am:
12.06.2020
excellent package
90! page book and so many good tracks
never focused ther's so much more than our all time faves like 'Easy To Love' and ' I'd Rather Be Safe...'
Von:
Ralf Köster
Am:
12.06.2020
Von:
Fabian R.
Am:
13.06.2017
Sehr gut
Eine tolle Zusammenstellung auf CD
Bewertung schreiben
Bewertungen werden nach Überprüfung freigeschaltet.
Weitere Artikel von Various - SUN Records