Der Artikel wurde erfolgreich hinzugefügt.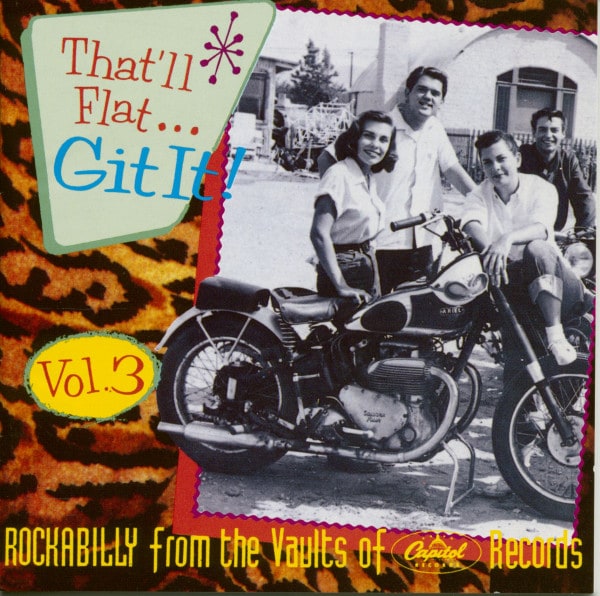 13,95 € *
15,95 € *
(12,54% gespart)
inkl. MwSt. / zzgl. Versandkosten - Abhängig vom Lieferland kann die MwSt. an der Kasse variieren.
Sofort versandfertig, Lieferzeit** 1-3 Werktage
Artikel-Nr.:

BCD15624

Gewicht in Kg.:

0.115
1-CD mit 32-seitigem Booklet, 30 Titel. Spielzeit ca. 69 mns. Eine rhythmische, hart treibende...
mehr
Various - That'll Flat Git It!: Vol.3 - Rockabilly From The Vaults Of Capitol Records (CD)
1-CD mit 32-seitigem Booklet, 30 Titel. Spielzeit ca. 69 mns.
Eine rhythmische, hart treibende Mischung aus Country und Blues, die 1954 aus dem Süden ausbrach. Das Vorrecht der Southern
Whites
, es wurde geschickt auf einer Handvoll Instrumente gespielt - die gehackten Rhythmen von Akustikgitarre und Slap-Bass sorgen für einen Puls, während Boogie-Piano und glühende, verstärkte Gitarrensoli im Allgemeinen gut im Vordergrund stehen.
Junge, weiße Country-
Boys
sangen mit einem aggressiven Eifer und versuchten, das schwarze Monopol auf Musik mit einem Beat zu brechen. Kommerzielle Unternehmen karikierten diese rauen Eigenschaften und Rockabilly schlüpfte bald in selbstbewusste Imitationen von sich selbst;
es verweilte im Süden, aber als eine nationale Chart-Kraft starb es innerhalb von ein paar Jahren.
Während der Rockabilly andauerte, versuchte auch
Capitol Records
, wie anderen großen Labels,
den soliden Katalogen von Sun, Starday, Meteor und anderen Independents des Südens zu etwas entgegen zu setzen. Sie zeichneten allerdings vergleichsweise wenige junge Musiker, um sich stattdessen auf eine lange etablierte und sehr erfolgreiche Liste älterer Sängerinnen und Sänger zu stützten, die bereitwillig mit diesem überlebenswichtigsten Sub-Stil des Landes flirteten.
Country Performer - die
Louvin Brothers
,
Skeets McDonald
,
Tommy Collins
und andere - brachten Erfahrung - samtige Stimmen und einen Hauch von Country &
Western
in die Musik ein. Jüngere Sänger, wie
Tommy Sands
und
Johnny Fallin
, beschäftigten sich mehr mit kalkulierten, aber nicht weniger enthusiastischen Versuchen, ein Teenager-Rock'n'Roll Album zu produzieren. So oder so, der wahre Held dieser Compilation ist
Ken Nelson
, der Produzent und A&R-Chef von C&W, der erstmals 1947 für Capitol arbeitete.
Nelson, der am 19. Januar 1911 in Caledonia, Minnesota, geboren wurde, verbrachte viele Jahre als Sänger und Banjoist in
Chicago
. Seine Verbindung zur Countrymusik begann 1940, als er als Sprecher bei WJJJD arbeitete. Capitol stellte 1944 seinen Freund und Mitansager Lee Gillette ein; Nelson kam in die Firma, als Gillette abgerufen wurde um Sessions in New York produzieren.
Nelson wurde gebeten, einzuspringen und begann, Pop-Platten zu produzieren, ohne eine klare Vorstellung davon zu haben, was er tat. Buttons And Bows von den
Dinning Sisters
gingen 1948 in die Top 10. Im selben Jahr wurde er nach Hollywood und in die Transkriptionsabteilung versetzt. Danach übernahm er den Bereich C&W, in dem er mehr als 25 Jahre tätig war.
Nelson entdeckte Acts, indem er mit dem Bus durch das ganze Land fuhr und in Clubs und Saloons hielt, um zu hören, wer spielte und was den Leuten am meisten Spaß machte. Er behauptete, der erste Mann zu sein, der Schlagzeug auf Country-Platten benutzt und die Popularität von Elvis, den er zu zeichnen versuchte, vorausgesehen zu haben. Er nahm in Nashville, Dallas und Los Angeles auf, wo er in enger Zusammenarbeit mit Gillettes rechter Hand,
Cliffie Stone
, arbeitete. Im Grunde suchte Nelson nach Musik, zu der sich die Zuhörer emotional verständigen konnten, aber 'ab und zu' sagte er dem Billboard
Magazine
, 'bekommt man eine Platte mit einem fantastischen Rhythmus, der die Leute musikalisch bewegt'.
Ob es das entspannte, aber aussagekräftige frühe Gerumpel von
Dub Dickerson
oder der Knock-Out Punch der Rio Rockers ist, bei diesem Set dreht sich alles um Rhythmus. Nelson, der gerne Showmelodien und klassische Musik hörte, zog wahrscheinlich 'Buttons And Bows' dem 'Be Bop A Lula' vor, aber seine
Vision
, sein Engagement und sein Innovationsgeist ermöglichten es ihm, Rock'n'Roll zu produzieren, ohne ihm seine eigenen künstlerischen Werte aufzuzwingen.
(Bill Millar,
Bear Family Records
BCD15624)
Artikeleigenschaften von

Various - That'll Flat Git It!: Vol.3 - Rockabilly From The Vaults Of Capitol Records (CD)
Albumtitel:

Vol.3 - Rockabilly From The Vaults Of Capitol Records (CD)

Genre

Rock'n'Roll

Preiscode

AH

Artikelart

CD

EAN:

4000127156242

Gewicht in Kg:

0.115
Various - That'll Flat Git It - Vol.3 - Rockabilly From The Vaults Of Capitol Records (CD)

CD 1
01
You Ought A See Grandma Rock
Mcdonald, Skeets
02
My Little Baby
Maddox, Rose
03
Sebbin' Come Elebbin
Heap, Jimmy
04
Try Me
Luman, Bob
05
Cash On The Barrelhead
Louvin Bros
06
The Worryin' Kind
Sands, Tommy
07
My Gal Gertie
Dickerson, Dub
08
When I Found You
Reed, Jerry
09
Mr Big Feet
Charlie Bop Trio
10
Cool Down Mame
Farmer Boys
11
Party Kiss
Fallin, Johnny
12
There's Gonna Be A Ball
Grayzell, Rudy
13
Bop Cat Bop
Crum, Simon
14
Jeopardy
Shepard, Jean
15
Alone With You
Young, Faron
16
Heart Breakin' Mama
Mcdonald, Skeets
17
Black Cat
Collins, Tommy
18
Go Ahead On
Heap, Jimmy
19
I Chickened Out
Loran, Kenny
20
Red Hen Hop
Louvin Bros
21
Playin' The Field
Sands, Tommy
22
I've Had Enough
Reed, Jerry
23
He's My Baby
Shepard, Jean
24
My Baby Done Left Me
Farmer Boys
25
Party Line
Fallin, Johnny
26
Slow Down Brother
Huskey, Ferlin
27
I Went Rockin'
Norris, Bobby
28
I Can't Dance
Young, Faron
29
Mexicali Baby
Rio Rockers
30
You Mostest Girl
Trammell, Bobby Lee
That'll Flat Git It CDs Album-Serie produziert von Bear Family Records 'That'll Flat...
mehr
"Various - That'll Flat Git It!"
That'll Flat Git It
CDs Album-Serie produziert von Bear Family Records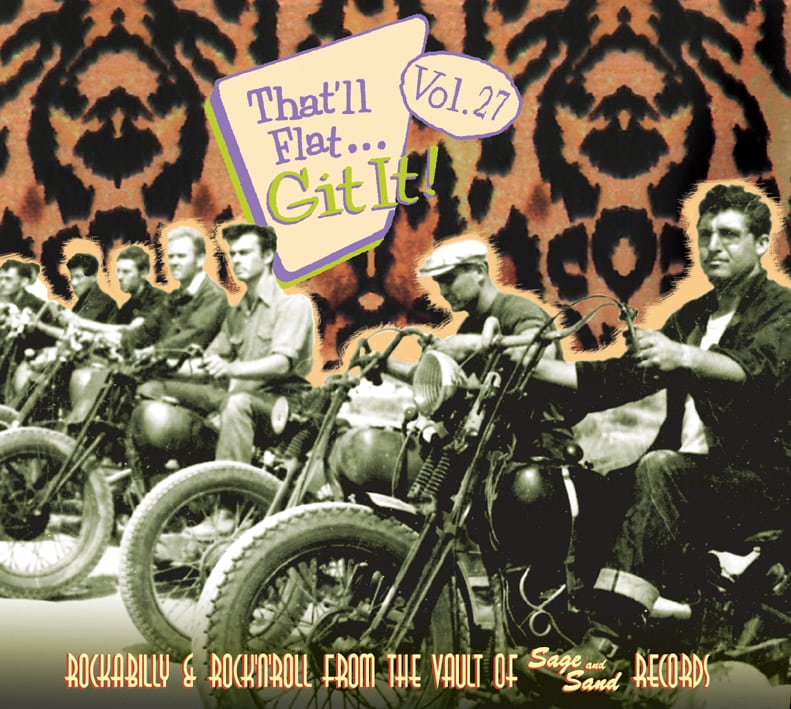 'That'll Flat Git It!' das war das verbale Erkennungszeichen des Memphis Disc Jockeys Dewey Phillip, der keinen geringeren als Elvis Presley erstmalig im Radio spielte... Und 'That'll Flat Git It' heisst unsere Bear Family Records Rockabilly CD-Album Serie! Wer kennt nicht die legendären Lanspielplatten wie die 'MGM Rockabillies', die 'Chess Rockabillies', die 'Rare Rockabilly' Zusammenstellungen der Firma MCA, oder die Columbia Zusammenstellungen. Alle Rockabillykracher, die auf diesen LPs enthalten waren, gibt es bei uns auf CD-Album plus mindestens doppelt so vieler weiterer Rockabilly Songs!
Einzigartige That'll Flat Git It! Rockabilly-Serie
Wir machten uns auf die Suche nach den am besten klingenden Bändern. Ließen sie dann von den führenden Mastering-Spezialisten bearbeiten und haben auch in puncto Verpackung neue Maßstäbe gesetzt. Als übergeordneten Serien-Titel wählten wir ' That'll Flat Git It!', das verbale Erkennungszeichen des ersten Rockabilly-Discjockeys Dewey Phillips.
Außerdem suchten wir unveröffentlichtes Fotomaterial und machten all jene Interpreten ausfindig, nach denen bis dahin vergeblich geforscht worden war.
Unterm Strich steht unsere einzigartige That'll Flat Git It! Serie
Bewertungen lesen, schreiben und diskutieren...
mehr
Kundenbewertungen für "Vol.3 - Rockabilly From The Vaults Of Capitol Records (CD)"
Von:
Vladimir
Am:
01.06.2021
Von:
Carlo
Am:
06.11.2017
Bewertung schreiben
Bewertungen werden nach Überprüfung freigeschaltet.
Weitere Artikel von Various - That'll Flat Git It!