Der Artikel wurde erfolgreich hinzugefügt.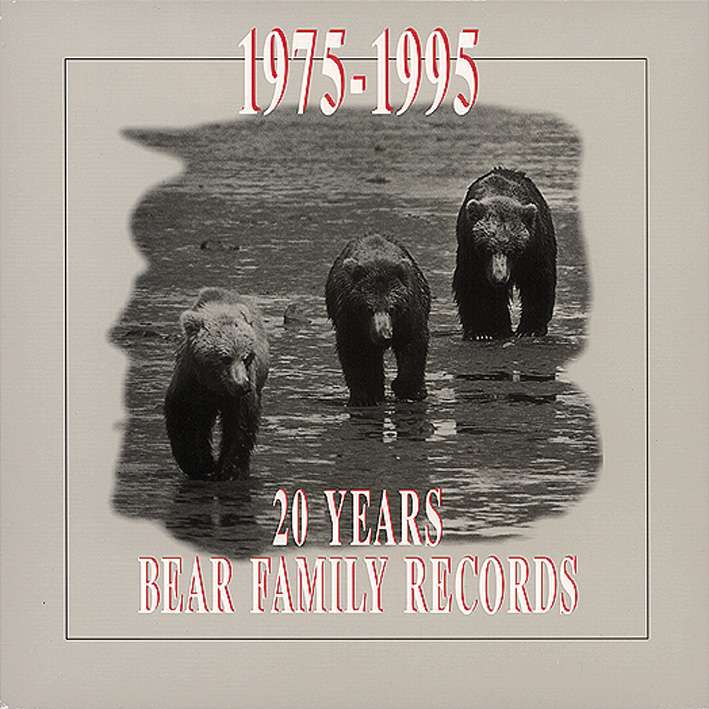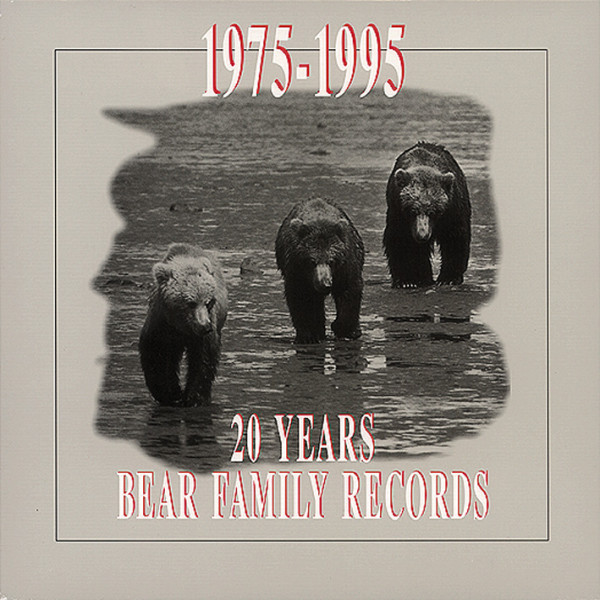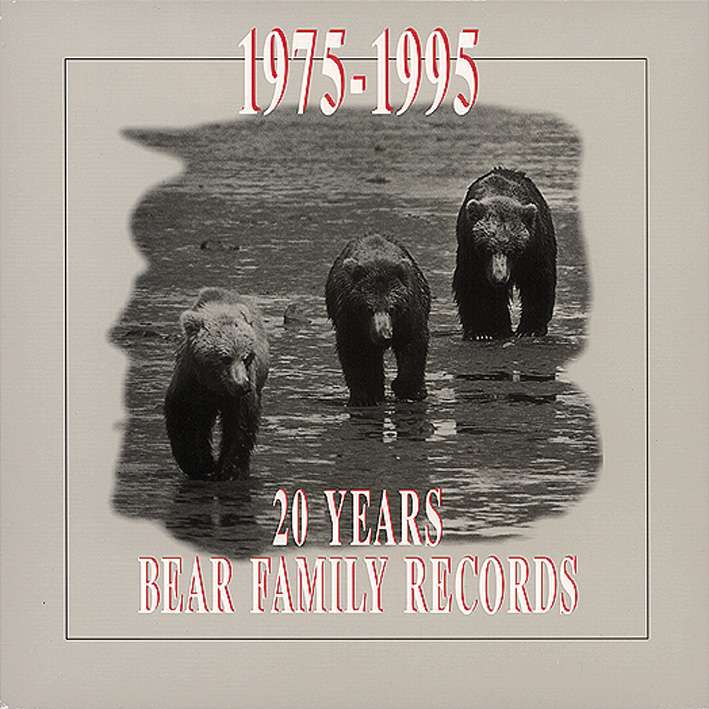 Dieser Artikel ist gestrichen und kann nicht mehr bestellt werden!
Benachrichtigen Sie mich, sobald der Artikel lieferbar ist.
Artikel-Nr.:

BCD17005

Gewicht in Kg.:

1.6
4-CD Box (LP-Format) mit 96-seitigem Buch 1975 - 1995 20 Years Bear Family Records A...
mehr
Various - Bear Family Records: 20 Years Bear Family (4-CD Deluxe Box Set)
4-CD Box (LP-Format) mit 96-seitigem Buch
1975 - 1995
20 Years
Bear Family Records
A celebration like this doesn't come along very often —only every twenty years.
Over the course of the last two decades, Bear
Family
has become the byword for quality in reissued music. All kinds of reissued music. Usually
Bear Family
releases are a celebration of one artist  or another, but here we're celebrating ourselves for a change. We've rounded up an assortment of Bear Songs. In fact, we've got bear songs 'dal you can't bear no more.
Running Bears,
Teddy Bears
, Jrizz and more beside. Some you know, some you don't, and a few were written especially for us — and we appreciate that.
This set is dedicated to us, and our friends; in fact everyone in the extended Bear Family.
Zwanzig Jahre ist eine lange Zeit. Zurückblickend ist sie wie im Fluge vergangen. Als ich Mitte 1975 in Harmenhausen begann, konnte ich nicht absehen, dass der Traum wahr werden würde, sich von einem Hobby ernähren zu können. Zu der Zeit hatte ich keinen Job, und versuchte einfach meine Frau, meine Kinder und mich irgendwie über Wasser zu halten. Das gelang anfangs eher schlecht als recht. Ich musste das Haus auf dem Land verkaufen, und zog nach Bremen in ein altes Bremer Haus in der Goethestrasse, das wir umbauten und im Keller unser Büro einrichteten - auf ca. 70 gm. Mit Hilfe von Freunden, wie
Hedy West
,
Bill Clifton
, Roland und Heidrun Zgoll, Mohns Mohnssen, Uwe Pauls, Ernst Grafe und Rudolf Matiasovic, sowie einer verständnisvollen Bank ist es damals gelungen, die Durststrecke zu überwinden. Mein heutiger Partner Hermann Knülle, damals Student der Mathematik, war, wenn Not am Mann war, immer zur Stelle.
Ob es sich um den Umzug von Harmenhausen nach Bremen, das Abholen von Schallplatten aus dem Presswerk handelte, oder etwa um Reparaturen am firmeneigenen R4, der im übrigen eine Unmenge aushalten musste. Im Jahre 1977 beendete Hermann sein Studium mit dem Diplom und kam ganztägig hinzu. Kurz danach leasten wir uns einen Datic Computer, um den Hermann sich kümmerte und ein Programm entwickelte, das uns in die Lage versetzte unseren Service bedeutend zu verbessern. Im Jahre 1979 wurde der Keller der Goethestrasse zu klein, und wir mussten umziehen. Das neue, geräumige Domizil war die Eduard-Grunow-Strasse 12. Es war für uns unglaublich, dass das Häus trotz eines dazugemieteten Lagers schon bald zu klein wurde und wir uns nach etwas Neuem umschauen mussten. Ein entsprechendes Gebäude in der Stadt war nicht zu finanzieren, also gingen wir aufs Land, in das 40 km von Bremen entfernte Vollersode.
Im Jahre 1986 konnten wir umziehen und freuten uns über die tolle Umgebung inmitten von Feldern und Wald, ohne Parkplatzsorgen und Lärm. Hier sind wir also noch heute und hoffen es auch noch ein wenig länger aushalten zu können. Eine ganze Reihe von Mitarbeitern haben im Laufe der Zeit das Bild der Firma mitgeprägt: Mohns Mohnssen und Gerd Franke in ganz frühen Tagen, dann Detlev Köge!, Wolf Silaf und Claudia Schultz, um nur ein paar wenige zu nennen. Heute sind aus der Bremer Zeit noch Hartmut Onnen, Stefan Kohne und Ohlly M. Ohlhoff bei uns. War besonders am Anfang unser Arbeiten stets vom 'Kampf' ums Überleben bestimmt, sind wir inzwischen in der Lage unsere Produkte als Hauptziel zu sehen...
Artikeleigenschaften von

Various - Bear Family Records: 20 Years Bear Family (4-CD Deluxe Box Set)
Albumtitel:

20 Years Bear Family (4-CD Deluxe Box Set)

Edition 2

Limited Edition

Artikelart

Box set

EAN:

4000127170057

Gewicht in Kg:

1.6
Various - Bear Family Records - 20 Years Bear Family (4-CD Deluxe Box Set)

Box set 1
01
Barely Hanging On
INTVELD, James
02
Running Bear
EMERY, Jon
03
Teddy Bear
BLAKER, Clay
04
I Can't Bear It
WATSON, Dale
05
The Bear Family
RAINWATER, Marvin
06
Bear Family Rock
FELTS, Narvel
07
Black Bear Blues
TALLEY, James
08
Running Bear
SCHATZ, Lesley
09
Surfin' Bare
CASEY, Al
10
Honey Bear
CAMPI, Ray
11
Grin And Bear It
RIP MASTERS
12
Bear In The Woods
SLEEPWALKERS
13
Bear Creek Boogie
DAVE & DEKE
14
Grizzly Bear
SANDS, Tommy
15
Teddy Bear
CONN, Tony
16
The Bare Facts Of Life
MACK, Ronnie
17
Teddy Bear Song
JACKSON, Wanda
18
I Thought About You(The Teddy Bear Made Me..)
McCALL, Darrell
19
Bear Cat Papa Blues
BALLEW, Michael
20
Bear Cat Mama From Horner's Corners
VERA, Billy
21
Bear Country
ROSE, Sammy
22
Teddy Bear Song
FLORES, Rosie
23
Waltzing With Bears
CLIFTON, Bill
24
The Preacher And The Bear
HAMILTON IV, George
25
Bobby, The Cowboy Bear
WESTERN, Johnny
26
Grizzly Bear
WHITCOMB, Ian
27
Teddy Bear's Picnic
JOHNS, Bibi
Various - Bear Family Records - 20 Years Bear Family (4-CD Deluxe Box Set)

Box set 2
01
Three Bears
McAULIFFE, Leon
02
Teddy Bear
PRESLEY, Elvis
03
Bear Cat
THOMAS JR, Rufus
04
Running Bear
PRESTON, Johnny
05
Gotta Whip This Bear
GRIFFIN, Curley
06
Ole Slewfoot (Bear Tracks, Bear Tracks)
HORTON, Johnny
07
Grizzly Bear
SCOTT, Jack
08
Me And The Bear
BURNETTE, Johnny
09
Carnival Bear
STONE PONEYS
10
Salome Smith And Her Amazing Dancing Bear
GENTRY, Bobbie
11
Teddy Bear Song
SHEPARD, Jean
12
Teddy Bear's Picnic
HARDEN, Arlene
13
Little Bobby Bear
TAYLOR, Mary
14
Dakota, The Dancing Bear
DARRELL, Johnny
15
Smokey Bear, My Trooper Man
DARLENE, Donna
16
Smokey The Bear
AUTRY, Gene
17
Fuzzy Wuzzy Teddy Bear
LONE PINE, Hal
18
Punkinhead (The Little Bear)
CARTER, Wilf
19
There Ain't No Bears In The Forest
FOUR DEALS
Various - Bear Family Records - 20 Years Bear Family (4-CD Deluxe Box Set)

Box set 3
01
Bärenjagd in Alaska
SPENCER, Kenneth
02
Der kleine Eisbär (Eisbär Song)
CYPRYS, Werner
03
Ein kleiner Bär mit grossen Ohren
WINTER, Horst
04
Tanzbär Boogie
GEZY, Barnabas von
05
Mein Teddybär
NEGRA, Leila
06
Wenn mein kleiner Teddybär
SERRANO, Rosita
07
Eisbär-Moritz
STARLETS
08
Kleiner Bär von Berlin
LUCAS TRIO
09
Mein Teddy
ASSIA, Lys
10
Der kleine Eisbär (Eisbär Song)
LIND, Gitta
11
Saubär
JODLER DUO, GASSER-STADLMAYER
12
Baby, ich schiess dir einen Teddybär
BERG, Jörg Maria
13
Alle Männer sind Teddybären
VALENTIN, Barbara
14
Teddybär
KRAUS, Peter
15
Der grosse Bär hat sieben kleine Sterne
HENDERSON, Vicky
16
Wilder Wolf und brauner Bär
BARE, Bobby
17
Brauner Bär und weisse Taube
BACKUS, Gus
18
Ein kleiner Bär mit grossen Ohren
BERG, Jörg Maria
19
Kleiner Teddybär
BONNEY, Graham
Bewertungen lesen, schreiben und diskutieren...
mehr
Kundenbewertungen für "20 Years Bear Family (4-CD Deluxe Box Set)"
Von:
Friedhelm
Am:
21.07.2017
Gut
Fairer Preis für die Anzahl von Songs.
Bewertung schreiben
Bewertungen werden nach Überprüfung freigeschaltet.
Weitere Artikel von Various - Bear Family Records