Der Artikel wurde erfolgreich hinzugefügt.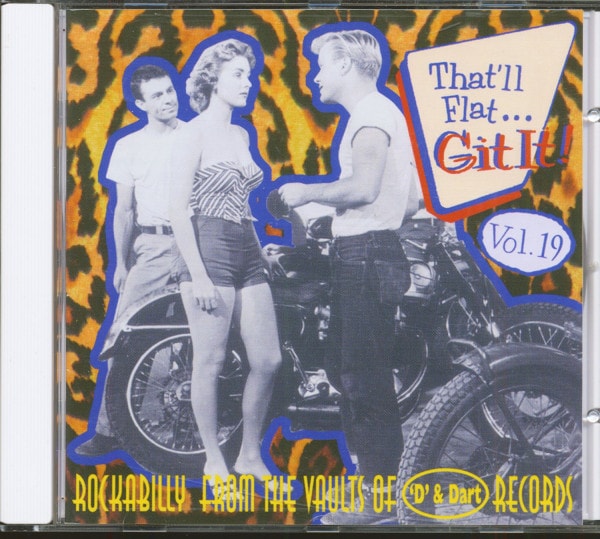 13,95 € *
15,95 € *
(12,54% gespart)
inkl. MwSt. / zzgl. Versandkosten - Abhängig vom Lieferland kann die MwSt. an der Kasse variieren.
Sofort versandfertig, Lieferzeit** 1-3 Werktage
Artikel-Nr.:

BCD16408

Gewicht in Kg.:

0.115
1-CD mit 36-seitigem Booklet, 32 Einzeltitel. Spieldauer ca. 69 Minuten. Rockabilly aus den...
mehr
Various - That'll Flat Git It!: Vol.19 - Rockabilly From The Vaults Of D & Dart Records (CD)
1-CD mit 36-seitigem Booklet, 32 Einzeltitel. Spieldauer ca. 69 Minuten.
Rockabilly aus den Archiven von 'D' und Dart Records!
Pappy Daily's Name ist nicht gleichbedeutend mit Rockabilly und Rock'n'Roll.
Tatsächlich mochte er es auch nicht.
Was er wusste, war landesweit Honky-Tonk in Osttexas oder der Golfküste - und welche rockige Musik er schneidete, weil er sich in jenen kommerziell dunklen Tagen für Hardcore-Country-Musik, Mitte bis Ende der 1950er Jahre, fühlte.


Das berühmte Starday-Label von Daily veröffentlichte eine Reihe ausgezeichneter Rockabilly- und Rock'n'Roll-Seiten vom Aufkommen der Musik 1954-55, bis er sich Ende 1957 von seinem halben Interesse am Label trennte.
Dixie subsidiary he and partner Don Pierce formed shortly before they split. ">andere wurden auf die Dixie-Tochter ausgestellt, die er und der Partner Don Pierce gründeten, kurz bevor sie sich trennten.


Obwohl Daily's D-Label, als er sein Interesse an Starday aufgab, schließlich bekannt wurde als Bastion des traditionellen Landes und Honky-Tonk gegen den doppelläufigen Angriff von Rock 'n' Roll und üppigem Nashville Sound Country Pop,
es wurde in einem kommerziellen Nadir für Country-Musik gegründet und viele frühe Veröffentlichungen auf dem Label waren Rock 'n' Roll, Rockabilly oder häufiger von ihnen stark informiert.


Innerhalb weniger Monate erkannten der tägliche und neue Rechtshänder, der Veteran Country-Deejay, Bandleader und Manager Gabe Tucker jedoch, dass sie weder auf dem Pop- noch auf dem Rock'n'Roll-Gelände künstlerisch oder in ihrer Marktabdeckung ausgestattet waren.
'D' konzentrierte sich zunehmend auf das Land.
Obwohl es weiterhin gelegentliche Rock-Veröffentlichungen auf "D" geben würde, kanalisierten sie viele Rock'n'Roll-Versionen mit einem Schwester-Label Dart.


Sowohl "D" als auch "Dart" wurden im Wesentlichen "look see" -Labels, hauptsächlich Fahrzeuge zum Ausprobieren und Präsentieren von Songs, die in seiner Glad Publishing Company veröffentlicht wurden.
Das heißt nicht, dass 'D' und Dart nur zu diesem Zweck existierten;
Vor allem in den frühen 1960er Jahren blieb "D" ein legitimes Ziel für regionale Künstler, junge und etablierte Veteranen.


Täglich gab es weiterhin Singles über "D" weit über die frühen 60er Jahre hinaus, obwohl der Großteil der Produktion des Labels in der Zeit zwischen 1958-1961 lag, eine Zeitspanne, die auch die gesamte Existenz von Dart umfasste.
Between them, 'D' and Dart issued a number of excellent rockers in this period and this set collects many of the best rockabilly and rock 'n' roll sides from their combined catalogs, from label stalwart Eddie Noack's pseudonymous, half-hearted stab at">Zwischen ihnen haben 'D' und Dart in dieser Zeit eine Reihe exzellenter Rocker herausgebracht und dieses Set sammelt viele der besten Rockabilly- und Rock'n'Roll-Seiten aus ihren kombinierten Katalogen, von Eddie Noacks pseudonymem, halbherzigem Stich
Quasi-Rock, Can not Play Hookey, das war 'D's Erstveröffentlichung im Winter 1957-58, zu Klassikern wie Jimmy & Johnny's I Can not


Find The Doorknob, der schaukelnde Honky-Tonk von Doug Bragg und die bluesige 1959 Debüt-Scheibe der zukünftigen Stars Johnny und Edgar Winter.
Merl Lindsay, as well as a jumping instrumental track by another veteran country bandleader Hardrock Gunter -- who was also a veteran of trying to adapt to rocking sounds, having previously">Es enthält überraschend effektive Stäbe beim Rock'n'Roll, indem er den Western-Swing-Bandleader Merl Lindsay verblasst, sowie einen Spring-Instrumental-Track des Hardrock Gunter von einem anderen Veteranenland-Bandleader, der auch ein Veteran war, der versucht, sich an Rocking-Sounds anzupassen
Sam Phillips' pioneering Sun label. ">Schnitt für Sam Phillips 'wegweisendes Sun-Label.


Jede CD wäre zum größten Teil eine 30-Songs-Jukebox vom feinsten Rockabilly, die je für die großen Labels aufgenommen wurde.
Wir beschafften die besten Klangbänder und brachten sie zu den besten Mastering-Ingenieuren, und dann haben wir die Verpackung auf ein neues Level gebracht.
That'll Flat Git It!'. ">Wir haben das Slogan des ersten Rockabilly-Deejay Dewey Phillips, "That's Flat Git It!", Übernommen.


Wir suchten nach bisher unveröffentlichten Fotos und versuchten alle Künstler zu finden, die noch nie zuvor gefunden wurden.

Das Ergebnis ist eine wirklich definitive Rockabilly-Serie
Artikeleigenschaften von

Various - That'll Flat Git It!: Vol.19 - Rockabilly From The Vaults Of D & Dart Records (CD)
Albumtitel:

Vol.19 - Rockabilly From The Vaults Of D & Dart Records (CD)

Genre

Rock'n'Roll

Preiscode

AH

Artikelart

CD

EAN:

4000127164087

Gewicht in Kg:

0.115
Various - That'll Flat Git It - Vol.19 - Rockabilly From The Vaults Of D & Dart Records (CD)

CD 1
01
Let Me In
MORELAND, Richard
02
School Day Blues
JOHNNY & THE JAMMERS
03
Won't you Tell Me
STANFORD, Doug
04
I'm A Hobo
REEVES, Danny
05
Don't Do That Again
BRAGG, Doug & The Drifters
06
Wham Bam
EDGE, Dave
07
Be Boppin' Baby
COLE, Les & The Echoes
08
Lookin'
PORTER, Royce
09
My Big Fat Baby
HALL, Sonny & The Echoes
10
Lonesome (instrumental)
WATTS, Wortham
11
I'm Gonna Tell
COUSIN LOUIE
12
Hey Hey Little Boy Blue
LINDSAY, Merl
13
Someone Else Is Filling My Shoes
HEAP, Jimmie & Melodie Masters
14
I Like It
TAYLOR, William Tell
15
Red Hot Rhythm Combo
MORGAN, Bill
16
I Can't Find The Doorknob
JIMMIE & JOHNNY
17
Go South Little Man
NORRIS, Carlton
18
Sady
STANFORD, Doug
19
If I Find My Dream Girl
BRAGG, Doug & The Drifters
20
Bell Hop Blues
REEVES, Danny
21
Juke Box Shuffle (instrumental)
HARDROCK GUNTER
22
True Affection
JOHNSON, Byron
23
Baby Don't Go
CHARLES, Andy & Blues Kings
24
Honey Babe
DONALDS, Joe
25
Swanee River Gal
HUDSON, Tommy & The Savoys
26
Don't Be Shy
SUEDES
27
Rockin' Water Baby (instrumental)
LINDSAY, Merl
28
Rock-A-My Baby
COLE, Les & The Echoes
29
Cant't Play Hookey
WOOD, Tommy
30
The Day Walked Away
HALL, Sonny
31
Wheels
SHEETS, Sonny
32
Band Stand Stomp
HUDSON, Tommy
That'll Flat Git It CDs Album-Serie produziert von Bear Family Records 'That'll Flat...
mehr
"Various - That'll Flat Git It!"
That'll Flat Git It
CDs Album-Serie produziert von Bear Family Records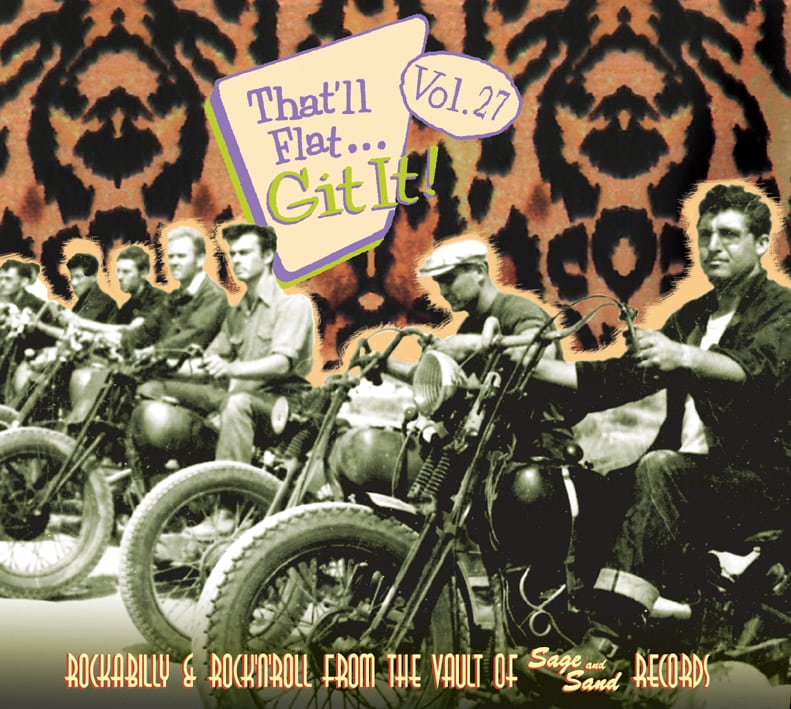 'That'll Flat Git It!' das war das verbale Erkennungszeichen des Memphis Disc Jockeys Dewey Phillip, der keinen geringeren als Elvis Presley erstmalig im Radio spielte... Und 'That'll Flat Git It' heisst unsere Bear Family Records Rockabilly CD-Album Serie! Wer kennt nicht die legendären Lanspielplatten wie die 'MGM Rockabillies', die 'Chess Rockabillies', die 'Rare Rockabilly' Zusammenstellungen der Firma MCA, oder die Columbia Zusammenstellungen. Alle Rockabillykracher, die auf diesen LPs enthalten waren, gibt es bei uns auf CD-Album plus mindestens doppelt so vieler weiterer Rockabilly Songs!
Einzigartige That'll Flat Git It! Rockabilly-Serie
Wir machten uns auf die Suche nach den am besten klingenden Bändern. Ließen sie dann von den führenden Mastering-Spezialisten bearbeiten und haben auch in puncto Verpackung neue Maßstäbe gesetzt. Als übergeordneten Serien-Titel wählten wir ' That'll Flat Git It!', das verbale Erkennungszeichen des ersten Rockabilly-Discjockeys Dewey Phillips.
Außerdem suchten wir unveröffentlichtes Fotomaterial und machten all jene Interpreten ausfindig, nach denen bis dahin vergeblich geforscht worden war.
Unterm Strich steht unsere einzigartige That'll Flat Git It! Serie
Bewertungen lesen, schreiben und diskutieren...
mehr
Kundenbewertungen für "Vol.19 - Rockabilly From The Vaults Of D & Dart Records (CD)"
Bewertung schreiben
Bewertungen werden nach Überprüfung freigeschaltet.
Weitere Artikel von Various - That'll Flat Git It!